Japanese Sakura 7s Wakaba Hara – Try Scoring Machine
Posted On December 8, 2022
---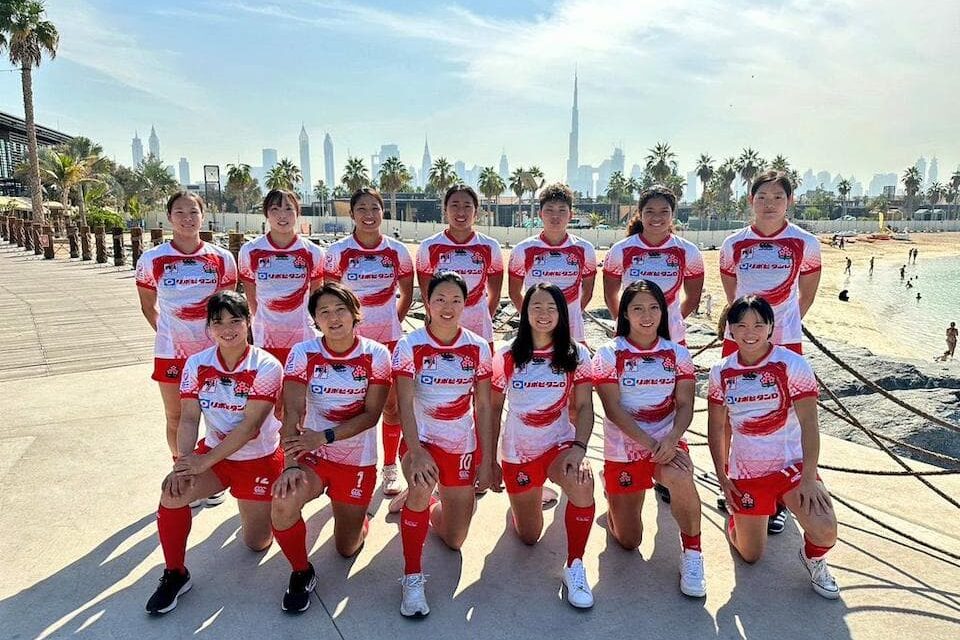 Wakaba Hara is an absolute speedster as a Japanese rugby sevens player and she has already competed in the 2020 Summer Olympics Rugby Sevens and represented the Sakura Sevens squad at the 2022 Rugby World Cup Sevens in Cape Town. 
Hara was an absolute star of the Japan team at the Challenger Series win and during the recent Asia Rugby Sevens Series 2022, scoring loads of tries racing past her opposition on the outside channels, with her quick feet and great appreciation of space in sevens rugby. We caught up with the ever smiling Wakaba at the recently completed Emirates Dubai 7s to talk about the season and the mood in the Sakura 7s camp.
Feature Photo Credit: JRFU – Japanese Sakura 7s team with #11 Wakaba Hara – Emirates Dubai 7s 2022
Described by Abby Hall as the 5ft 3 (160cm) unstoppable force of Japan Rugby, when we caught up with Hara in Dubai,  Japan had completed all of their matches, which ended in a nail-biting loss to Canada which meant Japan finished 10th overall.
They had however earned a crucial win over China during the weekend and now are in Cape Town for the Sevens from December 9-11.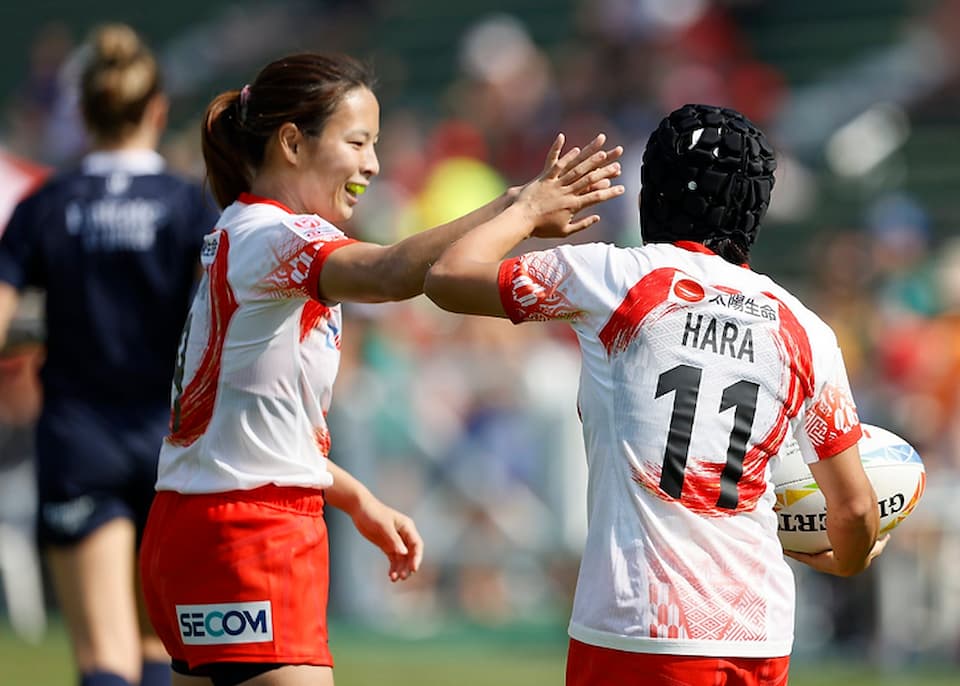 How did you feel the weekend at the Emirates Dubai 7s went for the team?
Wakaba Hara: So we played some tough and higher-ranking teams this weekend in Dubai, and there were key moments in some games which could have decided if we went away with a win or a loss. So for us to be exposed to those moments is something we can take away and learn from as we didn't convert those chances this weekend. 
The squad has seen regular changes over the recent months due to the amount of rugby you have to play – what is the mood in the camp like?
Wakaba Hara: Regardless of the results of this weekend's tournament and the Asia Rugby Sevens Series, our core behaviour is that we are relaxed and we go into the matches with a fighting mentality and spirit. Even when results don't go our way, you have to quite quickly move on to thinking about the next match in Sevens. I think all of the girls are quite good at that.
Regardless of who comes into the squad or who goes out, it's pretty consistent in the way we stay calm and have that tenacious spirit.
When we spoke to your coach in Cape Town at the RWC Sevens, he was really pleased with the team but he interestingly added that he wished the players would have more fun and enjoy the moments – so are you?  She looked at us with her broad smile and put two thumbs up, yes she's loving it!
On the rivalry with China and the contests this year, is it good for Japan to have a competitor like that in the region?
Wakaba Hara: Obviously it's good to have a team like China Women and they make us a better team and vice versa – that's definitely a positive thing to have in Asia. But it's not just China or us, there is Thailand doing well too and pushing the other teams. So in Asia, as a group of teams, I think we can complement each other and develop further.
With a team like China, it's a great rivalry to have and I think they feel that too. But it's not just the two of us, it's everyone making Asian rugby better.
You head to Cape Town next – it's been a lot of rugby of late in different competitions. What are the main areas to work on to step up to these teams in the HSBC World Sevens Rugby Series?
Wakaba Hara: As a team, we need to finish those key moments as I mentioned earlier – we can't dwell on mistakes and we need to be more ruthless. We need to work on our one-on-one tackles too (the players in the World Rugby Sevens Series are notably bigger and more physical than the Asia Rugby Sevens Series).
And in our attack, we can have stronger carries and offload the ball better as one option, or kick the ball through. From a defence point of view, we have a rush defence which is one thing we have taken on as our style and we can use that as a weapon.
We asked Wakaba what the plans were after Cape Town and before 2023 which sees more World Sevens Series events across the globe.
Wakaba Hara: After Cape Town, we have a break before we head back into camp and I'm really looking forward to next year. But the girls get Christmas off and we all have something to look forward to at home with partners, friends and family.
Wakaba Hara Try scoring Record – Rugby Sevens
According to World Rugby, the 22-year-old has already played in 13 World Rugby Sevens Series matches and notched up six tries. But her tries are often crucial as you can see from this list below which we compiled, although she would be the first to remind us all about the team's group efforts:
Challenger Series 2022 Win
Wakaba Hara's hat-trick score against Kenya sealed the win and booked Sakura 7s place in the 7s Challenger Series final – which they went on to win and qualify as a core team of the World Rugby Sevens Series.
RWC Sevens 2022 Cape Town
Scored the winner against the hosts South Africa to win the game 14-12 at RWC Sevens 2022.

Hara

scored the winner of the Semifinal Plate in the RWC Sevens 2022 against Poland.

Scored a brace of tries when Japan beat Brazil 19-10 to finish 9th in the Plate Final at RWC Sevens 2022.
6th top points scorer and third top try scorer at RWC Sevens 2022!
Asia Rugby Sevens Series 2022
Wakaba scored 7 tries in the ARSS first leg in Bangkok this year, followed by seven more in the second leg in South Korea.

She scored FOUR tries in one match to reach the final in Incheon in the second leg of the AR Sevens Series second leg in Incheon

She also scored the winner of the Asia Rugby Sevens Series Cup Final in Incheon, South Korea in to win the Cup.
HSBC World Sevens Series Dubai 2022
Scored both tries in the 33-14 loss to Fiji.
Scored a try in the 31-24 loss to Ireland.
Scored a try in the close 12-7 win over China.
Rugby Sevens News
---
Trending Now