Bryan Habana – The Future Of Rugby
Posted On September 21, 2022
---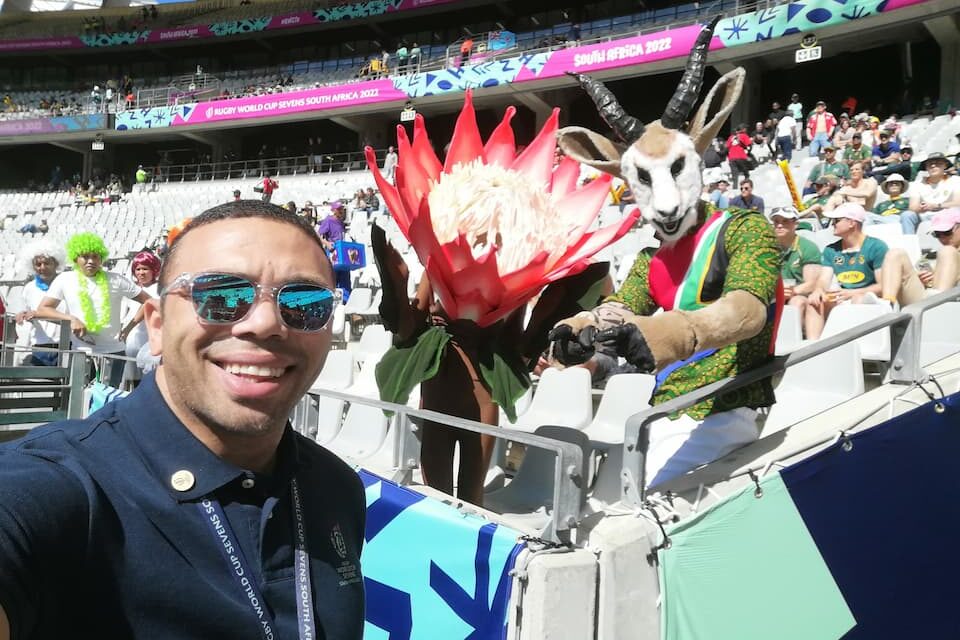 We spoke with former Springbok and legend Bryan Habana in Cape Town, as World Rugby and the South Africa Rugby Union hailed the Rugby World Cup Sevens as a success and a record breaker with 105,000 tickets sold over the three days, meaning it was the most attended rugby world cup sevens to date. 
Feature Photo Credit: Bryan Habana Twitter (RWC Sevens 2022)
There were question marks over the format and crowd attendance from the media at RWC Sevens 2022 but the format is the only one which allows women and men to share the same stage and for developing nations to attend the global showpiece.
There is also some doubt over the future of the sevens rugby world cup, and Alan Gilpin (World Rugby chief executive) confirmed the upcoming HSBC World Sevens Series 2022-2023 is the final one to be played in its current format, while a decision on future world cups for the sevens format will likely be announced in 2023.
Bryan Habana was in Cape Town as an ambassador for the tournament as we discussed with him the event, the future innovation pathways for rugby, and upcoming world cup hosts.
RWC Sevens 2022
How was it to have a rugby world cup back in South Africa, especially your feeling as a Capetonian?
Bryan: It really was amazing, I think you can forget the magnitude of a world cup whether it is Sevens or XVs rugby or soccer. Sevens rugby might not be as high up the food chain as some of the other sports but it's such a diverse group of people coming together and doing such wonderful things. I was fortunate enough to be in Japan at RWC 2019 and in San Francisco for the Sevens in 2018 and it really is extremely special.
To see women and men perform at the level that they are is epic and the buzz around the stadium was great, especially as COVID took away a lot from people. But that being said, people coming together – there is nothing like watching live sport as entertainment. 
Upcoming Rugby World Cup XVs Hosts
For those three different world cups you mentioned, how would you say the game has developed in the short time since San Francisco hosted the Sevens RWC in 2018?
Bryan: I think looking purely at where the XV men's game is, it's probably the most competitive we have seen  the top 6-7 nations – at any point in my memory of the professional era. 
I do think COVID has had a massive impact in general on tournaments, teams, players, and how they have had to function over the past 2.5 years and that's probably brought a bit more parity to where the current game is. Where the growth and development go from here is an interesting one. We have the Women's XVs World Cup in New Zealand coming up and the men's tournament in France in a year and then we see it going to the likes of Australia and the USA.
What was your feeling on that and the announcement of three hosts of future world cups?
Bryan: I'm all for it. I think it offers clarity on how you plan and how you develop whatever that strategic plan is for a specific tournament or country. I think to have the men's and women's tournament hosted by the same country within a short amount of time to each other is a profound decision from World Rugby – to give that platform accordingly to both codes. 
Preparation is the key and with territories like Australia, especially since South Africa left Super Rugby there is a lot of uncertainty about where rugby is going, they had a RWC in 2003 which went well and they now get one 24 years later. 
With America, we know it as a sleeping giant, or this bed of potential, of which there is still a lot of uncertainty but with the clarity to come with hosting the RWC – should be some excitement starting to build. 
That being said, I think for all teams and committees, all of the focus will be on the next two world cups, in New Zealand this year for the women, and for the men in France in 2023.
You can't think too far ahead but I think it sets goalposts for various nations and World Rugby is looking at various strategies with regards to giving nations who potentially are not getting the chance to develop and play top teams more consistently.
In an ever convoluted and saturated model, trying to figure everything in is great. But there seems to be a long-term vision and buy-in from all rugby unions around the world, so hopefully, there will be a success on all fronts.
Rugby in Asia and Developing Markets
What are your views then on regions like Asia, which has had RWC 2019 and regular sevens events in Hong Kong, Dubai and Singapore – but there are few teams from the region knocking on the door of the top ten or 20 in the world? How do the governing bodies help the game grow – as you say some markets are saturated but Asia barely has a professional league outside of Japan.
Bryan: In my opinion, I think we took some backward steps after 2019 and that was nobody's fault but due to the pandemic. Tournaments got locked down, players got locked in, and tournaments like Hong Kong Sevens haven't happened due to the ongoing restrictions there. So, what is the strategy? After getting to experience Japan in 2019 I believe it was an incredible springboard for a lot of success but COVID has meant that we were all forced to take a couple of steps back before we could move forward.
There was and is a lot of talk behind closed doors and in the admin rooms about where the game is going, both in terms of the 7s and 15s rugby.
I think there are shining lights, with what we saw in RWC 2015 with Japan beating SA and when they hosted the RWC 2019 so well, while the Hong Kong Sevens is so legendary in every aspect.
I think in terms of growth and development and opening up broadcasts to new audiences, the more you do that the more you will see the benefits. Hopefully, the exposure for fans to see the various clubs playing in Japan for example with so many South Africans and other players plying their trade there, it will help.
So opening up the game to new demographics to be able to grow the game fundamentally from a development perspective. You can't just put a top tier in and not have the correct structural opportunity from developmental roots upwards and expect to achieve success.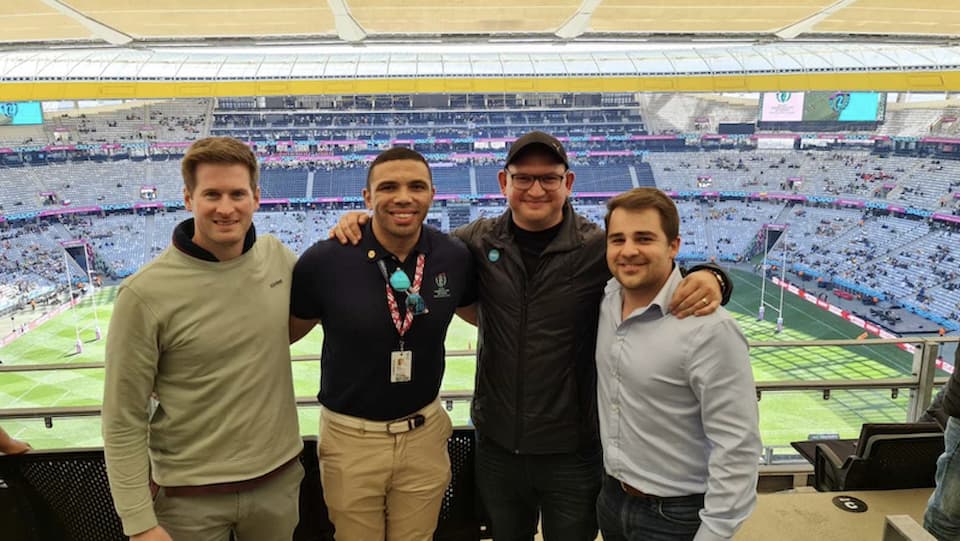 Can Rugby Better Utilise New Technology?
I know you have some personal interest in tech and startups – what is the next big step for World Rugby or even individual Unions embracing new technologies (NFTs, metaverse etc?)
Bryan: Anything new is fundamentally focused on properly educating the market and the environment. Unfortunately, rugby in terms of our fanbase that everyone is hoping to grow is not like the American sporting fanbase, it's not the IPL (cricket) fanbase with over a billion people.
So I think it's firstly getting people to understand the game of rugby – and sevens rugby is a great easy entry point to the game.
With things like NFTs, with developing market economies like South Africa or Fiji – like Samoa –  when the population has a 30-35% unemployment rate, the last thing you are going to worry about is an NFT or digital platform.
I do think World Rugby is looking at various platforms to gain fans and you can see the success of eSports globally and how that engages and attracts fans and brings them closer to the authenticity of the sport. But it's a process – the difficulty comes with player rights and image rights and World Rugby rights and coordinating that in an appropriate manner will determine the growth and success.
But I do love technology and I think there is always opportunity and you need to be able to explore the opportunity, and properly educate the market to have a truly successful model of where it's going – so if you can get that right and tap into it accordingly I believe there is a massive opportunity for everyone involved.
Thanks to Bryan Habana and World Rugby for helping to organise the interview at the Rugby World Cup Sevens 2022 in Cape Town.
Asian Rugby News 2022
---
Trending Now