Hong Kong Sevens Teams to Compete Overseas
---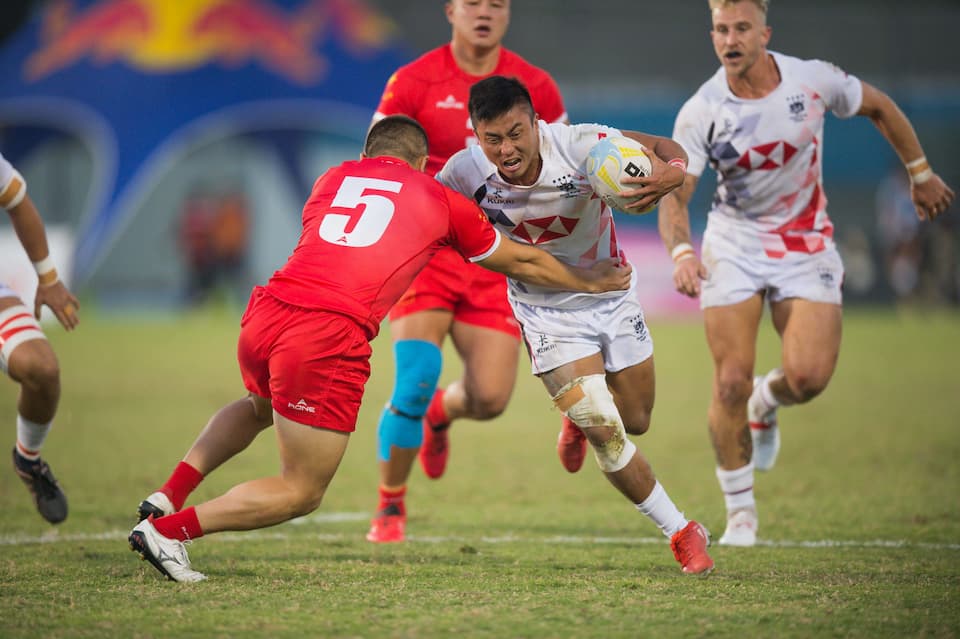 Hong Kong Rugby Union announced today that its representative sevens squads will head to the UK and Portugal to partake in competitions and a months-long training camp in May and June 2022 to help them prepare for key tournaments this year.
Feature Photo: HKRU -Cado Lee Ka-to charges through against China
The HKRU said the decision follows the "ongoing limitations on competitive opportunities made necessary by local anti-pandemic measures and is being supported by the Hong Kong Sports Institute where Rugby Sevens maintains elite sport status."
The current plan is for the team to be stationed abroad through the end of June this year, with HKRU General Manager of Performance Rugby James Farndon adding; "As restrictions tighten in Hong Kong, many of the HKSI's High-Performance Sports Programmes are taking their athletes and coaches overseas to ensure that they can maintain a competitive advantage for their respective international competitions.
Given the importance of our upcoming international tournaments, we believe that it is essential for the teams to have optimal preparation including matches against premier international competitions. The HKSI's approach to financially support overseas training camps like this is highly appreciated by the HKRU."
The teams might also take part in the UK Super Sevens Series, which takes place in May and June across the United Kingdom. There are long-running international sevens warm-up tournaments in Lisbon and the Algarve in Portugal.
Asian Games 2022
Hong Kong's men and women need the preparation to help them prepare for a busy 2022 international season, which includes the upcoming 19th Asian Games in Hangzhou, China in September 2022.
The HKRU Men's sevens team will be defending their first-ever team sport gold medal won in Jakarta in 2018. The women's squad finished in fifth place in Jakarta.
World Rugby Challenger Series
The World Rugby Challenger competition will determine places in the World Rugby HSBC Sevens Series in South America in August 2022 for the squads.
The Hong Kong men's team also need to prepare for the Rugby World Cup Sevens in South Africa in mid-September.
Cathay Pacific/HSBC Hong Kong Sevens 2022
Following the Asian Games, the men's and women's sevens squads will play in the 45th Cathay Pacific/HSBC Hong Kong Sevens from 4-6 November 2022. This will be the first international sevens competition to be held in HK in over 3 and a half years.
This press release was supplied and edited.
Asian Rugby News 2022
---
- Advertisement -

Trending Now