How Asian Nations Have Progressed in Rugby World Cups Over the Years
Posted On February 18, 2023
---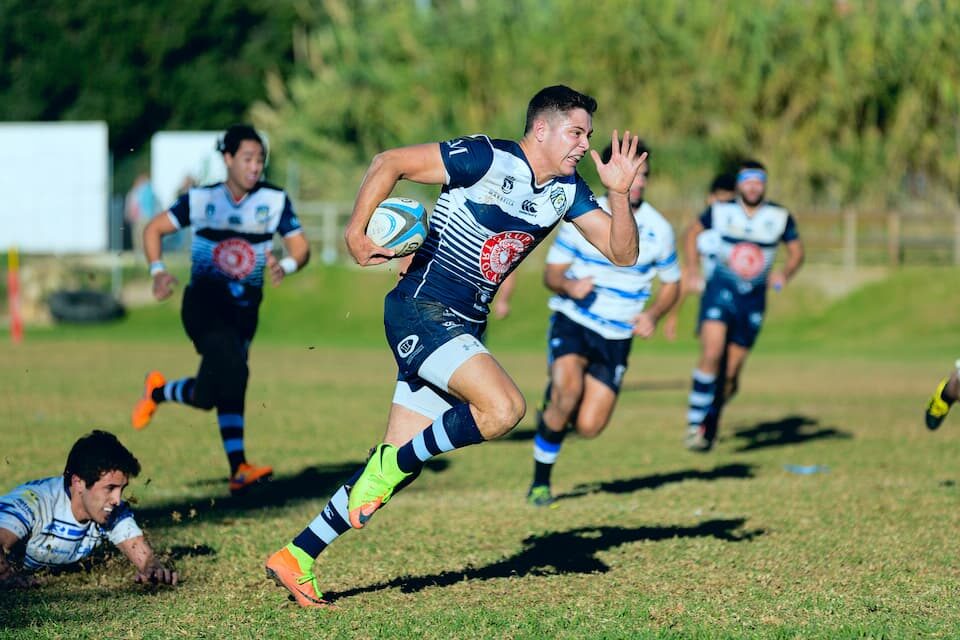 Since the first Men's Rugby World Cup started in 1987, there have been many notable changes in the format and expansion of the tournament, and Asian rugby nations have progressed a great deal since the sport went professional but have limited success at the biggest showpiece. Over recent years, countries such as Japan and Hong Kong have made significant strides in the Men XVs rugby and Women's XV rugby respectively.
(Feature photo credit- Quino Al)
Additionally,
sevens rugby
has also become increasingly popular throughout Asia with more teams from the region competing at a high level.
Overall, it is exciting to see how much growth Asian rugby has undergone. The 2019 Rugby World Cup was hosted in Japan (and in Asia for the first time), and World Rugby's top officials' visited the country for the first time since the RWC 2019 in February 2023. It will be interesting to see how the sport continues to develop across the continent as more nations invest in Sevens as an Olympic sport, and with national pro  Men's and Women's competitions being added to the busy calendar.
Japan Rugby
From their humble showing at the inaugural Mens RWC in 1987 to their Miracle in Brighton performance beating the Springboks at RWC 2015, and buoyed by the home support, reaching the quarterfinals for the first time in 2019 after beating Ireland and Scotland in their pool, the Brave Blossoms have been consistently rising in presence and power on the world stage.
They've actively participated in every Men's Rugby World Cup while their Women's XVs rugby team did well at llastyears' RWC 20221 in New Zealand, even though they didn't manage to win a match, they are the #1 ranked Women's XV team in Asia.
Both the Men's and Women's 7s teams are competing in the HSBC World Sevens Series this season and are regular threats and title contenders for the Asia Rugby Sevens Championship and Asian Games, and compete regularly at the Rugby World Cup Sevens events.
Japan has managed to forge an impressive reputation for itself in rugby union and continues to build a talented and successful roster of players. The Men's XVs game is assisted by the level of the JRLO, and the Japan XV Women will play in the new WXV in 2023 with a pathway to the RWC 2025 in England.
South Korea Rugby
The 1980s were an incredibly successful period for the South Korean Men's team and they became three-time consecutive champions in the Asia Rugby Championship (ARC), which included defeating reputable Japanese squads.
Still, fast-forward to more recent times and they are behind Japan and Hong Kong in the Men's XV game – South Korea has yet to be able to go beyond the qualification playoffs of the Rugby World Cup despite their sustained efforts. There are talks of a pro league being introduced that requires much physical capability and technique, investment, and talent. The country is also linked to the proposed Asia Rugby Grand League in 2024.
They are one of the top Asian countries in men's rugby, and South Korea's Sevens team is a force to be reckoned with, and they have won multiple medals at the Asian Games and other tournaments and were at the RWC Sevens 2022 in Cape Town.
Hong Kong Rugby Union
The Hong Kong national rugby men's XVs squad, affectionately known as the Dragons, is an absolute force in the sport in Asia. Not only have they consistently been qualifying for the playoffs of World Cup qualifiers, by winning the Asia Rugby Championship, but they also have yet to make it to a Rugby World Cup.
From men's XV rugby to women's XV, and both sevens sides, Hong Kong consistently is in contention and challenging for top honours in Asia.
The Women XV side qualified for RWC 2017 and will be looking to have a run at the RWC 2025 in England when the number of teams expands after first competing in the Asia Rugby Championships and WXV in 2023.
Both Seven's sides are usually among the top three in Asia, and both were at the RWC Sevens 2022. The Hong Kong men are the current Asia Rugby Sevens and Asian Games champions
With such passionate support behind them, too, these tenacious players are sure to deliver more notable performances in years to come.
Kazakhstan Rugby
The Kazakhstan Nomads are a force in Asian rugby, but it is their women's sides that have achieved better results over recent years.
The Men's XV heyday was in the old Asia Rugby  Five Nations tournament and they placed as runners-up for two consecutive years running (2009-2010). More recently they won their regional Asia Rugby Championship 2022 Division and are due to play India and Qatar in 2023 to try and climb back up to the top tier of Asian Men's rugby.
Kazakhstan Women XV competed in six Rugby World Cups between 1994 and 2014 but fell short in the last two, and like Japan and Hong Kong will have their sights set on the WXV and RWC 2025 Qualification.
The Women's team are also consistently challenging for the Asia Rugby Sevens Series, Challenger Series, and Rugby World Cup Sevens.
Undoubtedly, we'll be seeing more of these tenacious teams as they strive for excellence on and off the pitch!
Why More Asian Teams Haven't Advanced to Rugby World Cups?
Despite being a popular sport in Asia, with over 100 million rugby fans estimated to be watching worldwide, many Asian national rugby teams have not enjoyed much success in major competitions. This can be attributed in part to a lack of financial resources compared to the major rugby nations in Europe, the Americas, and the Pacific (as well as South Africa).
Many Asian teams also haven't benefited from professional leagues and the pool of players for either Men's XVs rugby, Women's XVs rugby, or sevens rugby at international levels. More top-level coaches are now being employed in the region to better understand the unique contexts and challenges that come with mobilizing a successful team in an Asian country.
There is a lot of potential, but also hurdles to overcome, and it is exciting to think about what Asian teams could accomplish in the future.
Conclusion
There has been a lack of global success for Asian teams in international rugby and there is still a lot of potential for many countries to tap into with the right funding and strategies.
From South Korea to Hong Kong, Kazakhstan, Japan, and in the top tier to the wave of nations coming through and expanding the game, the competitive spirit and better level of rugby amongst Asian teams will make them increasingly competitive on the world stage (as we have seen with the emergence of Thailand and Chinese 7s women's teams).
So, if online sports betting is your thing and you're looking for an underdog to back in the next Rugby World Cup qualifiers, then look no further than some of these up-and-coming Asian rugby teams! Who knows which ones will be making it to the big stage? We certainly can't wait to find out!
This is an invited post not written by Rugby Asia 247.
---
Trending Now