Japan Brave Blossoms Fall To England As Errors Prove Costly
Posted On September 18, 2023
---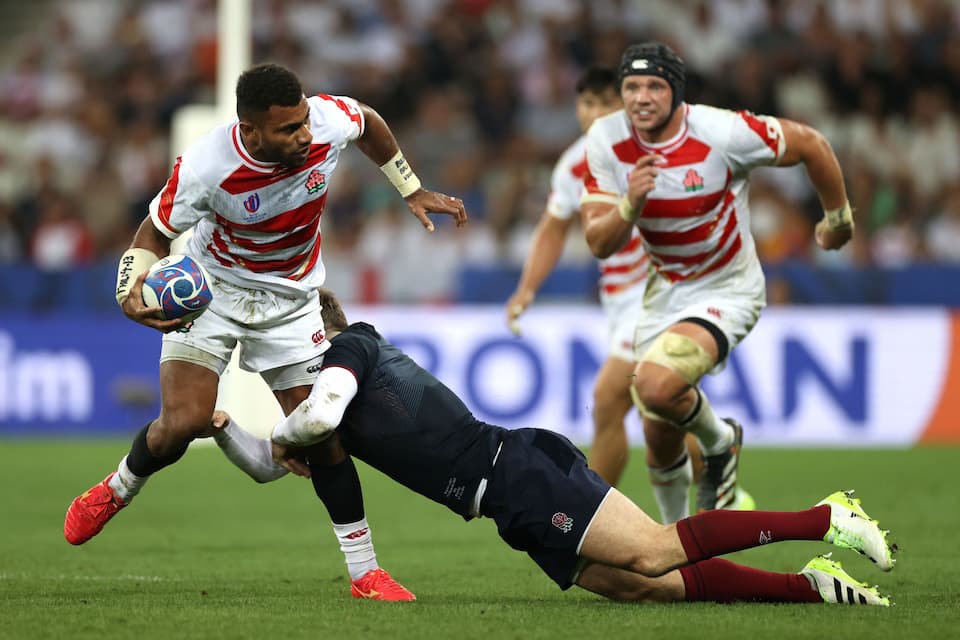 The Japan Brave Blossoms played their Pool D RWC 2023 second match against England having never beaten the English, and on a day Rugby World Cup records tumbled, too many errors and missed opportunities denied them a possible famous win, with the England team 34-12 victors.
With captain Kazuki Himeno back at the helm and Michael Leitch becoming the Japan men's most-capped player at Rugby World Cups, there was an air of optimism. However, we said after the opening win against Chile, that more would be required against pool favourites England. The Japanese had also only ever once won their second pool game of the tournament which was in 2019 against Ireland in Shizuoka.
The English squad, despite a gutsy win with 14 players against Argentina in their RWC 2023 opener (which were all kicked points) had been restricted to one try or less in six of their past seven tests in 2023 – only crossing three times once since March this year so discipline was going to be key for Jamie Joseph's side on the French Riviera.
The Brave Blossoms also had not had a great record against Six Nations teams – they were in fact chasing their first victory against Six Nations opposition since RWC 2019 which were wins over Ireland and Scotland, having since their home RWC lost their past eight games against teams from the Six Nations by an average margin of 22 points.
The first half was buoyed by the "upset" of Fiji beating Australia 22-15 (the first time they had done so at a Rugby World Cup) before this match got underway and the two sets of fans were in good voice from the anthems.
Japan started with an early mistake as #15 Semisi Masirewa knocked on when he had a simple task of dotting the ball down for a goal line kick but knocked it on- immediately putting pressure on his pack. They withheld the English scrum and stayed solid as a rock through the first half. However as "Swing Slow Sweet Chariot" rang around the Nice stadium, while Japanese fans (ever-polite) responded with a chorus of "Nippon" – the contradictions spoke volumes of the differences in fans and style of play of their teams.
England drew first blood with 3 points from Ford's boot, but Japan responded wonderfully only to see what would be a number of near chances not converted by the smallest of margins, but these fine margins determine the close matches. Rikiya Matsuda did score a penalty at the 15-minute mark to make it 3-3.
The excellent kicking game from the Japanese was pinning England back and by the water break it felt like an upset could be brewing if the Brave Blossoms could convert chances. 
Japan took the lead through another penalty but England came out stronger with a Lewis Ludlam try to take the lead to 6-10. A silly penalty let Japan creep within 1 point as Matsuda made it 9-10 in the 32nd minute.
Both sides created chances but England closed the half with a final penalty from Ford and a score of 9-13 lead at the break.
England looked more likely to score with some half chances in the second half but both sides were guilty of a series of mistakes throughout the match. Japan earned a penalty and slotted it over for a score of 12-13 but England struck back with a very fortuitous try when the ball bounced off Marler's head and England captain Courtney Lawes dotted it down under the posts for a converted try and a lead of 12-20.
An amazing run from #14 Kotaro Matsushima went begging after a teammate knocked the ball on – Lots of nervous energy and intent but no rewards and handling mistakes were piling up for both teams.
In the 63rd minute, a Japanese scrum on their 5m got very messy and England made the most of it with a kick to the corner for #15 Freddie Steward to catch it to score, with Ford converting and a 12-27 lead, which ultimately felt like it was too much for Japan to chase down,
There was relentless pressure from England in the final ten minutes as they chased the bonus point win and #13 Joe Marchant crossed over at the end to ensure a 12-34 win for England and a 22-point difference – spot-on for the Japanese since RWC 2019 against Six Nations opposition.
Post Match Reactions – Japan vs England
George Ford deservedly won the Man Of The Match award – this English side is much better with him in it, and they, without being amazing, are building in this RWC 2023 tournament. He said of Japan, "Massive congratulations to Japan on the performance. We knew they would come with a tactical plan, which caused us many problems, but I'm proud of the way the boys stuck at what was our plan."
Heading into this key Pool D clash, Japan were on a seven-game winning streak themselves in the pool stages at Rugby World Cups going back to RWC 2015 in Milton Keynes against Samoa. Before the run of winds, the Brave Blossoms had won just two of 26 pool matches with two draws and 22 losses in their RWC history.
England's Head Coach Steve Borthwick praised the Japanese,  "The Japan team tonight played what I thought was incredibly smart and unorthodox rugby. The use of the attacking kick, kicks over the ruck, kicks behind the defensive line, Ive not seen Japan use it to that extent and I thought they did that tremendously well
The Brave Blossoms will need to win every game left in the pool now to hope to make the quarterfinals. Joseph knows his side let the game slip away from missed opportunities "We just made too may mistakes under the pump. A team like us from Japan, to take on a powerhouse like England, we've got to get all of these things right and we just didn't do that. We paid the consequences for it."
The Brave Blossoms squad will have a few days rest in the south of France before they continue their preparation for the match against Samoa on Thursday, 28 September.
Japan Brave Blossoms News- Rugby World Cup 2023
---
Trending Now