Japan vs Samoa Preview – RWC 2023 Pool D Pool Match
Posted On September 27, 2023
---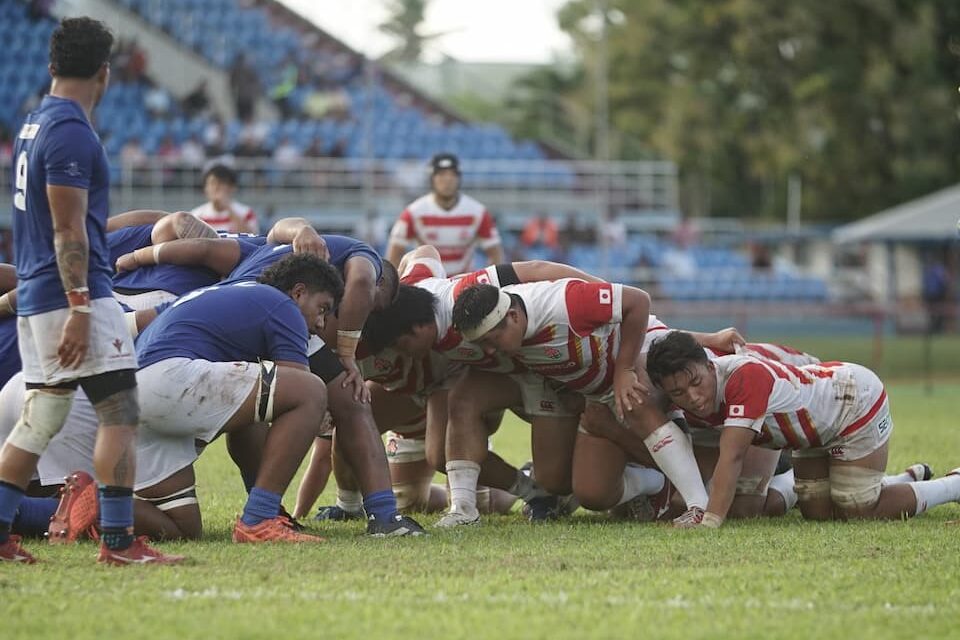 The Brave Blossom take on the powerful Samoans in their third Pool D RWC 2023 match on Thursday 28th September 2023 in Toulouse, knowing their last two matches will need to be approached as finals if they hope to make the quarterfinals for only the second time in their history.
The weather is set to be beautiful in Toulouse for the match and a sweaty rugby ball may be hard to handle but a high tempo and accurate gameplan is something Japan would be considering to move the bigger Pacific islanders around the field. Samoa themselves displayed poor handling and discipline against Argentina in their rain-impacted loss last week.
This match is set to be a tight contest and could well shape the pool qualifications as both Japan and Samoa are level on competition points in Pool D,  have scored the same number of tries (six), and there is only one point separating them in total points scored.
There is a feeling that the Japanese will really need to come to life this week and move the ball around with attacking intent, something they are known for, but they have been poor at finishing promising moves in France.
The stats show Japan should get quick ball as the Japanese have the fourth-fastest average ruck speed (3.46s) and the most rucks under two seconds at RWC 2023, whereas the Samoans have been among the worst in this area of the game – there are contrasts in the two team's stats in multiple areas:
An area the Japanese will need to improve is conceding fewer turnovers, as they rank among the worst of the sides in France – Meanwhile, Samoa have won the most.
On the plus side, the Japanese pack has done great in both scrums and lineouts – even winning the second most steals at RWC 2023.
The Japanese have conceded the least penalties, and the Samoans the second-most.
Japan Head Coach, Jamie Joseph, said of the pressure that is building, "We had a lot more time to strategise how we do that and a lot more time to recover from England's test match which was painful for a couple of days because the guys, emotionally, put a lot of effort into that game."
The two sides played each other back on July 22nd 2023 in Japan where the Samoans were 24-22 victors. History shows that when Japan wins, they win by bigger margins (their past three wins over Samoa have been by more than 19 points), while three of Samoa's past four victories over the Brave Blossoms have been by three points or fewer.
Kazuki Himeno, will again captain Japan and he said they have to step up to the Samoan physicality. "They have experience and physicality, good game control as well. But we have our plans to win this game, which we have to trust and execute. We have to stay connected and communicate in tough times, make double tackles to win the collisions."
There are some close ties between both camps too as Kyodo News pointed out this week. Samoan Head Coach, Seilala Mapusua, has spent time playing in Japan, while scrum-half Jonathan Taumateine played with Michael Leitch at the Chiefs in Super Rugby, and Samoan flyhalf Christian Leali'ifano has played two seasons in the Top League in Japan.
Mapusua acknowledged the threat of Japan. "Japan are a very well-disciplined team and changes we have made, we see as setting the style of play we want to play as well as adding a bit more variety in our attack." On what his planned strategy is, he was understandably coy, "we are very wary of Japan's strengths in terms of their speed and also their never-say-die attitude."
Samoan captain, Chris Vui, added that they are not taking Japan lightly. "We do know how good they are. They are a well-coached team and we're looking for their special plays as they always do. [Amato] Fakatava, the big old lock, he is someone that brings a lot of physicality in that Japanese team so he is one to look out for."
A loss on Thursday would probably end the quarterfinal ambitions for either side, but a third-place Pool finish would still be a key target to avoid qualification for RWC 2027 in Australia.
Jaco Peyper (South Africa) will be the match referee.
Match Permutations – Japan vs. Samoa
Japan are in 13th on the World Rugby rankings and Samoa are in 12th.
If Samoa loses, they could fall by as many as three places to 15th if the results also go against them.
Japan could gain places if they beat Samoa by more than 15 points, climbing to 11th above Italy if the Europeans lose to New Zealand.
For fans attending the match, the organisers do anticipate potential transport issues and we suggest you follow the advice here.
Japan Brave Blossoms Squad vs Samoa – RWC 2023 Pool D Thursday 28th September 2023
Japan Head Coach Jamie Joseph has made two changes to his starting XV to the side that lost to England – Dylan Riley replaced Tomoki Osada in the centres, and Lomano Lemeki replaced Semisi Masiresa at full-back. This will be Lemeki's first start since 23 October 2021 against Australia.
Jack Cornelsen and Michael Leitch are the only two Japanese forwards to have played every minute of the RWC 2023 so far.
Seungsin Lee could make his Rugby World Cup debut if he comes off the bench.
1 Keita Inagaki
2 Shota Horie
3 Jiwon Gu
4 Jack Cornelsen
5 Amato Fakatava
6 Michael Leitch
7 Pieter Labuschagne
8 Kazuki Himeno (c)
9 Naoto Saito*
10 Rikiya Matsuda
11 Jone Naikabula
12 Ryoto Nakamura
13 Dylan Riley
14 Kotaro Matsushima
15 Lomano Lemeki
Replacements:
16 Atsushi Sakate
17 Craig Millar
18 Asaeli Ai Valu
19 Warner Dearns
20 Kanji Shimokawa
21 Kenta Fukuda*
22 Seungsin Lee
23 Tomoki Osada
*Japan suffered a late change in the matchday squad as the scrumhalf Yutaka Nagare was ruled out, forcing Naoto Saito to start #9 and uncapped Kenta Fukuda #21 to come into the matchday squad on the bench.
Samoa Squad vs Japan– RWC 2023 Pool D Thursday 28th September 2023
Samoan Head Coach Seilala Mapusua has made four changes to his starting XV from the team who lost to Argentina. There are 11 members in the match-day 23 from when they beat Japan earlier this year, including eight in the starting XV – Paul Alo-Emile, Taleni Seu, Jonathan Taumateine, Christian Leali'ifano, Tumua Manu, Ed Fidow, Duncan Paia'aua and Danny Toala.
1 James Lay
2 Seilala Lam
3 Paul Alo-Emile
4 Chris Vui (c)
5 Theo McFarland
6 Taleni Junior Agaese Seu
7 Fritz Lee
8 Sa Jordan Taufua
9 Jonathan Taumateine
10 Christian Leali'ifano
11 Ben Lam
12 Alai D'Angelo Leuila
13 Tumua Manu
14 Ed Fidow
15 Duncan Paia'aua
Replacements:
16 Sama Malolo
17 Jordan Lay
18 Michael Alaalatoa
19 Steven Luatua
20 Alamanda Motuga
21 Melani Matavao
22 Neria Fomai
23 Danny Toala
Japan Brave Blossoms – Rugby World Cup 2023 News
---
Trending Now