New Zealand Triumph at LA Sevens 2023
Posted On February 27, 2023
---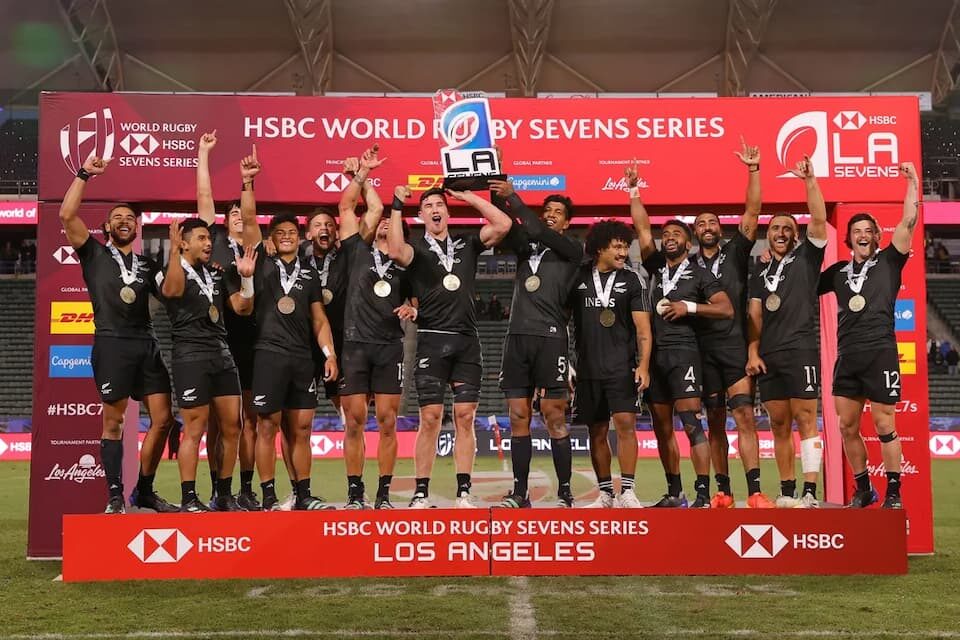 New Zealand Men won the LA 7s 2023 by beating Argentina 22-12 at Digital Health Sports Park and became the first men's team to win two tournaments in this season's HSBC World Rugby Sevens Series 2023, in another weekend of topsy-turvy results and shock upsets.
Feature Photo credit: Mike Lee – KLC fotos for World Rugby
Leroy Carter scored five tries including two in Cup Final as NZ extended their lead at the top of the Men's rankings and in the process avenged their defeat to Argentina in their home Cup final in Hamilton earlier in the Series.
New Zealand captain Sam Dickson said, "We made a few finals last year and now we're finally clicking, that hard work's paying off."
New Zealand forward Dylan Collier added: "It was a different weekend than normal with the delays on the first day due to lightning, so we just had to adjust on the go and we got through the first day and we managed to come here today and play pretty well.
This season is extremely competitive. There are eight teams in the running to get in the top four and full credit to all the teams for how much everyone has improved. Every game is tough, and we knew that if we did well this weekend and next weekend, we can pull away a little bit and create a bit of a buffer and it will go a long way to winning the World Series.
Fiji claimed bronze, beating Australia. and Head Coach Ben Gollings added: "These games are crucial. They've (Fiji team) regrouped well, and it was a big performance."
The weekend had seen a number of shock wins, including notably Uruguay who beat South Africa in the pools 10-5, but the Blitzboks snuck through to the Cup quarterfinals and lost to Fiji 28-7 before being thumped by Samoa 45-5.
Kenya has also beaten Australia in pool play 12-7, while the USA scored a winner against Chile after the hooter to make it 20-17 in their final pool game on Saturday. The home side though lost to Spain 12-14 in their 9th-place quarterfinal.
The weather was abysmal on the first day, especially with heavy rain and the matches being delayed due to lightning.
You can see all of the results from the LA 7s 2023 here.
2023 World Sevens Series Log
With six of 11 2023 Series tournaments played at the end of the HSBC Los Angeles Sevens, New Zealand is now on 107 points, 21 more than Los Pumas Sevens, who are second on the log after LA. South Africa and Fiji occupy 3rd and 4th respectively.
Japan Sevens finished in 14th place at LA7s and are running out of time to escape the relegation zone with the Series beyond the halfway mark as they sit on 8 points, trailing Canada as the next core team in the standings on 19 points.
The HSBC World Rugby Sevens Series heads to Vancouver and are joined by the Women, with the tournament taking place 3-5 March 2023.
Sevens Rugby News 2023
---
Trending Now