Borneo Sevens 2023 Teams Confirmed
---

The Borneo Sevens 2023, dubbed the 'greenest sevens in the world', is scheduled to be played from March 17-19 2023 at the Eagles Rugby Club and will feature a total of 16 women's and men's teams including a number of national Asian 7s teams.
Updated*
This tournament in the past has attracted several high-calibre sevens rugby teams, including national 7s and development teams from Asia and the Pacific. The Borneo 7s is sanctioned by the Malaysia Rugby Union and Asia Rugby.
Nagato Blue Angels (Japan)  previously also competed and won in 2019 – their team currently boasts a number of international 7s players from Japan, South Africa (Nadine Roos – SA Women's Player of the Year 2022), Grace Adianbokule (Kenya 7s), Grace Kukutai (NZ), Pleuni Kievit (Holland), Bianca Silva (Brazil 7s) etc.
The grounds and facilities are meant to be top-notch at the Borneo club and the Sir Gordon Tietjens Eagles Rugby Academy was officially launched on 15th March 2018 and used for rugby development for the Eagles Rugby Club (ERC).
Borneo Sevens 2023 Teams
The Sevens is held at the Eagles Rugby Club and the last time the Borneo Sevens was held was in 2019, the 7s tournament attracted touring 7s teams including the Belgium Barbarians, Chinese Taipei 7s, HK Men and Women Dragons, Malaysia national Men's & Women's 7s, Thailand national Men's 7s, Philippines Women's 7s, Singapore and Japanese development squads etc.
For the 2023 edition of the tournament:
It was thought the Thailand Women 7s would be heading to Borneo, possibly with their new coach Paul Delport (previously SA Women's 7s coach and a former Blitzboks captain himself) who has signed a short-term contract with the TRU, but only the Thai 7s Men are confirmed.
Both Hong Kong Women's and Men's 7s teams are also going to Borneo 7s to help prepare for upcoming HK 7s, Singapore 7s and the Challenger Series in South Africa in April. Hong Kong Dragons Women finished 4th in the last tournament in 2019, and the Men came second in 2019 and won in 2018.
Uzbekistan Women's and Men's 7s teams are confirmed.
India Women's 7s team is confirmed.
Kazakhstan Women's 7s teams is confirmed.
Singapore National Development Team (Women and Men).
Borneo Sevens 2023 Pools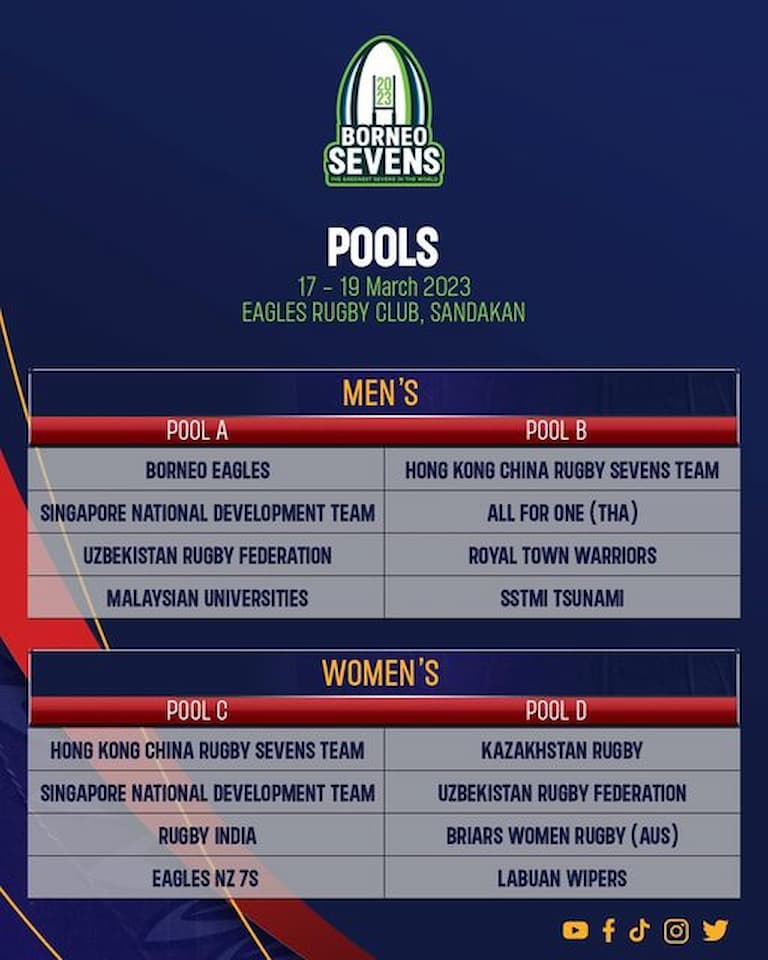 Men's 7s Teams – Borneo 7s 2023*
Pool A
Borneo Eagles
Singapore National Development Team
Uzbekistan
Malaysian Universities
Pool B
Hong Kong China
Thailand All For One
Royal Town Warriors
Sports School Tengku Mahkota Ismail (SSTMI Tsunami)
Women's 7s Teams – Borneo 7s 2023
Pool A
Hong Kong China
Singapore National Development Team
India
Eagles NZ7s
Pool B
Kazakhstan
Uzbekistan
Briars Women's Club (Australia)
Labuan Wipers
Early reports suggest there will be total prize money of US $5,000 for both male and female categories at the Borneo 7s 2023.

How to Watch the Borneo 7s 2023?
There is a dedicated YouTube channel for previous tournaments and they have live-streamed in the past but there is no update yet for the 2023 edition.
Date: 17-19 March 2023
Venue: Eagles Rugby Club,  Sandakan, Malaysia
Asian Rugby Tournaments 2023
---
Trending Now