Race To Rugby World Cup 2021 Duo Set For Final Leg
Posted On October 7, 2022
---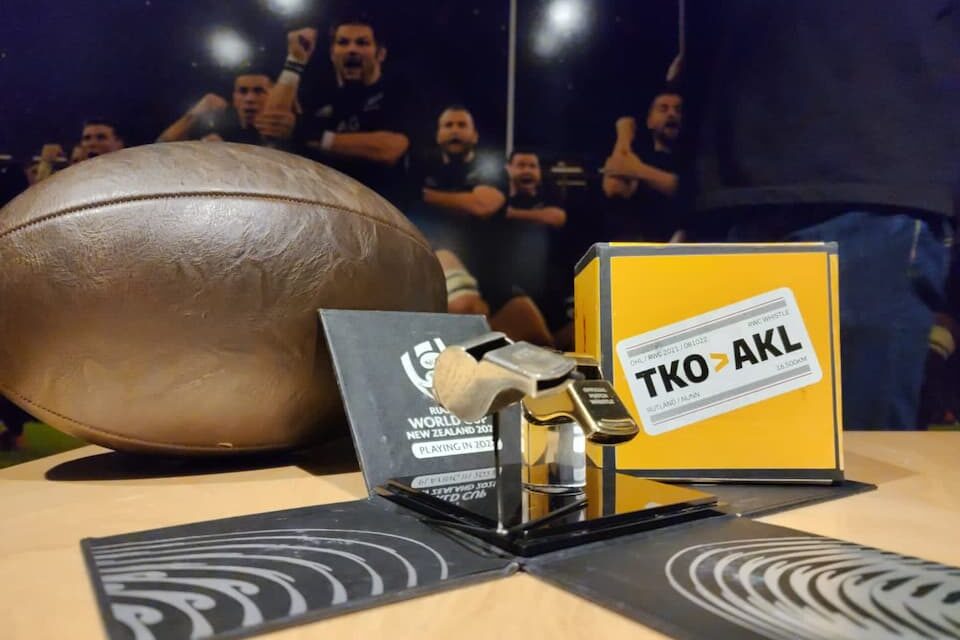 Ron Rutland and Adam Nunn, who have been on an incredible journey as part of the Race to Rugby World Cup 2021 to raise funds and awareness for ChildFund Rugby, will deliver the whistle for the opening match of Rugby World Cup 2021 on the final leg of their journey this weekend.
(Feature Image  Credit – Race To Rugby World Cup Twitter)
On Saturday morning, on the 8th of October 2022 in Auckland, the pair will complete an epic bicycle ride from Tokyo to Auckland and hand over the whistle that Maggie Cogger-Orr will use to kick off Rugby World Cup 2021 in the opening match at Eden Park between South Africa and France.
World Rugby said, "Their pioneering spirit of adventure reflects a tournament that is changing the game for women in rugby, with Eden Park set to deliver a record crowd for a standalone women's rugby match and more than double the existing record for a women's sports event in New Zealand."
World Rugby Chief Executive Alan Gilpin will be greeting Ron and Adam on their arrival at Eden Park. Gilpin said: "Rugby World Cup 2021 is rugby's great family reunion and Ron and Adam have been the ultimate uniters of our family, travelling through 11 nations to participate in transformational activities with our Principal Charity Partner ChildFund Rugby."
We spoke with the pair when they were in Southeast Asia (Cambodia) earlier on the journey and you can find out what they said of the adventure up to that point and their expectations here.
Race to Rugby World Cup 2021 – Get Involved
The World Rugby CEO added: "I hope that the people of Auckland and Waitakere get behind the remarkable pair and join them on the final leg of their epic journey before they arrive at a packed Eden Park for the start of a very special celebration of women, rugby, New Zealand and togetherness."
Local cyclists are welcome to join Ron and Adam for their Auckland leg 'grand depart' at Becroft Park (08:00), taking in Waitakere Stadium (approx. 09:30) before arriving at the Morningside Tavern (approx. 10:30).
Fans are urged to get behind the pair and make a donation to Rugby World Cup 2021 Principal Charity ChildFund Rugby via www.racetorugbyworldcup.com to help support a range of innovative and award-winning sport for development curricula, giving children and young people from disadvantaged communities the opportunity to play, learn and lead.
Margaret Sheehan, ChildFund Australia CEO, added: "It's been inspiring seeing Ron and Adam travelling towards Auckland, and visiting the rugby community along the way, including many of our partners. Their support means that more girls and women will have the opportunity to learn leadership and life skills through rugby, supporting a more impactful tournament legacy."
The Race to Rugby World Cup In Numbers
Seven months undertaking.
The cycling trip spanned over 209 days, 11 nations, and over 16,500km,
Help raise funds for the tournament's Principal Charity Partner ChildFund Rugby.
Rugby World Cup 2021 Latest
---
Trending Now