Race To Rugby World Cup – The Positive Ripple Effects
---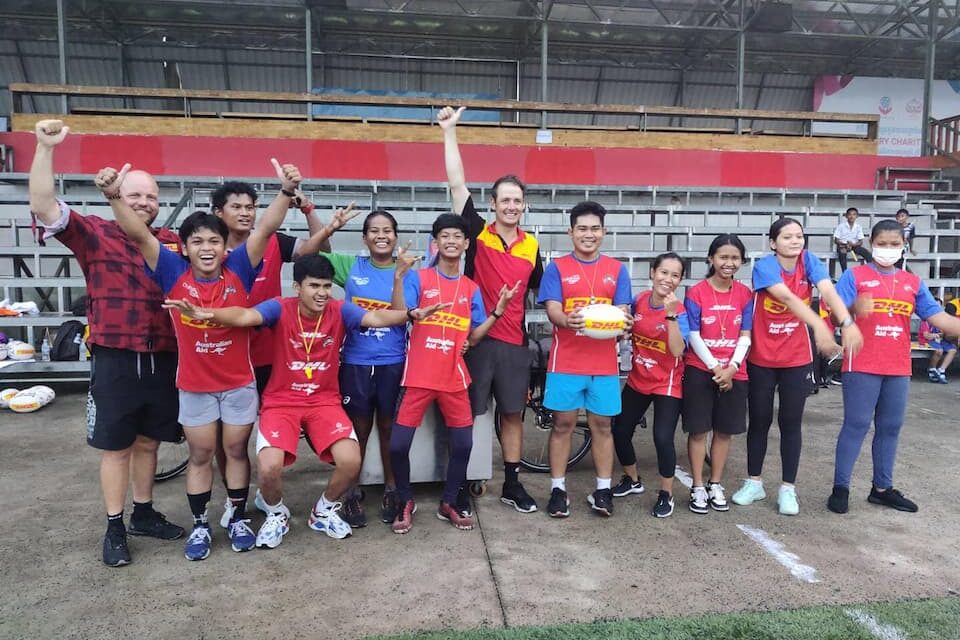 We caught up with Ron Rutland and Adam Nunn at the start of their visit to Cambodia as part of the Race To Rugby World Cup, on day 44 to be exact.
Their adventure will involve a 16,500km cycle from Tokyo to Auckland to deliver the whistle for the opening match of Rugby World Cup 2021, playing in 2022, and raise funds for the event's Principal Charity Partner ChildFund Rugby. In total, they hope to cross 14 nations across 210 days.
Having set off from Japan (the start date in March was delayed from their initial plans due to the ongoing pandemic issues), and having traversed Vietnam, the pair entered the third country on their trek.
We found out more about their goals, journey to date, how the trip has already impacted their lives, and the ripple effect they hope the trip will achieve. 
(Feature Photo Credit: ChildFund Rugby Cambodia)
Race To Rugby World Cup – Auspicious Start
Ron: We started on Monday 14th March from the Tokyo Ajinomoto Stadium in Tokyo, and the real journey so far was just getting to the start line. The initial plan was to leave Japan in January 2022 (in an ideal world) and it would have been freezing cold but it would have given us an opportunity to retrace the RWC 2019 route – this would have taken us through China, stopping in Hong Kong, which is a city close to my heart and also such a wonderful rugby community. And then cycle through Vietnam, Lao PDR, Cambodia, Thailand, and Malaysia.
As the months rolled on, it became obvious China was not going to open up, and we needed to be pragmatic. We need to be at peace with these decisions as you can only control what you can control. 
It has also opened up opportunities as the Japan plan was changed due to restrictions and Japan Rugby Football Union, World Rugby, and DHL have been incredibly helpful. We actually even did a preparatory ride from Cape Town to Windhoek but we got told at the time the visa was delayed. A little bit with our tail between our legs – we had to go back to South Africa after having all these farewells with friends and family, but we spent the extra six weeks getting the website to another level (Adam's background is working in content), and a better strategy in content and podcasts and things.
Once the visa situation changed, we got our business visas and we were the first South Africans to get these visas (they thank the officials at the SA Embassy and DHL etc for helping with this). It really has been a big challenge just to get to that point. 
Even once the pair got to Japan, they had to undergo the arrival process and thought they were in the clear, even setting a date to leave Tokyo. But they got a call to say there was a positive COVID case on their flight, meaning they had to self-isolate, even though for 48 hours they had (within the rules) been meeting people in Tokyo. They booked into an Airbnb and sat out their quarantine for 4-5 days with strict rules which included live calls with the authorities. 
Adam: It just made us cagey even though we were fully complying with the rules and the mood just changed from the positivity of getting the visa and arriving in Japan. And the weather, while we were in isolation, was beautiful, the most amazing Spring weather (they both laughed at this).
The issue was, JRFU had already booked the stadium in Tokyo for our departure, and that needed to be rebooked as they don't own the ground, so there were a lot of extras to do. 
Once we got going that day, within 300 metres we saw a car accident-  literally, a car had flipped over (hopefully they were ok, he adds). But after all of this, we had some relief, as we were finally on the go.
Ron: I was thinking about this trip well over a year ago and we committed to this trip a long time ago. We got the whistle in the same stadium I had cycled into for RWC 2019, so it was very special – and we realised we had a lot of responsibility.
The work JRFU and World Rugby had put in, the connection of the whistle, and the media coverage was great. And of course DHL and the partnership with ChildFund – we had this responsibility to deliver the whistle – and raise as much money as we can for ChildFund Rugby.
Adam: We had a good schedule and we had a flight to depart Japan. But at the start, our legs were hurting and we had to get used to camping, various levels of sleep, the hot and cold weather etc. If we had to redo that start of the route now, physically, we would be able to do it much more quickly.
Vietnam Experience – Race to Rugby World Cup
Adam: We had other hurdles too with the change of border controls and restrictions for each country. For Vietnam, DHL helped me out with my South African passport and visa as SA was not on the exemption list for Vietnamese entry.
So we had to get my visa to Osaka (which we had passed by 200 km), drop it off with a South African who runs a pie shop that we had met, he got the visa, shipped it to Tokyo and I got into Vietnam. 
The change of weather was immediate in Vietnam as we had to fly in so there was no transition, and we were now sweating all day. But Vietnam was so exciting – it was an amazing country to cycle through and our tour took us from Hanoi to Ho Chi Minh City, along the coastline, which was remarkable and not many people do that.
We had an engagement at the start with the ChildFund Rugby program outside Hanoi at Hoa Binh. We knew there was rugby there but I can imagine people being surprised there is rugby there, and they get the game, they love it. 
Ron: In Hoa Binh, it was Adam's first time engaging with the coaches from ChildFund. I had the pleasure in 2019 when I did the cycle to meet them. Because of COVID, they had been restricted with what they could do with the programme.
But a group of 15 coaches, who have been in the programme for some years, some since the beginning, took their Monday off to show us around by bicycle. They just had smiles on their faces. And Adam commented on how confident they all were due to ChildFund.
Just to be around those young people who have made such a big difference to their community. You know, from big stadiums and the Canon Eagles and Sakuras to the most grassroots rugby in the world.
In Hanoi, we connected with the Hanoi Dragons, which is where the SEA rugby network kicks in. And we saw the Gaelic football (GAA) guys based there. So we had a full range of rugby in the region.
We cruised from HCMC to Cambodia where we are now, and it was an easy ride. It was flat as a pancake – and there were no restrictions on entering, it felt really 'normal' again.
For the Love Of The Game (Rugby)
Can you shed some highlights about the rugby community and the love and appreciation for the game, which for many in the region (and elsewhere) may have been lacking the past two years due to the pandemic?
Ron: Well yes there are some obvious examples already on this trip. We saw two top teams play in the Japan League One. Adam is friends with (Springbok and Canon Eagles) Jesse Kriel and we happened to bump into him in Ōita – he happened to be playing a game that day so we got to see two Tokyo teams play each other outside of Tokyo.
We also came across school kids on a Saturday morning in Japan as we happened to be cycling past, like any Saturday morning in any rugby country in the world, there were just dozens and dozens of kids of all shapes and sizes playing. This group must have been aged between 10-12 years old and playing in the same team, in the mud, flying into each other. They had volunteer parents shouting on, and supporting their kids.
JRFU had also arranged for an engagement with us on our third day with the Sakura XV (the Japanese women's national XVs) and we had a presentation with them. I actually watched Japan beat Ireland and South Africa play Italy at RWC 2019 on the same field (Shizuoka Stadium). The Sakura were pumped we were cycling to RWC 2021.
Adam: Two of their players handed over the whistle we are carrying with us, so they have become our second team (after South Africa), due to that engagement with them.
We also saw in Osaka a U16 sevens girls team training really hard, on a pubic field after row after row of baseball fields. They were running great moves, and proper lines and they would easily give SA schoolboys a run for their money. I think it was a Sunday morning as well, and they were going at it hard. That session, we just sat and watched and it was so visible in a public park and an all-female team – that stood out for me.
The Race to Rugby World Cup Lessons & Goals
You can see by the way you both talk about the experiences how much of an impact the trip is having on you. And of course, what you are doing is meaningful. Delivering the whistle for the RWC 2021, and raising funds for ChildFund Rugby. 
What are the main goals and highlights you have after Cambodia?
Ron: Just two things, I think most people might not know we are helping start a legacy with the whistle as that has not been a tradition at previous Rugby World Cups for women, only for the men. And this is the first women's RWC that has a charity partner, which is amazing. In terms of everything that ChildFund does for gender equality, and in sports and inclusivity, that's a huge milestone. 
For the rest of the trip, I can't wait for Bangkok. I arrived in the city in 2002, searched for a local rugby club, found the Southerners and joined them for training on a Saturday on a sandy field, and straight away I had a community of mates of Fijians, South Africans, Scots, English, Thais etc. We got to tour Phuket and Pattaya and Vientiane and it really gave me a second lease on life in rugby, it really did.
The previous night the pair had addressed a small crowd at a meet and greet with the Phnom Penh Social Rugby Club and Adam had told us how the trip was his first proper experience of Asia.
Adam: So on this trip, a lot of these events have been milestones for me. From a sporting perspective, whether it's the Olympics or the World Cups; It has always been teams with massive money that rise to the top.
We are fortunate enough to travel through countries that have well-developed rugby and sporting infrastructures but we also experience the lowest of the low, in terms of budgets in rugby. 
The kids we have seen have more enthusiasm at every practice than a U14 SA schoolboy, but that boy has a better opportunity to lift the Webb Ellis Cup. That's the way of the world. But we have a chance to see how these kids in Asia (and other places to come) are being impacted in their lives.
So I am now starting to see who is lifting the trophy but also who is having the most fun with these experiences. That really makes me stoked.
And despite the delays to your own trip, you will be passing through countries where the sport has only just returned for the first time in two+ years so that enthusiasm will only be exponentially higher.
You have a long way to go, and many countries to go to. Are there any key achievements you hope you will achieve by the time you hand over the whistle for the South Africa vs France game in New Zealand in September- where you can look back and say "I'm so proud we did that X thing"?
Ron: From a campaign point of view, we have set a target of $200,000 and we are well behind that at the moment but we hope the events in Singapore, Australia and New Zealand will help – its certainly something we will work hard on to pull off, but whatever we raise we will be proud of that. 
And to make sure we don't lose the whistle and we deliver it on time!
From a personal point of view, this is my third big trip but I am loving it as if it's my first. I know this part of the world really well and I just want to remind myself how lucky I am to be on this trip and the shared experiences with Adam are a privilege.
We have a motto on this trip to say yes to everything – so if someone offers us to stay at the French Embassy (as they had been offered in Phnom Penh), we'll say yes and do it. If we get asked to try food we haven't tried – yes let's do it. At the end of it all, if DHL, World Rugby, and ChildFund are happy with our efforts, and if we are happy with our efforts, that's what counts.
Adam: It's the same for me and for the campaign goals – as it's an amazing target and charity.
There is a ripple effect too – even if just my brother gets inspired by my cycle he will inspire someone else, that has an effect. If one woman from the Springbok Women's team is inspired, that's a win. 
From a personal perspective, if I can have one impact on one person that's ok for me. And I feel like it's already happened.
Ron: It's two ways. We get messages from people thanking us and being inspired. But the people we meet along the way – the number of times people have stopped and given us water, or a coffee in the freezing cold. Or put us up in their homes, and that has an effect on us.
We have been on the road 40+ days and we have five times more than that to go, what a ride! The rugby communities we have engaged with have been amazing, we have people riding with us for parts in different countries and big events to look forward to.
There is also a ride to Rugby World Cup 2023 planned, which will take the guys from New Zealand through the Americas, onto the UK and onto Paris for the opening match of the RWC 2023 between France and the All Blacks!
Upcoming Race to Rugby World Cup Events
SINGAPORE FUNDRAISER – May 27, 2022

SYDNEY FUNDRAISER – September 9, 2022

AUCKLAND ARRIVAL FUNCTION – October 7, 2022
---
Trending Now