Rugby World Cup 2021 – Captains Photocall and Team Welcome
Posted On October 3, 2022
---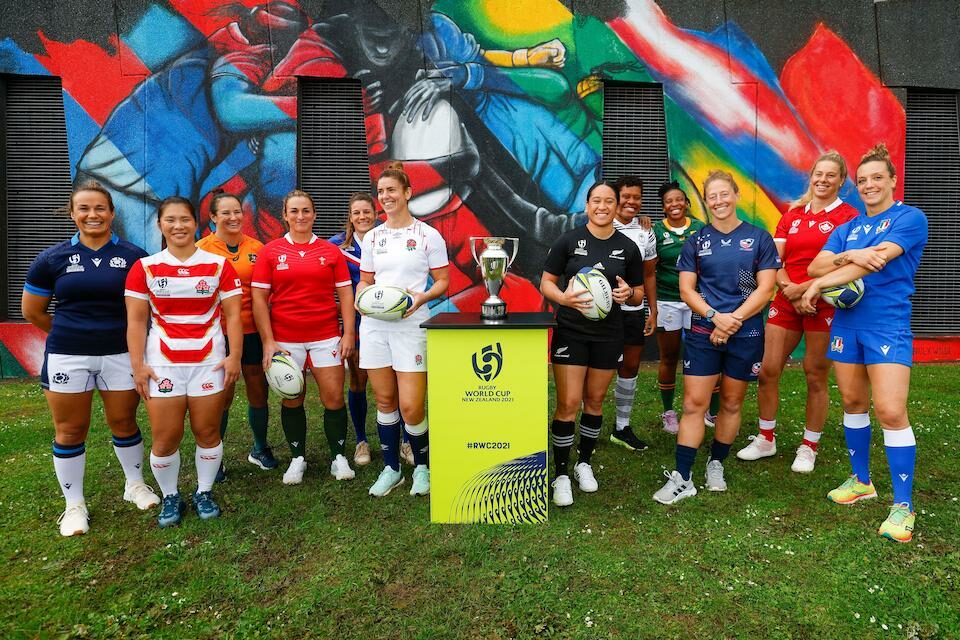 With the start of the Rugby World Cup 2021 this coming weekend, the 12 national teams and organisers have gone through the final preparation before the action takes place on the field. The 12 captains of the nations for the women's RWC participated in the captain's photocall on Sunday, while all of the teams and match officials were officially welcomed in Auckland today.
Feature photo by Hagen Hopkins – World Rugby/World Rugby via Getty Images
Team Welcome – Rugby World Cup 2021
The 12 competing teams, match officials and the global rugby family were officially welcomed to Rugby World Cup 2021 in New Zealand today (Monday 3rd October 2022) in a ceremony hosted at SkyCity Theatre in Auckland. Her Excellency The Rt Hon Dame Cindy Kiro, Governor-General of New Zealand, officially welcomed the tournament participants.
The welcome event began with an official cultural welcome​ before the captain of each team and a representative of the match officials were invited onto the stage to be presented with their participation medal and cap said World Rugby.
The guests were treated to a Pasifika dance performance which focused on female empowerment ​before the welcome ceremony concluded with words of inspiration from four young female poets from Papakura High School; Umisuma (Rosaline) Petelo, Pauline Kaulave, Ilhaam Sheik Freed and Mercy Lauesi, who delivered the Champions poem.
Her Excellency The Rt Hon Dame Cindy Kiro said, "It's an honour to welcome rugby's finest wāhine toa (women champions) from around the world to Aotearoa (New Zealand) for this hugely anticipated Rugby World Cup…
Rugby is bigger than just a game in New Zealand. For many a New Zealander, it's part of who we are. The black jersey and silver fern hold a very special place in the hearts of many New Zealanders."
She concluded "I'm delighted that for the world's elite 15s women, the international stage has come to the southern hemisphere for the first time – and at such an exciting time for women's rugby, and indeed for women's sport.
The measure of success for this World Cup is not just the numbers watching each game, and who raises the silverware come November 12. Its most important legacy will be the tamariki (youth) who see themselves represented on the field, who are inspired to join their local club or to kick a ball around with their friends at school."
Alan Gilpin, World Rugby Chief Executive also said, "The spirit of the tournament will be rugby's greatest family reunion, a celebration of togetherness, resilience and inspiration following the challenges of the pandemic. With preparations now complete, we are very excited to be here, and the players and teams are ready to inspire future generations with their passion, skill and excellence on and off the field of play.
The development of women in rugby is the single greatest opportunity for our sport to grow in the next decade. Our mission is a sport where every girl and boy has equal opportunity. Where targeted investment in the women's game drives transformational change. Where we have strong and sustainable global competitions, growth and retention plans at every level."
Gilpin added "Rugby World Cup 2021 promises to be a very special event, which will springboard the sport into a golden era of opportunity, accelerating the phenomenal rise of women's rugby on a global basis. I wish the best of luck to all teams competing in this very special event."
Rugby World Cup 2021 Captains Photocall
Captains of all 12 nations competing at Rugby World Cup 2021 gathered at Eden Park in Auckland on Sunday 2 October 2022 for the Rugby World Cup 2021 Captains photocall.
The captains had their group photos taken in front of a mural on the wall of Eden Park,. The mural was "specially created for the tournament by artist Paul Walsh as part of a series entitled 'Support Our Sisters: The Art of Rugby', which consists of seven bespoke, large-scale street artworks in locations across New Zealand in celebration of women's rugby."
Japan Sakura XV – RWC 2021 Expectations
Japan captain Saki Minami told World Rugby about her feelings less than a week until the first match: "As the tournament was postponed a year, now finally we are here to prove what we have been doing and what we have been accumulating. To be able to show that now I am so excited about it."
She added her excitement about being in New Zealand "As New Zealand is such a rugby country, being here in a rugby country and being able to participate in a Rugby World Cup is very exciting. It is also my first time here in New Zealand. It is not my first ever World Cup but being in a World Cup in New Zealand – that is a special thing for me."
Japan plays their opening match against Canada on Sunday 9th October 2022 in Pool B at Northland Events Centre, Whangarei.
Canadian captain Sophie De Goede said of the opening match against Japan "We've been doing a lot of preparation on Japan. They are a really well-disciplined side, you can tell they are well coached and are very well structured in both offence and defence so they're going to be a tough side for us to play first up."
Minami added "As there is a gap between our world ranking and Canada's world ranking, some people might expect the result to be the same as the ranking, but we are not too focused on how the rankings are. We just want to play the rugby to our style."
USA captain Kate Zackary added on their match against the Sakura XV "We haven't looked too far ahead and can't get ahead of ourselves. Japan, we're really excited. Personally, I've never played against them. I've played alongside their team members so we're really looking forward to the experience with that but once again it's all eyes on us over the next few weeks and keeping eyes on what Japan do in their first-round play otherwise in the meantime it's all about USA."
Rugby World Cup 2021 News
---
Trending Now