Rugby World Cup 2019 Mascot Ren-G supports Pass It Back
---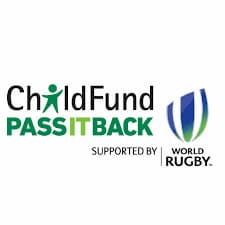 World Rugby and ChildFund have announces that the Rugby World Cup Japan mascot Ren-G will be ambassadors to ChildFund Pass It Back.
The education and rugby development initiative is part of the planned legacy of the Rugby World Cup's Impact Beyond programme.
The announcement was made as the RWC 2019 marks 101 days until the tournament commences in Japan. The Mascots have urged a rally call for rugby fans to 'pass it back' for disadvantaged children in Asia.
Who is Ren-G?
Launched early in 2018, Ren-G is a Japanese Shishi and the official mascot of RWC 2019. Shishi are "sacred lion-like mythical creatures that are said to bring happiness and ward off evil" according to World Rugby.
The Shishi has been known to take on different forms. To combine with the World Rugby values, the mascot is said to be born when this ancient spirit met the five values of rugby –integrity, passion, solidarity, discipline
What is the ChildFund Pass It Back program?
In our lengthy interview with Chris Mastaglio, Regional Director for ChildFund Pass It Back, we heard how "ChildFund Pass It Back developed out of a pilot project in the north of Laos that used 4 different sports as tools to engage young people in leadership development". It has now crossed borders to Vietnam, Philippines, Timor Leste and Japan.
It is also the principal charity partner of the World Cup and it was announced in March that £1.5 million has been pledged to ChildFund Pass It Back.
You can learn more about ChildfFund Pass It Back here.
---
Trending Now