Rugby World Cup 2027 (Men) & Rugby World Cup 2029 (Women) – Australia
---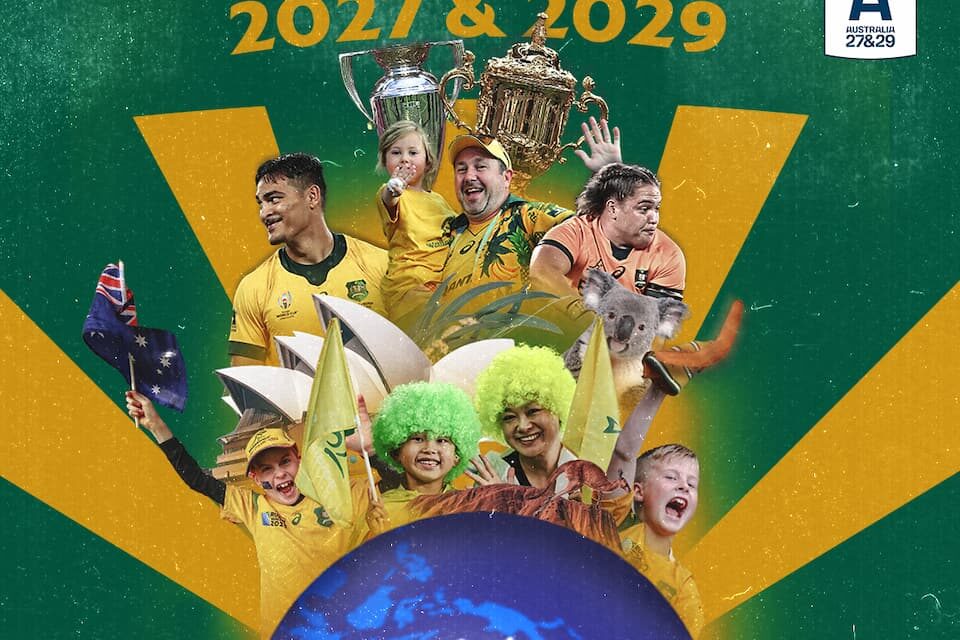 Each host country for the Rugby World Cups until 2033, which were confirmed by World Rugby, faces their own set of challenges and opportunities. Australia as hosts for the Rugby World Cup 2027 (Men) & Rugby World Cup 2029 (Women) have made it clear that legacy, participation, and reviving grassroots and club rugby are an important part of the preparation process.
Phil Kearns (Rugby Australia Executive Director Rwc Bid) said on hosting the two tournaments in Australia, that part of their legacy will be assisting the Pacific nations and developing the women's game. He said that legacy programs have already started with heritage players and rugby development.  We review what else was proposed under the bid plan and the media reaction since the news was confirmed.
(See the first two parts of the series here – on what the proposed golden decade of rugby means for the sport? and Rugby World Cup 2025 (Women) – England.
Rugby World Cup 2027 and 2029 – Australian Legacy
At the World Rugby media call, we asked the Australian representatives to tell us more about the legacy and social impact of the RWC in Australia? 
Rugby Australia Chairman Hamish McLennan added: "This is a historic day for rugby in Australia. We're beyond thrilled to be welcoming not one, but two Rugby World Cups to our shores. It's a game-changer for rugby in this country, a once-in-a-generation opportunity to revitalise and secure the future of the sport here and see the game we all love to grow and thrive for years to come.
Hamish McLennan responded: "You have captured a lot of it – we want to get more boys and girls, men and women playing the game. The indigenous component we talked about is really important to us as well. We have a rich history with a lot of great indigenous players going back over many many years and we want to be able to expand on that and just make sure we get kids of all nationalities playing the game. 
There will also be a legacy piece on the infrastructure where we want to showcase not just what a great country it is, and what a great host we can be."
Andy Marinos (Rugby Australia Chief Executive) also added: "I think what is really fantastic about Australia is we've got at least three stadiums that have the size and capacity to host the final and, yes, we have got one that can get to the magical 100,000 mark. But there are another two that are in the high 90s and well over 60,000 so there is a lot of good choices. We have just got to look at it in terms of where we are going to get impact for the game across the country."
Marinos added on the legacy and women's development aspect: "It is hugely exciting. For all of us who've played a professional sport, it is about having heroes and heroines. It is also about having aspirations and aspirational pathways. In Australia, we have had unprecedented success with our women's sevens team winning gold in Rio and recently having just been crowned World Series champions.
The financial impact of hosting – Australia RWC 2027 and 2029
Rugby Australia chief Andy Marinos estimates the two RWC tournaments will generate a windfall of between $50m and $60m for the Rugby Australia, and the female players want to ensure the finances are spread more equally.
Australian XVs Wallaroos captain Shannon Parry said she expects more money for female players. "With the announcement of the 2029 World Cup at home we will see those resources and that funding support of the women's programs" she was reported as saying by The Guardian.
Australian XVs Wallabies skipper Michael Hooper agreed in the article that the female counterparts should fight for a better deal.
Rugby.com.au also reported in late May 2022, that a "five-venue plan for a Queensland-based Rugby World Cup for women in 2029 is being discussed as a possible hosting model." This plan would include venues at:
A rebuilt Ballymore

A Gold Coast venue

Townsville's Queensland Country Bank Stadium, 

Sunshine Coast Stadium

Brisbane's Suncorp Stadium
RWC 2027 & 2029 Australia – Key Takeaways
Ambitions to have a Rugby World Cup final with a crowd of over 100,000 fans.

Asked how important Asia could be for the RWC in Australia, they didn't specifically mention Asia but talked of development in Oceania and Pacific rugby.

Aim to develop the community game and increased female participation.

Possible five-venue RWC 2029 plan for Brisbane.
Rugby Tournament News
---
Trending Now