Sakura Fifteen Announce Pre-WXV 2 2023 Match Schedule
Posted On September 21, 2023
---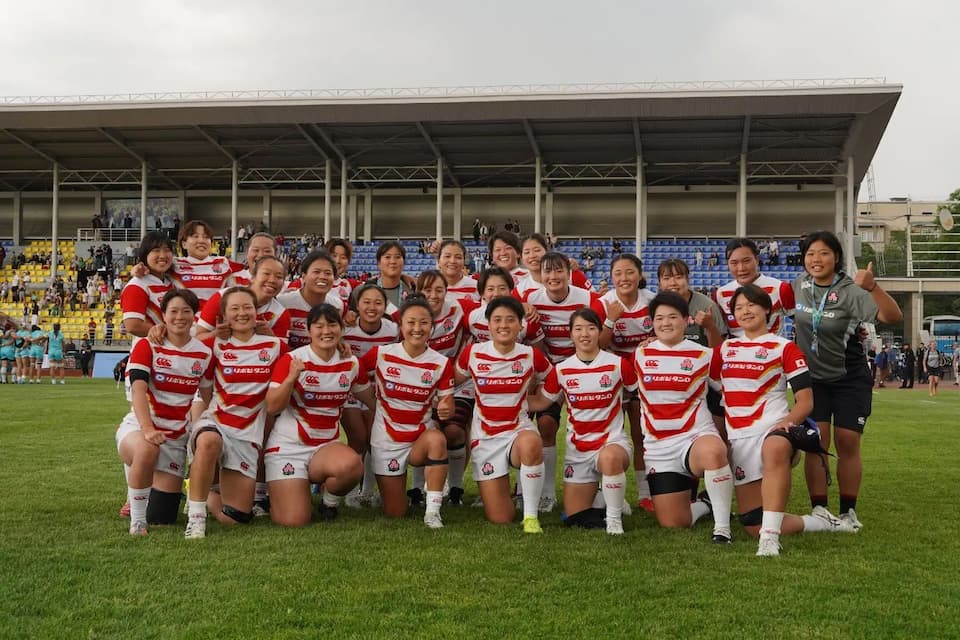 The Japan Rugby Football Union has announced details of the Sakura Fifteen training camp and test match schedule before they play in the WXV 2 with Italy, Scotland, USA, Samoa and South Africa in Cape Town from 13-28 October 2023.
*Updated 25 September 2023
The Japanese XV women's national team enter their training camp in Oita on 28 August 2023 before heading to Fukuoka on 3 September and will carry on preparations at Japan BASE, the new JRFU national rugby training centre which was opened earlier in 2023.
The Sakura XV then host the Fijiana (for the first time ever in Japan) for a two-match series before heading to Italy for a one-off test match.
Sakura Fifteen vs Fiji – Taiyo Seimei Japan Rugby Challenge Series 2023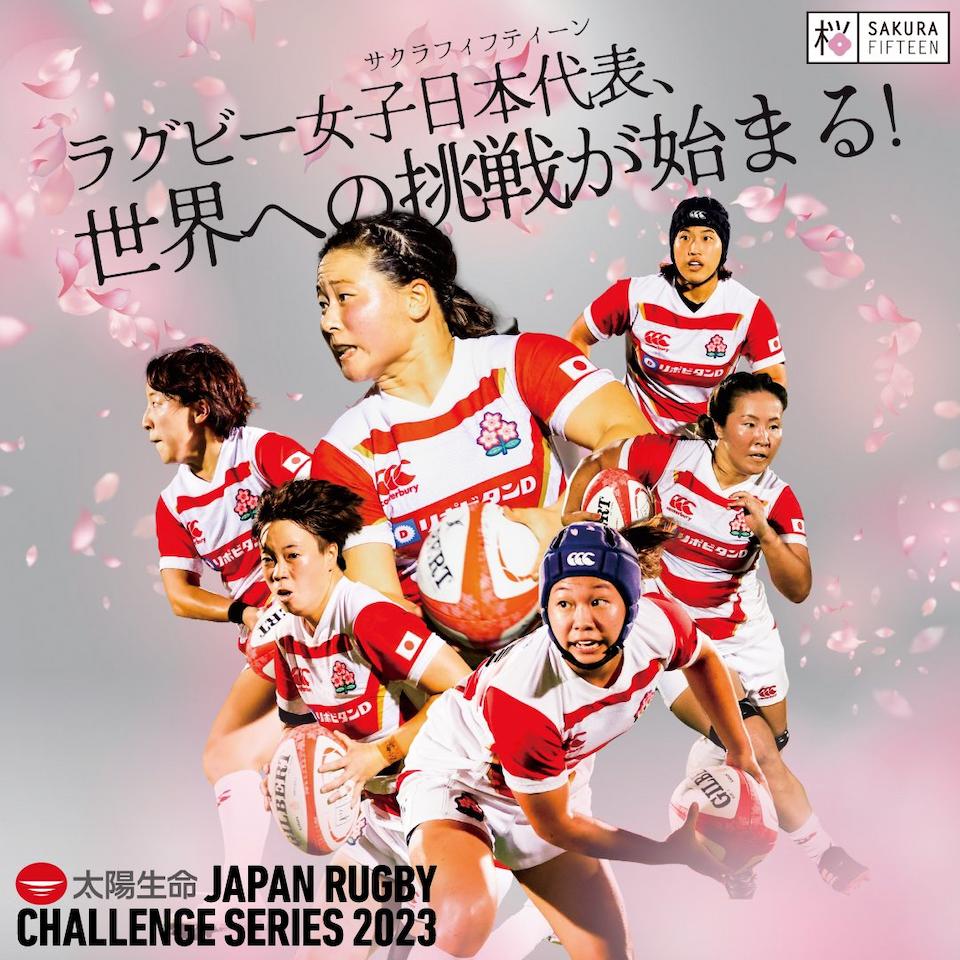 The first part of the Sakura Fifteen test match preparations will see them host the Fijians with matches played at Japan BASE on Sunday, 10 September with the second match taking place in Tokyo at Chichibunomiya Rugby Stadium on Saturday, 16 September.
JRFU Chairman, Kensuke Iwabuchi said of the series, "We are very grateful to the Fijiana for coming to Japan to play against the Sakura Fifteen. This is their first time to visit Japan as the fifteens national team and we extend them a very warm welcome. With the inaugural WXV tournament coming in October, these matches are hugely important for both teams.
"The first match in Fukuoka takes on particular significance as it will be the first ever test match to be played at JAPAN BASE. It will be a great opportunity for local people to see high-level international women's rugby up close and personal in such an intimate venue. We hope that many fans will come out to watch the Fijiana and the ever-evolving Sakura Fifteen in action in Fukuoka and Tokyo."
Japan Sakura Fifteen vs Fiji – Sunday, 10 September (16:00 KO @Japan BASE)
Match Permutations
Japan couldn't improve their rating with a victory over Fiji in the first of two tests but Fiji could above Kazakhstan into 18th place if they draw with their hosts, a win for the visitors would see them equal their highest-ever ranking of 16th (as high as 15th if the winning margin is more than 15 points.)
Match Result: Japan 29-24 Fiji
Image Credit: JRFU
Image Credit: JRFU
Image Credit: JRFU
Japan Sakura Fifteen vs Fiji – Saturday, 16 September (18:00 KO @Chichibunomiya Rugby Stadium)
Image Credit: JRFU
Image Credit: JRFU
Image Credit: JRFU
Read the full match preview here of the second Japan vs Fiji match.
Match Result – Japan 41-36 Fiji
Sakura Fifteen vs Italy – September 2023
Sakura Fifteen then makes the trip to Parma, Italy to play the hosts on Saturday, 30 September 2023 which will be their last preparation match before the WXV2 takes place in South Africa in October.
The Japanese also will face the Italiens in the WXV and the Europeans have a new Head Coach in Giovanni Raineri. While the Sakura successfully won the Asian Rugby Championship, it was only one match (a win over Kazakhstan) which was followed up by a two-match series win over Spain. Italy has played a full Six Nations in 2023 and their women's players have moved to full-time contracts.
Sakura Fifteen Head Coach, Lesley McKenzie said of the tour, "We're really pleased to confirm this game against Italy, a team we're building a bit of a backstory with. As the 8th-ranked team in the world, they are something of a benchmark for us. Le Azzurre play very stylish rugby and have one of the best-connecting backlines in the women's game right now. There's additional interest in terms of providing crucial preparation for us ahead of Cape Town, as we've drawn them first in the WXV tournament.
"I expect that level of professionalism to have really enhanced their game since we last visited Italy and drew with them in L'Aquila in 2019. The move to professionalism is the tendency overseas now and we will face another professional side when we play Scotland in round three, so it won't get easier, and we will need to respond to the challenge.
The JRFU released the touring squad details on 22nd September 2023.
The team's tour is confirmed to run from Saturday, September 23rd to Sunday, October 1st 2023. After the tour to Italy, the Japan Women's National Team is scheduled to tour South Africa to participate in WXV.
Japan Sakura Fifteen vs Italy – Saturday, 30 September 2023 (@Parma, Italy) – Macth time moved to 7PM local time.
WXV 2023 – Sakura Fifteen
There will be no promotion and relegation between Divisions One and Two, however, the sixth-placed Division Two team will face relegation to Division Three for the 2024 WXV tournament.
Match officials for the WXV 2023 were also confirmed.
Japan vs Italy –  Friday, 13 October @Danie Craven Stadium in Stellenbosch.
Japan vs Samoa – Saturday, 21 October @Athlone Stadium in Cape Town.
Japan vs Scotland – Friday, 27 October @Athlone Stadium in Cape Town.
The 2023 WXV tournament will be broadcast on RugbyPass TV.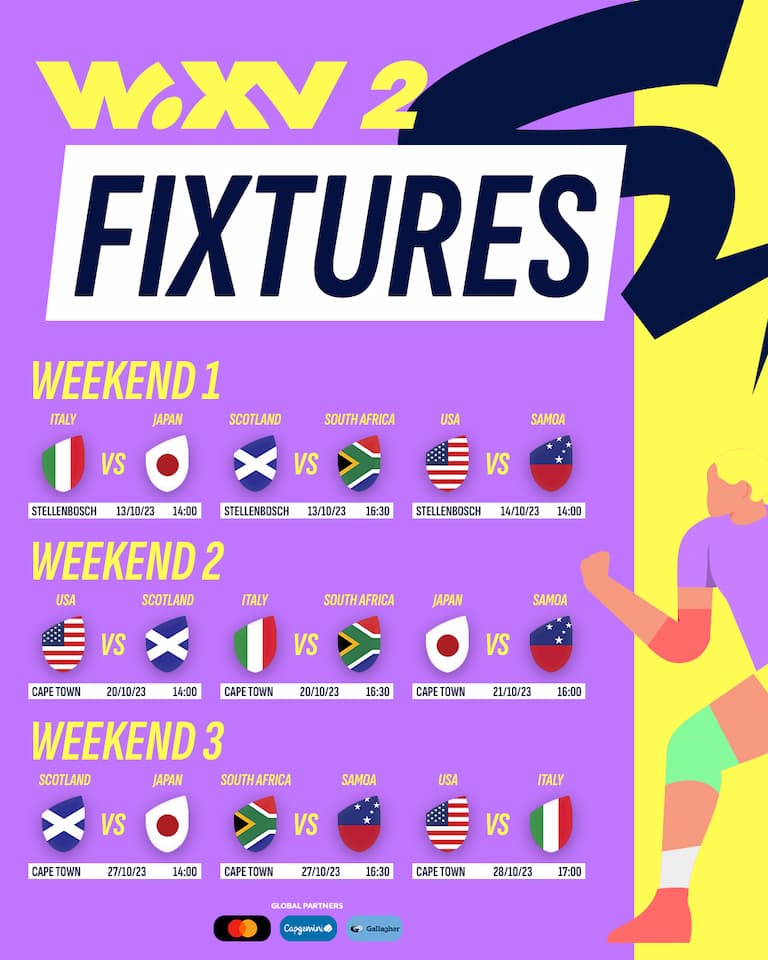 Asian Rugby Tournament News 2023
---
Trending Now