Sports for SEA Games 2023 Cambodia Announced – No Rugby Sevens
---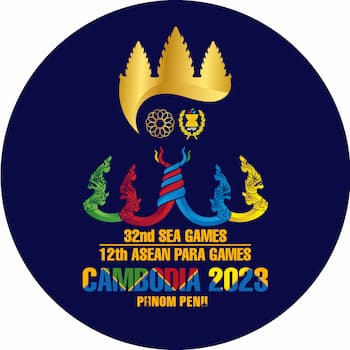 The organisers of the SEA Games 2023, which is hosted by Cambodia for the first time, have announced 40 sports for the Games but rugby sevens is not one of them. There is also no rugby at the delayed SEA Games being held in Vietnam in 2022.
The lack of rugby at two consecutive SEA Games has financial ramifications for rugby unions in Southeast Asia as funding is usually allocated by their respective National Olympic Committees – which means nations such as Singapore, the Philippines and other SEA Unions are likely to lose funding to develop the sport.
The Cambodian SEA Games Organising Committee (CAMSOC) confirmed their 40 chosen sports to the South East Games Federation (SEAGF) Council at the conclusion of its three-day meeting on April 10 2022.
CAMSOC secretary-general Vath Chamroeun said the main focus is to make sure that the Kingdom is prepared to host the multisport event, in accordance with the government's guidance reported by the Phnom Penh Post.
We previously reported that it was unlikely that Cambodia would host any rugby when they host the Games in 2023 due to a number of reasons. The Cambodia Rugby Federation has also seen a constant changeover of staff and there remains a lack of unity among those groups playing rugby in the Southeast Asian nation.
CAMSOC president Tea Banh said Cambodia has waited for 64 years to be able to host this significant sporting event and is committed to ensuring that the Kingdom's hosting of the SEA Games and ASEAN Para Games 2023 would be successful.
CONFIRMED SPORTS – SEA GAMES 2023
CATEGORY I: Athletics (Track and Field, Marathon); 2. Aquatics (Swimming, Diving, Water Polo)
CATEGORY II: 3. Badminton, 4. Basketball (5×5 and 3×3), 5. Boxing, 6. Billiards, 7. Cycling (Road Race and MTB), 8. Canoe and rowing (inc Traditional Boat Race), 9. Chess (Ok Chaktrong, Asean and Xiangxi), 10. Dance Sports, 11. Fencing, 12. Football, 13. Golf, 14. Gymnastics (Aerobic and Artistic), 15. Hockey (inc Indoor), 16. Judo, 17. Karate, 18. Muay, 19. Petanque, 20. Sailing, 21. Sepak Takraw (inc Chinlone), 22. Soft Tennis, 23. Tennis, 24. Table Tennis, 25. Taekwondo WT, 26. Triathlon (Including Aquathlon and Duathlon), 27. Volleyball, 28. Wrestling, 29. Weightlifting, 30. Wushu
CATEGORY III: 31. Arnis, 32. BodyBuilding, 33. E-sports, 34. Floorball, 35. Jiu-Jitsu, 36. Jetski, 37. KickBoxing, 38. Kun Bokator, 39. Vovinam, 40. Martial Arts Korea.
Rugby Tournament News
---
Trending Now