Taiyo Seimei Women's Sevens Series 2023 Dates Confirmed
---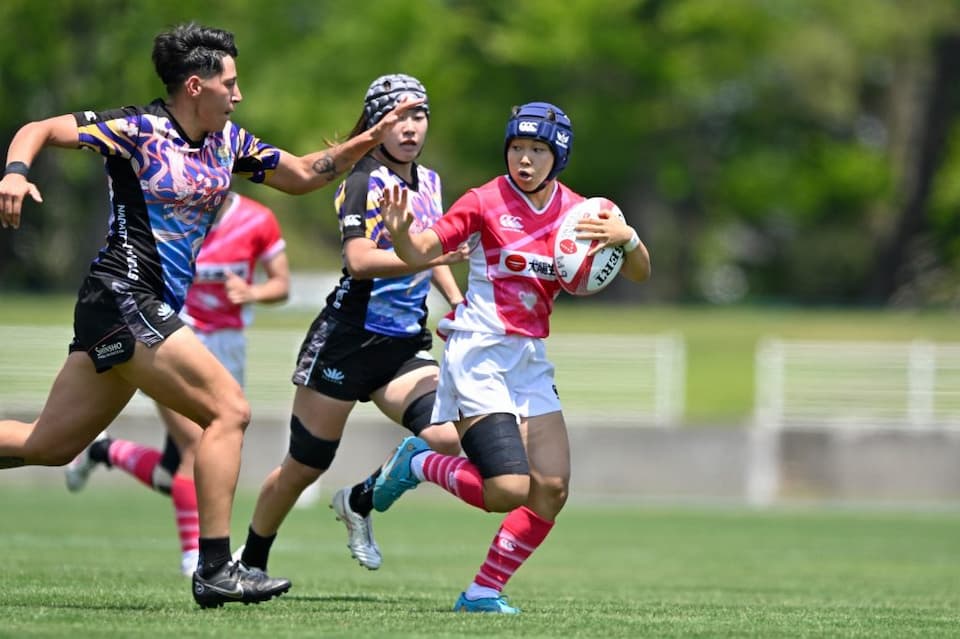 The Japan Rugby Football Union (JRFU) have confirmed the dates and venues for the Taiyo Seimei Women's Sevens Series 2023. A number of Japanese and other international players are set to feature.
*Updated May 2023
The Sevens rugby series started in 2014 and the Union says "The series has emerged as a key pillar in the development and promotion of women's rugby in Japan."
The JRFU adds that with the growth of women's rugby in Japan since the Series started, the Taiyo Seimei Women's Sevens Series continues to be a "key platform for the game, not only delivering a multi-tournament series that takes place across the country but also providing a major pathway into Japan's elite sevens and fifteens programs."
International Talent – Taiyo Seimei Women's Sevens Series 2023
The Tokyo Sankyu Phoenix Rugby Club are the defending champions and the team boasts a number of Japanese and international Rugby Sevens players, as do the Nagato Blue Angels who were runners-up in 2022.
Nagato Blue Angels include SA Sevens Nadine Roos who helped her side win the Challenger Sevens Series to earn promotion to the HSBC World Sevens Series next season.
Tokyo Sankyu Phoenix Rugby Club also played in Hong Kong in March 2023 to take part in the inaugural Tradition HKFC 10s Women's tournament where they lost the final.
Since the Series dates were announced, two high-profile NZ Womens Sevens players have joined the fray:
Sarah Hirini, the captain of the Black Ferns Sevens is joining the Mie Pearls – the first Black Ferns Sevens player to take a sabbatical to play in Japan.
Black Ferns Sevens player Kelly Brazier is taking a short-term sabbatical to coach at Japanese club, Brave Louve following the completion of the HSBC Women's World Sevens Series in Toulouse.
The Brave Louve general manager, Nanba Yoshinori, said the club was thrilled to have Brazier – "one of the world's top players" join the team to "help change the future of Japanese rugby". "We will be holding clinics for young Brave Louve players, as well as junior high school through university students in Japan who want to go global," he says.
Hirini said of the move "I'm really excited to have signed with Pearls Rugby for their upcoming sevens season. I love everything about Japan so to be going there to play rugby is a dream come true. I will be joining the club after the World Series in Toulouse before rejoining the NZ7s for preseason."
Taiyo Seimei Women's Sevens Series 2023 Venues & Dates
The 2023 edition of the Sevens rugby Series will include four tournaments played across four separate venues in May, June, and July 2023 with a fourth and final tournament to be played for the first time at the iconic Hanazono Rugby Stadium in Higashi-Osaka.
In total, the sevens rugby series will consist of 12 core teams and four qualifying teams. The qualifying teams will be drawn from the top four placed teams from the 2023 Japan Regional Women's Sevens on March 25 and 26 2023.
Tournament One – Kumagaya
Dates: May 20-21, 2023
Venue: Kumagaya Rugby Stadium
Tournament Two – Tokyo
Dates: June 3-4, 2023
Venue: Chichibunomiya Rugby Stadium, Tokyo
Tournament Three – Suzuka
Dates: June 17-18, 2023
Venue: Mie Kotsu G Sports Forest Suzuka Stadium
Tournament Four – Higashi-Osaka
Dates: July 1-2 2022
Venue: Hanazono Rugby Stadium, Higashi-Osaka
Core Teams (and placing in 2022) – Taiyo Seimei Women's Sevens Series 2023
Tokyo Sankyu Phoenix Rugby Club (1st)
Nagato Blue Angels (2nd)
Yokohama TKM (3rd)
PEARLS (4th)
Nippon Sports Science University Women's Rugby Club (5th)
Arukas Queen Kumagaya Women's Sevens Rugby Football Club (6th)
Otemon Gakuin Rugby Club VENUS (7th)
JSDF Physical Training School (8th)
RKU Grace (9th)
Shikoku University Women's Rugby (10th)
Challenge Team (11th)
Hokkaido Barbarians Diana (12th)
How To Watch The Taiyo Seimei Women's Sevens Series 2023?
The JRFU says all four rounds will be live-streamed on JAPAN RUGBY TV.
2023 Rugby Sevens News
---
Trending Now