Waisale Serevi & Nathan Hirayama: Positivity and Rugby
---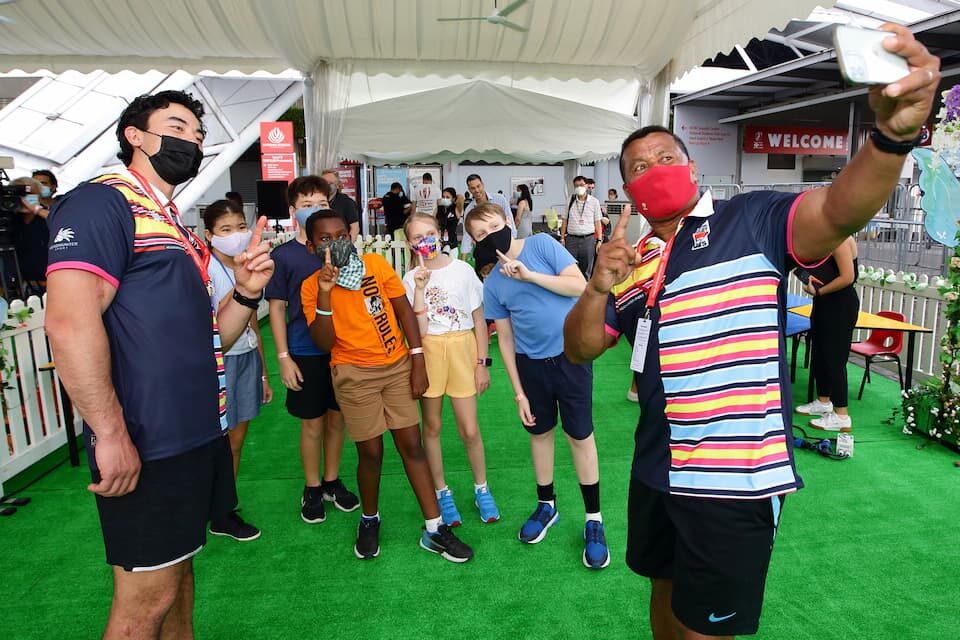 We sat down with the HSBC Singapore Rugby Sevens 2022 ambassadors and rugby legends Waisale Serevi and Nathan Hirayama to talk about, well, rugby.
More importantly, their involvement at the Sevens in Singapore, overcoming challenges as an athlete and encouraging everyone to keep a positive mindset. Serevi also gives his advice on growing the sport in Asia.
(Feature Photo Credit: HSBC Singapore Rugby Sevens)
How have you both found the clinics this week and how does it feel to be back at the Sevens in Singapore? (The pair ran sessions with local rugby clubs and youth rugby players in Singapore).
Serevi: We have had three really good days and we enjoy doing the rugby camps with the kids. It's not only for us, but we try to motivate the kids and encourage and empower them. It's a challenging world we are in but it doesn't mean you can't achieve your goals. We thought that would help them to get better at rugby – and survive in life – whether it's school, work or training – that's the message we have been trying to pass on this week.
It's really good to be back in Singapore. I was here in 2019 – it was a good time and we said "ok, see you next year!" and it didn't happen. So three years later it's so good to be back and we thank the government for the green light on the event.
Waisale Serevi and Nathan Hirayama on adversity and motivation
You both have played at the highest level and are encouraging the kids this week to work hard. What challenges have you both overcome to play at the elite level of rugby?
Nathan: The key examples that stand out for me are the setbacks – such as injuries or failures – like we all have goals and set out to achieve certain things and they might not always work out as planned.
Whether it's injuries, or qualifications for the Olympics, or the Olympics being delayed by a year – I know that had a massive effect on so many players' lives as everyone puts so much into the preparation. 
There are so many challenges in sport but that's the beauty of sports – you learn life lessons that transfer to other parts of your life.
Serevi: For me, the biggest challenge was that there was no one there to help me reach the top. But once I was there I knew it was always more difficult to stay at the top. You have to look after yourself, but you also have friends and family that want you to help them. The whole village wanted a part of the success – especially when you sign contracts to play overseas.
I know some of our (Fijian) players, when they contract to play in rugby countries – the whole family thinks they will now have enough money and that puts pressure on the players. Sadly even one of our players (Sireli Temo) in France – he committed suicide because of the pressure.
People at home (Fiji) think that they have everything is taken care of once a player has a contract overseas, and once that player does not do the thing they ask him to do, they start to think "he's not a good guy". But to him, he is trying to do his best. 
Those are challenges I have faced growing up, and playing for professional clubs, even up until now they – still think we have everything but we are always working hard.
And that's a difficult message to relay – not only to kids – but young players on the brink of signing professional contracts – There are physical challenges as you mentioned Nathan, and financial challenges. 
More recently mental health issues have come to the forefront – how would you best explain the support structures that helped you each, and were you ok to ask for help – as that's not easy for a lot of people?
Nathan: That's one of the great things about this game, is that you are not alone but in a team, and there is such a great culture in rugby.
I know for myself and my teams, especially over the past few years, we would chat with each other about what is going on. How we are feeling etc. There are obviously so many challenges and uncertainty, and not just in our sport but in everything that's going on around the world. 
I think it's important to not be too proud and have that conversation with friends – at the end of the day, that's what friends are for – to look after each other.
When you play rugby there are tons of friends – that's one of the things I love about the sport, that you can join a club anywhere around the world and you automatically have 50 friends. For Life. Forever. 
That's something that really shouldn't be taken lightly.  
Serevi: I think that when you face challenges or testing times in your life, you are not alone. Maybe 20 friends are dealing with similar things.
For us in Fiji, we always pray and ask for prayers – for us and others around us – that is how we deal with it. We always rely on God to try and help us and to try and give us ideas. It gives us peace that we know it's in God's hands but we know we have friends facing challenging times and we need to make sure they can speak to someone. You are not alone.
As rugby players, we hit each other at a hundred thousand miles per hour (he says laughing) but we are friends for life. That is the beauty of rugby.
Nathan: There is so much passion in this sport. In Canada for example, obviously not the rugby nation that everyone thinks about when they think about the sport – but the people who play it, love rugby. 
Growing Rugby in Asia
Nathan had to leave us at this point, but we asked Serevi about rugby in Asia and how it can aspire to grow the game and improve.
What is the core framework or most important thing the region (unions, federations, clubs) can do to promote the growth of the sport?
Serevi: I believe what can help them to try and fast track the sport is to try and get academies set up in their countries.
Get good coaches, such as former players out there who have done the job, done the practical work. You have to be careful about which people to select to develop the game – you can get certificates online and achieve accreditation – but a lot of people are struggling to implement that into training. 
So set up academies and choose the best 20-30 elite players that can represent them for the season and have the next group ready and be better than those selected.
What I see now is a lot of rugby training but fewer games to really test themselves and play a team that's better than them to raise the level. Training and playing are two separate things. In the game, it's about decision making, timing, and match fitness.
With Sevens rugby being an Olympic sport, it's the best way to spread the gospel of the game in each country and it can grow from there.
Another thing is they should set up a Tens series in Asia Rugby and in each country. I think it can help them develop games and prepare for XVs and play more competition as it trains the engine of fifteens rugby and develops the players who can be very good at sevens rugby too.
Serevi's Favourites for RWC Sevens 2022 and Commonwealth Games
In terms of the Commonwealth Games and the RWC Sevens – do you think those same teams will be in the running – SA, Fiji, NZ?
I think yes South Africa, and USA have been winning big games so you can't write them off. Fiji has been playing well. Australia always reaches those top four places.
With South Africa, I was out there a few years ago and visited the academy (2018). I saw this team playing now in the academy as younger players and I saw the potential then. They were training and playing invitational international tournaments in Dubai, Amsterdam, Las Vegas and the Rugby Town Sevens. They really play well and have that experience.
It should be exciting and a good Commonwealth Games and World Cup Sevens.
We can't wait! Finally, are there any changes you would like to see made to the current HSBC World Sevens Series to attract more people to the sport – venues, teams etc?
Serevi: That's a good question. I think for the HSBC Series to go to another level we should stay with ten tournaments. I do think we should see more opportunities for tier two teams, so when there is relegation, the bottom two teams from the Core Sevens Series should drop down and the top two of the Challenger Series go up.
At the moment, the gap between tier one and two teams is massive. This will help the teams develop and play harder.
We would like to thank both Waisale Serevi and Nathan Hirayama for their time and to the good people at the HSBC Singapore Rugby Sevens Series for organising the interview.
Rugby Tournaments News
---
- Advertisement -

Trending Now