World Rugby U20 Trophy 2023 Pools and Schedule Confirmed
---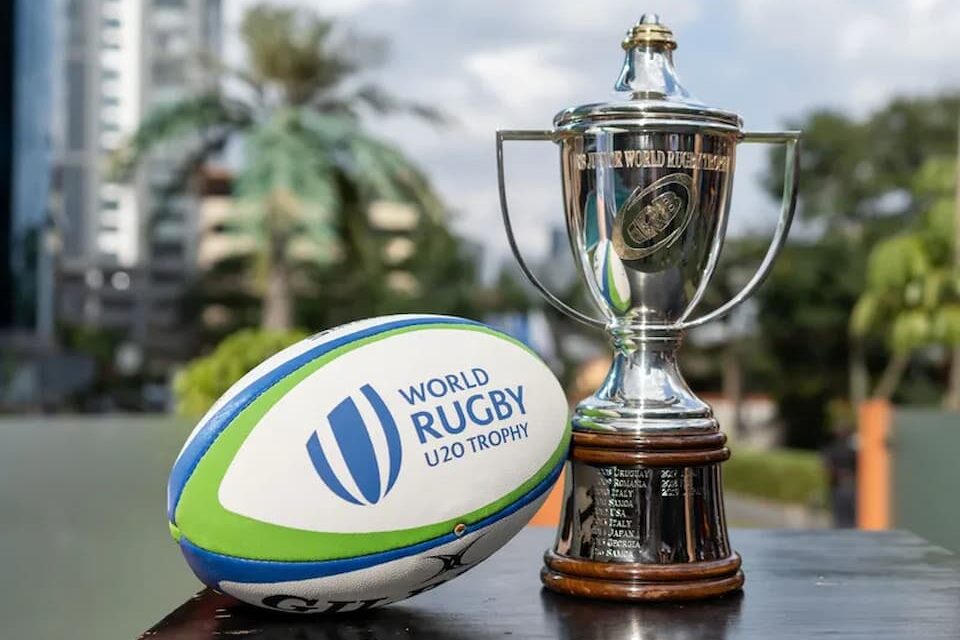 The World Rugby U20 Trophy 2023 tournament, gets underway in Kenya from 15-30 July 2023, with Hong Kong China representing Asia.
Updated 14th July 2023
The U20 Trophy, and the announced U20 Championship which has been hosted by South Africa, are the first World Rugby U20 events to be held since 2019.
The U20 Trophy 2023 will be contested by eight teams with all 16 matches to take place at Nyayo National Stadium in Nairobi, Kenya from 15-30 July 2023. This will be the second time Kenya hosts the World Rugby U20 Trophy, having previously staged the tournament in 2009. In total, it will be the third time the tournament has been played in Africa with Zimbabwe having acted as host in 2016.
World Rugby Chairman, Sir Bill Beaumont said: "Africa is a significant growth region for rugby and I would like to thank our friends in Kenya and South Africa respectively for hosting in rugby's bicentenary year. We look forward to seeing the 20 teams inspiring the African continent with breathtaking action. It is always a joy to watch our rugby stars of the future shining on this platform."
The captains of the 8 U20 Trophy teams gathered in the heart of Nairobi, Kenya, with the coveted World Rugby U20 Trophy silverware for the traditional photoshoot ahead of the tournament kicking off on Saturday.
World Rugby U20 Trophy 2023 Teams and Pools
Eight teams will battle over four match days at the Nyayo National Stadium with the eventual winner being promoted to the U20 Championship in 2024 which will be in South Africa.
Scotland might be favourites to win and try and bounce back to the U20 Championship, and Scotland captain Liam McConnell said: "We expect each team to be a tough game and can't take anyone lightly, every team has some really good players amongst them and have played some good rugby over the last six months, but we have areas where we think we can really put the pressure on them. It would mean a lot to us if we got back in the U20 Championship, especially after watching the recent games and seeing the standard of the tournament. It's these tough matches where we want to be playing."
Hong Kong Rugby China are playing in their 6th U20 Trophy tournament and have a U20 Trophy match record: Played 24 / Won 2 / Lost 22.
The World Rugby U20 Trophy 2023 participating teams are:
Scotland (relegated from the U20 Championship in 2019)
Kenya (hosts)
Hong Kong China (Asia)
Samoa (Oceania)
Spain (Europe)
Uruguay (South America)
USA
Zimbabwe
Hong Kong China qualified as winners of the Asia Rugby U19 Championship 2022 which was their seventh U19 title following victories over host nation Malaysia (43-9) and Chinese Taipei (19-12). Find out more here on how all teams qualified in 2023.
Pool A
Scotland
Uruguay
USA
Zimbabwe
Pool B
Spain
Samoa
Kenya
Hong Kong China
Each team will play 3 pool matches between 15 -25 July before the ranking matches and a final on 30 July 2023.
Matchday 1: Saturday 15 July – Pool Matches (Hong Kong China vs Spain – Pool B)
Matchday 2: Thursday 20 July – Pool Matches (Hong Kong China vs Samoa – Pool B)
Matchday 3: Tuesday 25 July – Pool Matches (Hong Kong China vs Kenya – Pool B)
Matchday 4: Sunday 30 July – Final and ranking matches
More details on the Hong Kong China squad can be found here.
HKRU Squad –  World Rugby U20 Trophy 2023
Tyler McNutt captains the HKCR side in Kenya.
Hong Kong China Rugby Squad: Ethan Agren (Oakville Crusaders), Adam Baber (Cardiff Met, Wales), Josh Bailey (USRC Tigers), Dave Bennet (Unattached), Jamie Blair (Glasgow Hawks), Julien Bourron (Loughborough Students, England), Camil Cheung (USRC Tigers), Marco Conti (Exeter University, England), Ciaran Delaney (Eastern Suburbs), Joe Denmark (Hong Kong Football Club), Blake Elliot (USRC Tigers), Josh Eustace (Brantford Harlequins), Callum Fitzhenry (Kowloon), Jude Harding (Unattached), Dom Hedley (University of Canterbury Vipers), Glenn Hui (Gordon Rugby), Theo Mag (HKU Sandy Bay), Fritz Mahn (Kowloon), Izac Manu (USRC Tigers), Samuel Martin (Claremont Colleges Rugby), Dylan McCann (Northern Suburbs), Tyler McNutt (Hautapu), Oli Pyle (Loughborough Students, England), Billy Rigby (Leeds Beckett University), Max Threlkeld (Hong Kong Sandy Bay), Tom Walsh (USRC Tigers), Charles Warren (Ealing Trailfinders Academy), TK Yamauchi (USRC Tigers).
Match Officials – World Rugby U20 Trophy
Eight officials were named on the U20 Trophy panel, including Craig Chan from Hong Kong China.
U20 Trophy panel: Cisco Lopez (USA), Cauã Ricardo Santos Maria (Brazil), Robin Kaluzniak (Canada), Tevita Rokovereni (Fiji), Kat Roche (USA ), Precious Pazani (Zimbabwe), Saba Abulashvili (Georgia), Craig Chan (Hong Kong China).
Kat Roche (USA) and Precious Pazani (Zimbabwe) will become the first female officials to referee at U20 Trophy in Kenya.
Where to Watch the 2023 World Rugby U20 Trophy
All matches take place at the Nyayo National Stadium in Nairobi, Kenya across four match days from 15-30 July, 2023. All matches are due to be streamed live on Rugby Africa and Kenya Rugby social platforms
Rugby Tournament News 2023
---
Trending Now