Acee San Juan: Shining the light on women's rugby in Asia
---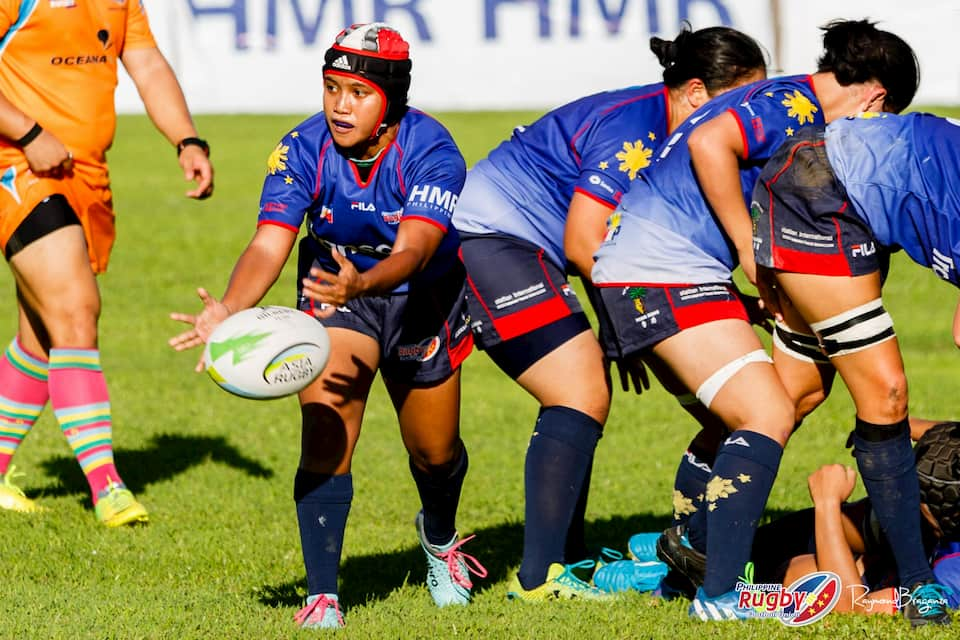 Acee San Juan has (and still does) represent the Philippines national rugby 7s and XVs teams and plays for the Philippine Eagles Rugby Club domestically. In addition, in her role as the Philippines Rugby Football Union Development Manager, she has a rewarding, yet challenging role to grow the game of rugby at home.
In a week in which World Rugby has placed Women in the spotlight with the encouraging "Try and Stop Us" campaign, Acee is a perfect example of a woman leading the light on rugby and female participation in the sport in Asia.
Philippines National 7s and XVs rugby
Hi Acee. Tell us how you got involved in rugby initially and your path to the national 15s and 7s teams in the Philippines?
I played touch football in university and discovered rugby through some friends in my circle. I was intimidated at first because I only saw big, old, expatriate men playing that game. It was years after I graduated from school when I decided to try full contact rugby through the Philippine Rugby Football Union's (PRFU) rugby 101 program for beginners.
In 2011, three months after I started training full contact, I got selected to the first-ever Philippine Women's National XVs team which played in the ARFU (Asia Rugby Football Union, now called Asia Rugby) tournament in Vientiane, Laos. I kept training and playing in the local leagues afterwards and eventually landed a spot in the National 7s team too in 2012. I've been a National 7s and XVs player ever since then. 
That's quite an incredible feat and legacy you have. What standout moments do you have from playing for the national team?
My most memorable experience was when we played in the Southeast Asian Games 2015 in Singapore. It was the first time the PRFU entered a women's side in this biennial rugby union tournament and we were able to win a medal. We trained and lived together in the athletes' dormitory for three months!
What's special, was we played under one Team Philippines and got to bond with other Filipino athletes from various sports. The success of that campaign kicked off the popularity of women's rugby locally. Girls were no longer intimidated to try this rough sport. A number of women's rugby clubs were also created after this success and I can say that women's rugby development in the country became stronger because of it.
Another standout moment for me, was when we played in the Asia Rugby Women's Championship Division 1 last year (2018). After a 6-year hiatus in playing international XVs, we were back on the international stage. Only 8 of us in the starting lineup had prior experience in playing international XVs rugby so it was really special for us – guiding our younger teammates in this format of the game.
Playing for the National team is a big honour and responsibility. Seeing younger girls getting inspired to try the sport makes every sacrifice worthwhile. Seeing our families, friends, and fellow Filipinos support us motivates us to strive harder to bring glory to our country.  
Asia Rugby Women's Championship
And what national team games do you have to prepare for in 2019? I would imagine the 2019 Asia Rugby Trophy Series and the 2019 Southeast Asian Games in Manila in December are the highlights… What prep have you been doing?
We are currently preparing for the Asia Rugby Women's Championship Division 1 scheduled next month (June 2019), which the PRFU will be hosting. From a training squad of 30 ladies, 26 will be selected in the official lineup. We also have training camps scheduled in the next few weeks. We train for the national squad 2 times a week, with our respective clubs twice a week, and we do our gym strength and conditioning work, as well as play in local league games on Saturdays.
After the XVs season, we will switch to 7s to prepare for the Asia Trophy Series scheduled in August and SEA Games Rugby 7s scheduled in December. We have a wider training pool of female players now. We have new recruits and some of our development and u18s pool are being eyed to play in the senior squad as well.
SEA Games 2019 – 7s rugby
That is a busy schedule! What do you think the chances of the Philippines national teams are at home for the SEA Games? What personal ambitions do you have?
The amount of preparation we are undergoing is more than what we did in 2015 when we debuted at SEA Games. Sevens Rugby can be a very unpredictable game given its format so it's very difficult to predict an outcome. We are always aiming for the best result which would include a podium finish for us, and we are doing everything we can to fully prepare the team for a strong performance in December.  
Personally, I want to contribute the best I can to the team through my leadership and experience. It will be really special to win a medal at home in front of our own families!
Club rugby – Philippines Eagles RFC
At a club level, you also play with the Philippines Eagles RFC. How would you rate the quality of the domestic women's game?
Yes, I play for Philippine Eagles RFC, one of the oldest and most successful clubs in the country. We only started the women's contact rugby side in 2015 and we regularly compete in the domestic 7s and XVs league plus some regional tournaments.
The quality of the domestic women's game has definitely levelled up since I started playing in 2011. Before, women's rugby was only played in 2 locations in the country – Manila and Cebu. Female players also just showed up on game days and were split into two equal teams to play. Sometimes, we didn't even have enough for two teams.
At present, we have at least eight women's rugby club teams plus a number of school-based age-grade teams/development clubs all over the country who play 7s and 10s rugby. Four of the 8 women's clubs are currently playing in our domestic XVs league. Most of these teams have national players leading their squads so the structure of the games is more organized. All these club teams also have their own coaching staff and management. We get a lot of support from our men's club team counterparts too.        
What do you enjoy about the Eagles RFC?
Most of my closest friends in rugby are from Eagles RFC so I enjoy the camaraderie and bonding with them. Some of us are veterans in the National Team so we pass on our knowledge to our younger teammates. We welcome anyone who wants to try the sport – doesn't matter if you have any sports background or none.
We are a diverse group and we regularly field our men's senior side (Eagles), men's development side (Ibons), men's colts (u19s), boys u16 and u14 plus the women's side in the local leagues. Our women's side has an age range of 14 years old to 35 years old!     
Women in rugby
Let's talk a bit about the women's game, regionally. I'd be interested to hear about your opinion of the representation and support of the women's game in Asia and in the Philippines? (Even on the Asia Rugby website, it's heavily leaning towards the men's game).
Women's rugby, especially in Asia, is definitely growing. With the launch of the "Start Rugby. Be unstoppable." campaign of World Rugby and having four out of the 15 featured athletes coming from Asia, I am confident that women's rugby will receive the representation and support it needs in our region.
We are also fortunate that Ms. Ada Milby, the first female appointed council member of World Rugby (who happens to be from the Philippines too!), is greatly pushing for gender inclusion in Asia and the Philippines.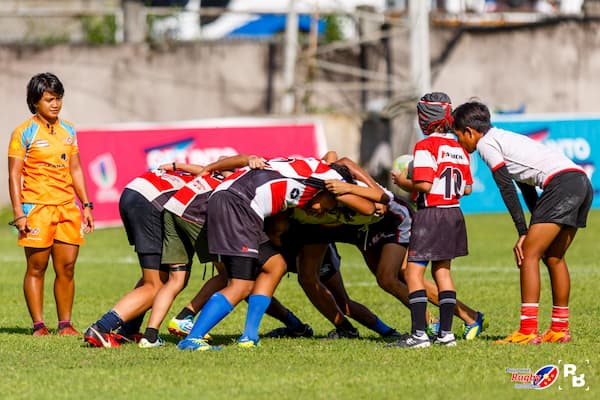 It is also notable to mention that the ChildFund Pass It Back program, an innovative Sport for Development program led by ChildFund in partnership with World Rugby and Asia Rugby, is currently active in 4 Asian countries (Philippines, Laos, Vietnam, and Timor Leste). The program aims to equip children and young people in Asia to overcome challenges, inspire positive social change and 'pass it back' to their communities. A minimum of at least 50% female participation is required in all levels of the program!
Exciting times ahead for women's rugby in Asia and the Philippines! The more people support this campaign, the more opportunities will be given to all females involved in our rugby community.
Rugby Development – PRFU
On the development side, with your role as a Development Manager with the PRFU, when and how did that materialise and what are your main responsibilities?
I became the Development Manager of PRFU in April 2018 after working as Development Officer from 2012 to 2015 and volunteering for the ChildFund Pass It Back project from 2016 to 2018. I am responsible for the growth and development of Rugby participation in the Philippines in line with the targets set out in the PRFU Strategic Plan and World Rugby Development Investment Programme.
I am also a World Rugby certified Educator so I deliver courses to train new coaches for us to grow the game. Another important responsibility for me is to ensure that we implement proper safeguarding measures in our Union.
And you have recently been involved in trips to Hong Kong for development workshops with HK rugby during HK 7s week. Tell us more about the trip and some of the highlights?
I am very grateful to PRFU for giving me an opportunity to participate in this professional career development trip. I am fortunate to learn from one of the most established Unions in Asia, the Hong Kong Rugby Union. I was able to work closely with the development staff of the HKRU and learn new ideas on how to run a development program.
The trip was scheduled during the Hong Kong 7s week, which was when most of the engagement and development activities are scheduled for the year.
I observed the 3 programs under HKRU:
Engagement – which involves Get Into Rugby in schools;
Development – which involves their National Age Grade (NAG) program, and;
National Teams (Elite Performance).
I went to local schools to coach and observe local rugby coaches, attended their NAG and National Team training sessions, and watched their women's National Team compete in the World Rugby 7s qualifiers.
I was also lucky to attend the Women's Leadership Forum, which featured inspiring female leaders in the rugby community. I was able to listen to inspiring talks from Samantha Feausi of HKRU, Ada Milby of World Rugby/Asia Rugby/PRFU, Portia Woodman of NZ Black Ferns, Wang Shao lng of Singapore Rugby, and many more. It was an interesting week of activities.  
How important are these trips and cooperation with rugby nations in the region, who have more rugby resources and funds? Do you think more could be done in the region?
Cooperation among Unions is one key to ensure there is a steady growth in development across Asia. I commend HKRU on its active commitment in helping the developing Unions within the region.
If all Unions work closely together in achieving our targets for Asia Rugby, I believe we can achieve more.
Sharing resources like knowledge and experience will enable the developing Unions to gain new ideas on how to improve their own systems. On the other hand, more established Unions will learn from the challenges these developing Unions experience. It may not be the same as what they are experiencing now, but these will broaden their perspectives on what is happening in the wider Rugby community.
Get Into Rugby and Pass It Back
That's a good point you make. You have also recently been involved with Get Into Rugby and Pass It Back weekend events in the Philippines. What do you think about each of these rugby development programs? What benefits do they offer and what could be improved?
Both programs are beneficial in increasing rugby participation in Asia. In the Get Into Rugby (GIR) program, kids are introduced to the sport in a safe, fun, and structured manner. It also addresses common barriers in sports participation in Asia. Examples of these barriers are parents' hesitation to let their kids try contact sports and the lack of field spaces in countries like the Philippines. The GIR also encourages involvement and sustainability across all levels through the different phases of the program (Try, Play, Stay).
For the ChildFund Pass It Back program, it guarantees at least 50% female participation across all levels of participation. This sport for development program also gives more emphasis on rugby values and life skills of the children. In countries like the Philippines, parents get more convinced to let their children try sports once they find out that it will encourage their children to become better citizens of their society.    
In the past, we have highlighted that some Asia Rugby-level and various Federation-level development work seems to be photo opportunity moments, but lack substance and sustainability. Do you think those comments are fair? You are on the ground and can assess the impact of rugby development work, so what is working and how is it tailored where you are?
I think Asia Rugby is doing its best to ensure that there is sustainability in the development work that's been happening in the region. We've seen participation numbers increase among
Unions and local competitions getting stronger. Asia Rugby also has started its commitment in Safeguarding and Gender Inclusion so I would say that there is a lot more substance in growing the game now.
PRFU is one of the first Unions in Asia which established a Safeguarding Policy through the support of ChildFund Australia. I believe this works for us because by ensuring we create safe spaces for children involved in our rugby activities, the more they get encouraged to play and stay in the sport.
Our Union also gave emphasis on growing sustainability through our Strategic Planning last year, with the consultation of stakeholders to focus on developing stronger club structures as well.  
OK so what then are the biggest obstacles you face with rugby development work in the Philippines?
I think it is the culture of sports in the country that is proving to be one of the biggest obstacles in our rugby development work. Sports are not given much recognition and importance. Filipinos are still not used to going out and playing sports on a regular basis.
The misconception that rugby is an unsafe sport is also one of the obstacles we face in developing the game. Parents are hesitant to let their kids try the sport because they feel it is too rough and dangerous. In our country, a lot of people, especially those from marginalized areas, cannot afford insurance coverage. This factor prevents them from trying the sport.   
The lack of adequate training/playing facilities is also one of the obstacles we face in growing the game. We do not have enough field spaces/parks to play in that's why kids are less motivated to try a field sport.
Rugby World Cup 2019
Those seem to be common themes throughout Asia for sure. Finally, what are your hopes for the impact of the RWC 2019 and for the inclusive growth of rugby in Asia?
Japan Rugby World Cup 2019 will be the first time this prestigious event will be hosted in Asia. With the launch of the Impact Beyond 2019 and the success of the Asia 1 Million project, this event will definitely give more exposure to the game among the youth in our region. I am hoping that through this event, more people will be encouraged to pick up a rugby ball and try the sport.
Thanks, Acee. Any final words?
Thank you, Steve Noble and the Rugby Asia 24/7! Looking forward to more development updates in Asia!
---
Trending Now