Hong Kong Women Ready for Algarve Sevens Challenge
---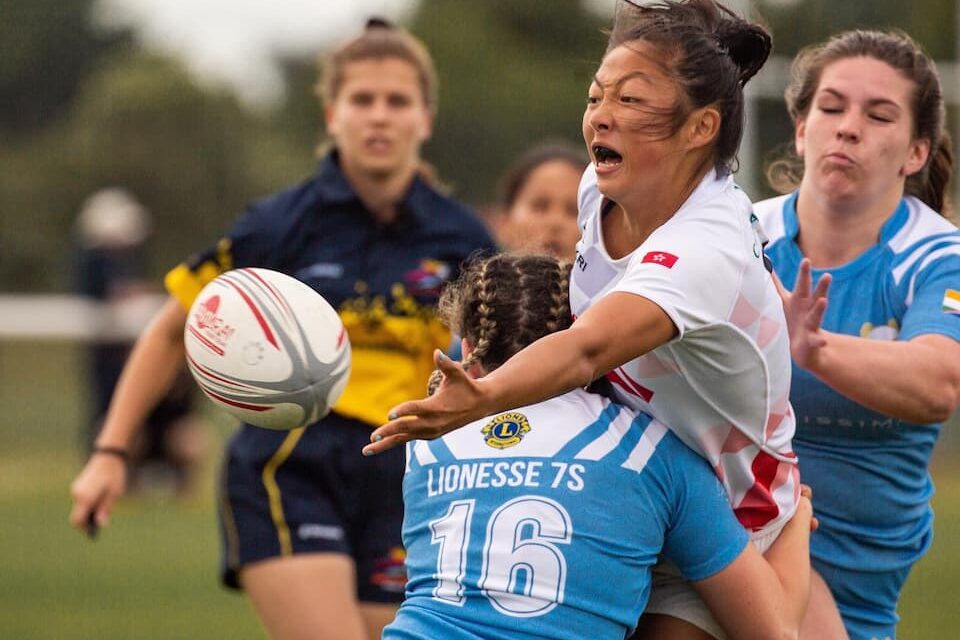 We spoke with Hong Kong Rugby Union Women's Coach Iain Monaghan leading up to the Algarve Sevens and on the back of two Super Sevens Series events in the UK, in which the women's squad had two top-four finishes. 
With the rugby calendar changing due to the postponement of the Asian Games 2022, we asked what the main goals were for him and the team on this European tour and the preparation and expectations for the Algarve Sevens 2022.
Team Goals and Ambitions – HKRU Women's Sevens
Iain: We did quite a substantial review post-Dubai (Asia Rugby Series & RWC Qualifying event held in December 2021) where we finished third in the Asia Rugby Series which was probably a realistic place having faced such interruptions due to COVID with training with camps based in the HKSI (Hong Kong Sports Institute) and having to work and adapt with the players in the camps and their locales around Hong Kong in the domestic season. 
So, goals-wise we have always said since we came together that we wanted to be one of the top two teams in Asia, and that was back in 2019 – that has not changed for us – that remains a burning desire.
Speaking with our senior players, we discussed it and we agreed that we had to take Hong Kong women's rugby to another level, and that's the question we ask ourselves every day. It doesn't matter where we are, if we are in training, in camps, at our clubs, on our own, and in the off-season or in-season.
It's a big question that we are responsible for answering to and being held accountable for. For me, we navigated a challenging time with that desire, and we know we are not there yet and the Asia Rugby Series gave us an indicator. 
We are pretty happy with, and disappointed, with the performances in Monaco (Olympic Qualifiers held in 2021) as you obviously want to play in the Olympics but we got to the final – and we lost to the team that claimed silver (France) at the Tokyo 2020 Games. So we learned a lot from that.
The Hong Kong Women's Player development – Asian Competition
Iain: In our playing group in Hong Kong, since I have been here, we always have had 2-3 types of players. We have our bedrock player who has always been part of the woodwork as they say and working away, we have young players who come in from our academy for 1-2 years before they leave (usually with their family as they head to a university abroad), and then we have had that player that comes back.
It's something that has been around for a while with the profile of rugby increasing around the world we have had girls who have seen that and want to be part of that – a full-time programme trying to compete with the best teams in Asia and the opportunities to perhaps down the line play in World Cups and eventually in the World Series.
I think that's also a byproduct of us taking Hong Kong rugby to a new level.
That goal of being in the top two in Asia is very competitive with Japan, China and Kazakhstan being the main contenders?
Iain:  Yeah we always have to perform to really get results against even that top five with Thailand – who are really well-coached by Lote (Lote Raikabula) – and the girls there are always improving, and Asian rugby is developing all of the time. Every team is improving and you have to move with it otherwise, if you stand still, you get caught up or you will get left behind by the better teams. 
HK Women's Sevens Rugby – Areas for Improvement
Iain: We profile ourselves against the best in Asia, so those top five teams and how we have performed against them in the past three years- and we have identified six principal areas that we want to be exceptionally good at, knowing that if we perform in those areas – like kick offs, defence, transition to attack – it will suit our game to be fast and explosive and a bit unpredictable.
That's really been our focus and we have to be better at that – ultimately it secured us third place in Asia – and if we want to have a crack at consistently beating the other two teams plus beating Japan and China who get exposed to World Series events. 
That's maybe the biggest difference as they have competitive scars, and we are fortunate that the HKSI and HKRU send us to competitive events (like the Algarve Sevens) and they compete with Tier one nations in the World Series.
The time we spent in the UK at Loughborough for example (training with the England Sevens rugby team), we had a great week's training and hitting out with England. They themselves are going through a transition to a very good level where it was far more competitive than I thought, and it also gave a lot of confidence to our younger and lesser experienced players who have lost two years of development due to the pandemic. So if they knuckle down, they are not far off from these other girls (playing the World Series).
It's the same blood sweat and tears in the match so it allowed them to overcome a bit of a mental hurdle. 
Those six key areas you identified – how happy were you with the improvements shown in the two UK Super Sevens events the team played in?
In the kick-offs, our girls had done some really great work in the camps before coming on tour and the kickers have really been improving and there is a big responsibility there – some girls have been learning that skill from scratch as we challenged them, that if they wanted to be in the squad, they needed to develop their skills. I have been pretty happy with this on tour.
The whole point of coming on this long tour is to develop so having more competitive rugby games is exposing the tackle for us. We prepared them well in training, and safely. The challenge now is they need to get themselves up and do it together well as a team and get the mindset of winning the ball back – and that is a mantra for us about going to get the ball back by tackling well.
So defensively it will be a good focus for us out here in the Algarve. I am pleased with the transitions when we get the ball back in the unstructured areas of the game.
The players really showed an appetite and we have some exciting young players coming through. They have come through the academy and been well-coached at their Premiership teams and had some 7s exposure at maybe Under 16 age group level and U18.
So they have a taste for it – they are really well equipped for it- they are tall and fast and have a good skillet so they just needed to be exposed to how they plug into a team and get the best out of themselves and support their team mates.
Algarve Sevens 2022 – Why Does Hong Kong enjoy the tournament?
These tours are, like you said, the best environments to assess the players – mentally and their skill sets – and being on the road for so long if you have ambitions to play the World Series – put in place the building blocks. 
In terms of the Algarve Sevens itself – why does this tournament get pinpointed by HKRU to compete at? (The men's team have competed in three editions; the women were runners up at the last event held before COVID).
Iain: For the Algarve Sevens, the timing in the year is good and the conditions and facilities are fantastic. If you are on a longer trip like we are on, and have to manage the health of the squads and the COVID management – it is good as a professional squad. A fair bit of research has gone into it from Coach Paul John.
Competition-wise, the men are already established as a strong competition, but for me, this looks like a stronger women's competition this year. There are a few more select French teams, South Africa, Latvia, and ourselves, plus Portuguese teams (provincial and national team players), and Kazakhstan.
We know Kazakhstan well, but playing European teams with the size that we are – gives us the challenge we need.
Kazakhstan women played in Amsterdam Sevens this past weekend leading up to the Algarve Sevens and secured the Pier Cup, beating the Polish wines team 12-7.
Read more about what the Kazakhstan team told the Algarve Sevens this year.
Hong Kong and Kazakhstan Women Pools and Match Schedule – Algarve Sevens 2022
Kazakhstan women are in Pool A which includes the defending champions of the Algarve Sevens Nouvelle Aquitaine.
Nouvelle Aquitaine
Kazakhstan Women's 7s
Sketty Hoops
Belas/Cascais
Hong Kong women are in Pool B:
Hong Kong Women
Costa Blanca (Spain)
LSPA – Livonia Rugby Club (Latvia)
Ubuntu Academy (Portugal)
Algarve Sevens Match Schedule can be seen here (all times are local).  The live streaming is on Sunday 12th June only.
Field 2 – 11:00 – Nouvelle Aquitaine vs Kazakhstan Women
Field 2 – 12:10 – Hong Kong Women vs Costa Blanca
Field 2 – 13:50 – Kazakhstan Women vs Belas/Cascais
Field 3 – 14:00 – Hong Kong Women vs LSPA – Livonia Rugby Club
Field 3 – 16:20 – Kazakhstan Women vs Sketty Hoops
Field 1 – 17:00 – Hong Kong women vs Ubuntu Academy



The Algarve Sevens is also the only two-day competition on this tour so it will be a new challenge competing on day two, physically and mentally.
Iain: Yes you hit the nail on the head there. It gives us a very competition-like setting. We have 22 players with us and maybe 12 of them have a maximum of two senior sevens competition experience under their belts.
You have highlighted some of the things we wanted to fast-track on this tour. Being in a full training camp in Portugal where you can experience this full time. Some of these girls have just finished school so it's all new and we are stretching the capacity of the better ones, and with the younger players, we are testing the performance habits that allow them to succeed down the line. 
(Iain says half-jokingly) There are lots of plate inspections and checking they drink enough water and asking if they have stretched today – "do you see that freezing cold sea – you have got to get in it as you need to receiver your legs".
The coaching staff were still waiting on confirmation of whether squads would be 12 or 14 players at the Algarve Sevens but they said the whole team is supportive of whoever gets picked to play.*
The team was planning an internal hit out before final selections and Iain mentioned that this is the first time they have at least two players per position plus subs. "It's exciting to see we have 22 players here. We will announce the team mid-week to keep the players competitive and the games will give them an indication of who is playing well".
Hong Kong Rugby Sevens Women's Team Confirmed – Algarve Sevens
*Updated squad confirmed
Natasha OLSON-THORNE (cc)
CHAN Tsz Ching
CHAN Chloe
Gabriella RIVERS
LAM Tsz Yan
AU YEUNG Sin Yi
Rosie WRIGHT
LI Nam Yan Melody Blessing (cc)
CHONG Ka Yan
HO Jessica Wai On
NAM Ka Man
CHAN Stephanie Chor Ki
Mibuy OYANA Julia
LYNAM Sabay
After the Algarve Sevens tournament, the bulk of the team heads back to Hong Kong, but players who are eligible to play for HK have been identified although they might be studying overseas or played in HK before – they will play as a Hong Kong Select team will competing in the final leg of the UK Super Sevens. 
There is a provisional plan for the squad to head away again later in the year which is subject to approvals and funding, and where it fits into the plans overall.
The HKRU domestic Premiership XVs will also kicks off and Iain said they have a responsibility to the players who are dual internationals as the HK XVs team has an exciting time preparing for the next Rugby World Cup in 2025 which Iain says always brings up a good performance debate and planning – but he says they (HKRU) are small and experienced enough to control that really well.
Iain hopes there will be another Asian Series preparation in 2022 which might involve travel and tournaments which could involve visits to tier-one nations like Australia or New Zealand to prepare for the Asian Series, and thereafter the Asian Games which needs to be rescheduled.
Rugby Asia 247 will be at the Algarve Sevens 2022 from June 10-13 to cover the action and will bring you more news and interviews over the coming weeks! Stay tuned for more.
You can buy your ticket online and watch all the action live at the Algarve 7s 2022. 
Rugby Tournament News
---
Trending Now