Bangladesh set to host Nepal in Dhaka for International Rugby Series
---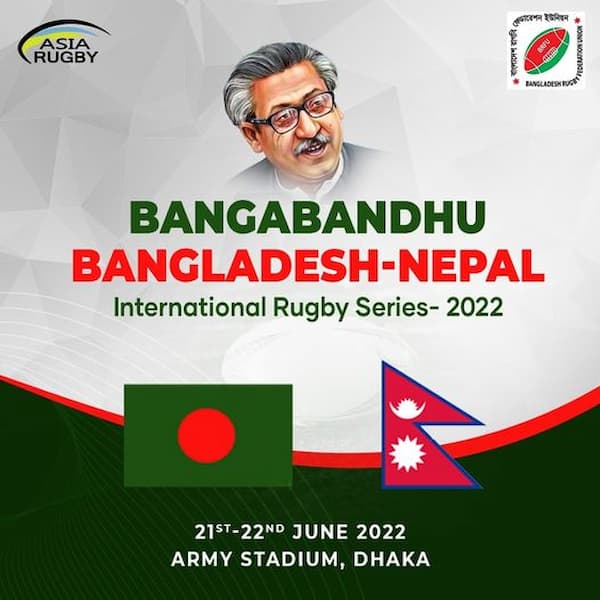 Both Bangladesh and Nepal rugby unions have announced an "International Rugby Series" that will take place in Dhaka from 21-22 June 2022 with 7s and XVs men's matches proposed.
The matches appear to be friendly internationals although there is little information about the Series at this point,
Nepal Rugby posted  in the first week of June 2022 that 28 players were called up for a closed camp "to prepare for the Bangabandhu Bangladesh-Nepal Friendly Series."
Nepal became an Associate member of World Rugby in November 2020, while Bangladesh Rugby Football Union joined Asia Rugby as a full member in 2019.
The Nepal national team coaches were announced as Binod Tamang, Raj Tanka, and Gopal Chhetri with the squads set to form two 7s and one 15s match against the Bangladesh National Rugby team from June 21-22 in Dhaka.
Nepal Rugby Squad 2022
Forwards: Shreeram Shrestha, Suman Chaulagain, Yadu Adhikari, Roshan Gharti, Sujan Kumal, Ramit Bahadur Malla, Bibesh Basu, Nabin Maharjan, Kiran Gurung, Amar Singh Shrestha, Ram Kishor Chaudhary, Bikram Bharati, Sher bahadur Oli, Kshitiz Karki, Sanjib Kunwar
Backs: Krishna chhetri, Prem Bahadur Koirala, Bikram Puri, Sanjay Adhikari, Birat shrestha, Huttaraj pradhan, Jhuken Rai, Dinesh thokar Tamang, Niroj Karki, Suraj Chaudary, Pujan phewali, Bhes rajbastola, Sabin Mahat
There have been no further announcements from Bangladesh Rugby on their squads for the International Rugby Series.
International Rugby Matches 2022
---
Trending Now