Brave Blossoms Team to Play France in July 2022 Test Confirmed
---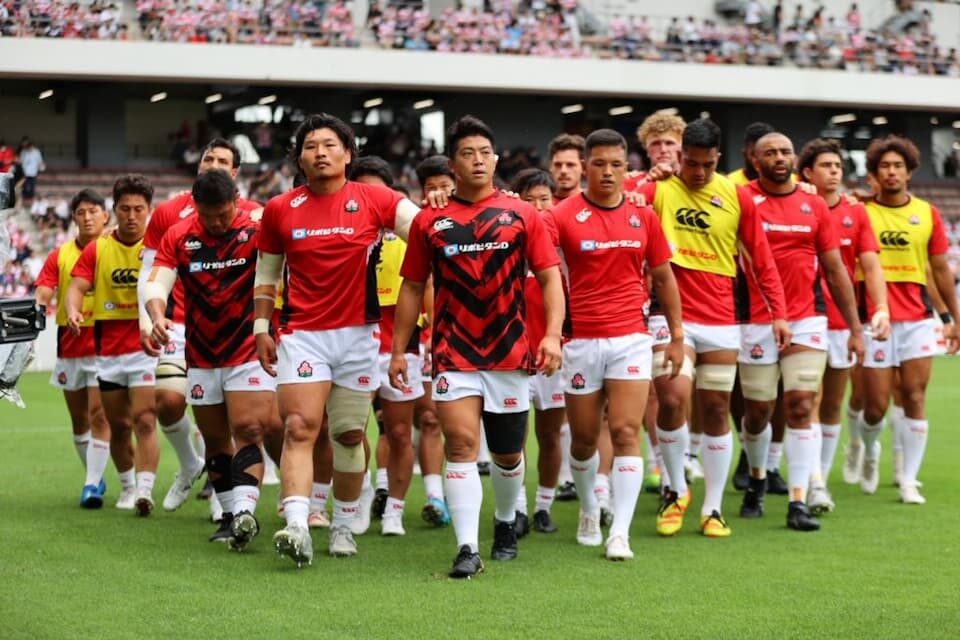 The JRFU announced the Brave Blossoms to take on the French in the first of the two-match series which will be played in Toyota City Stadium in Aichi, on Saturday 2nd July 2022.
The Japanese men's XVs team recently completed a 2-0 clean sweep of the Uruguayans in Japan (winning 34-15 and 43-7 respectively). The last time they played the French, they earned a 23-23 daw in Nanterre back in 2017. This is a very different French side who won the Six Nations Grand Slam in 2022 and they are one of the favourites to win the RWC 2023 at home. France has beaten Japan in all of their other previous nine encounters.
Japan Head Coach Jamie Joseph said, "I'm really confident around the application of our players. They've been training hard, been very diligent and we're really keen to put in a good performance. We're looking to build depth and competition in every position, so I'm really heartened by the guys that have come into this test match against France and how they're putting pressure on the other players.
The key areas Joseph has identified are:
Matching the French set piece.
Keeping the ball in play and "attack them at every opportunity".
Despite the heat, play a high-tempo game.
Frank Murphy (Ireland) takes charge of Japan and France for the first time. The second test match will be played at the National Stadium in Tokyo on Saturday, July 9 2022.
Brave Blossoms Squad vs France – Test Mach #1 July 2022
Some of the Japanese players were not considered for selection due to testing positive for COVID-19. These include Horie, scrum-half Naoto Saito, and full-back Ryuji Noguchi, reported Japan Rugby News. In a late change, Takuya Yamasawa also tested positive which sees Lee Seung-Shin starting at fly-half, while Shane Gates enters the match-day squad.
Atsushi Sakate will captain the side for the second time and earn his 29th cap for Japan at hooker, while Michael Leitch will earn his 74th cap at blindside-flanker.
Two debutants have been named on the bench, with Yukio Morikawa as reserve prop and Taichi Takahashi as a replacement wing.
Japan: 15-Ryohei Yamanaka, 14-Gerhard Van Den Heever, 13-Dylan Riley, 12-Shogo Nakano, 11-Siosaia Fifita, 10-Lee Seung-Shin, 9-Kaito Shigeno, 8-Tevita Tatafu, 7-Ben Gunter, 6-Michael Leitch, 5-Jack Cornelsen, 4-Wimpie van der Walt, 3-Asaeli Ai Valu, 2-Atsushi Sakate, 1-Keita Inagaki.
Replacements: 16-Daigo Hashimoto, 17-Yukio Morikawa, 18-Shinnosuke Kakinaga, 19-Warner Dearns, 20-Faulua Makisi, 21-Daiki Nakajima, 22-Shane Gates , 23-Taichi Takahashi.
French Team
Charles Ollivon will captain the French who are missing some star players but they have built up incredible squad depth over recent years.
Damian Penaud and Melvyn Jaminet are the only two players who started France's Grand Slam-winning match and do so against Japan. There are four uncapped players in the squad; Thomas Jolmes, Yoan Tanga, Thomas Lavault and Selevasio Tolofua
Before the team departed for Japan some of the staff and players also tested positive for COVID, with the FFR saying  "Laurent Labit, Shaun Edwards, Max Spring and Aymeric Luc tested positive for Covid-19. As a result, they were put in solitary confinement."
France: 15-Melvyn Jaminet, 14-Damian Penaud, 13-Virimi Vakatawa, 12-Yoram Moefana, 11-Matthis Lebel, 10-Matthieu Jalibert, 9-Maxime Lucu, 8-Yoan Tanga, 7-Dylan Cretin, 6-Charles Ollivon, 5-Thomas Jolmes, 4-Thibaud Flament, 3-Demba Bamba, 2-Peato Mauvaka, 1-Jean-Baptiste Gros.
Replacements: 16-Pierre Bourgarit, 17-Dany Priso, 18-Sipili Falatea, 19-Thomas Lavault, 20-Selevasio Tolofua, 21-Sekou Macalou, 22-Baptiste Couilloud, 23-Antoine Hastoy.
Match Permeations for World Rugby Rankigs
France can top the rankings for the first time if they win, South Africa loses to Wales and it is a draw at Eden Park (NZ vs Ireland),
Japan will climb above a beaten Wales (who play South Africa) into ninth if they beat France,
The Brave Blossoms could climb another place to eighth if they win by more than 15 points vs France, Wales are beaten by SA, and if Scotland loses by the same margin in Argentina,
France will fall two places to fourth if they lose to Japan. They could drop another place if the margin of defeat for them and Australia against England is more than 15 points.
How to watch Japan play France?
The match kicks off at 15:00 JST and will be telecast in Japan on NHK General / NHK Plus and J Sports One and J Sports On-Demand.
The match will be telecast internationally via FT1 (France), Premier Sports (Asia, Middle East, UK & Ireland), ESPN Sur (South & Central America, Caribbean), Flo Sports (North America) and Super Sports (Sub-Saharan Africa).
Rugby News 2022
---
Trending Now