Asia Rugby Championship 2022 – Men's Division 3 Central Asia
---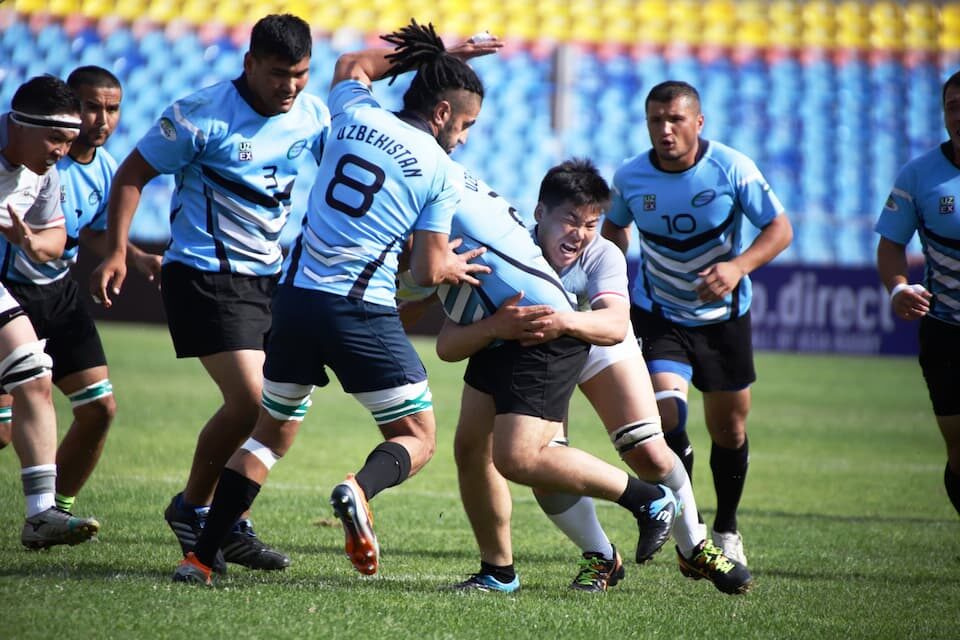 Asia Rugby confirmed this week that the Asia Rugby Championship 2022 Men's Division 3 Central is taking place in July with four national teams involved; Uzbekistan, Mongolia, Kyrgyzstan, and Kazakhstan. The matches will all be played in Bishkek, Kyrgyzstan.
*Updated with results
The format will be two semi-final matches played on Sunday, July 3, 2022, followed by a third-place playoff and a final on the 6th of July.
Each team will be playing two XVs matches within 3 days which raises some issues of player welfare and safety.
There has been no mention of why these four teams will contest the ARC Division 3 Central. Kazakhstan and Uzbekistan are the only two nations competing who have a World Rugby ranking, with the Kazakhs being the highest-ranked at #62.
Rugby World recently ran an article on the potential of rugby in Mongolia and we suggest you have a read.
Asia Rugby Championship 2022 – Men's Division 3 Central – What do we know?
Well not much. The matches are being played on an incredibly congested weekend of international rugby which means the value of the tournament is slightly diminished while there has been a missed opportunity to promote rugby in the region by selecting a less busy date.
There was no news of this tournament from the governing body, and even at the time of publishing, the matches don't appear on the Asia Rugby website calendar – unfortunately, with no to little time for media coverage, it's Asian rugby and these teams in particular that will miss out.
There is also no information on what winning or losing this ARC Division 3 Central means for the teams, in terms of promotion and relegation – the current regional Asia Rugby Championship system is confusing for fans and the media to understand, and it is in need of an overhaul.
Where to watch the ARC 2022 Men's Division 3 Central
Asia Rugby initially promoted the matches this week to be live-streamed on their Facebook page but in their latest updates have said the matches will be streamed via YouTube (see links below).
Asia Rugby Championship 2022 – Men's Division 3 Matches
Mongolia hung in the match game throughout, despite Uzbekistan looking the much better team, especially their 8th man who had a terrific game. The Mongolians also looked to fatigue quickly with some front rowers being subbed before the half. In the closing minutes of the match, Uzbekistan held off a string of Mongolian attacks to secure the win 17-10 and a place in the final, a match they should have been more comfortably.
In the second semi-final, it was incredibly one-sided as the Kazakhstan XVs ran in tries at will. The team includes a group of professional sevens players in the setup and the gulf between the two teams was massive, which would be disappointing for home fans. The Kyrgyzstan team did run in one consolation try but the match was over before the half with Kazakhstan routing the hosts 113-5.
Editors Note- Congratulations to Palak Poddar From  India who refereeed her first international XVs test match in the second semi-final.
There were some concerns for player safety at the ground with football posts based right behind the try/dead ball area on both ends and they had no padding.
The commentary supplied by Asia Rugby was embarrassing – no criticism of the poor pundit – who admitted he was asked half an hour before the matches to commentate despite having no experience doing so and only a few years of playing experience.
6th July – 3rd place playoff Kyrgyzstan 7-69 Mongolia KO: 17:00 (+6 GMT)
6th July – Final Uzbekistan 24-32 Kazakhstan KO: 19:00 (+6 GMT)
Asia Rugby Championship 2022 – Men's Division 3 Central Asia Matches
Kazakhstan
held on to win in a competitive final
32-24
over Uzbekistan and are the
Asia Rugby
2022 Division 3 Central Asia Champs.
Mongolian Rugby Football Union
earlier beat Kyrgyzstan
69-7
to claim 3rd place.
According to the
Asia Rugby President
, Kazakhstan will await the winners of the West & South Divisions with all three winners going on to play in the same group in 2023. Two teams will gain promotion to Division 2 (China & Chinese Taipei already relegated he said on Twitter).
From 2024-2027 there will be three tiers of 4 teams, a Conference (8 teams) & the remaining nations will play a Trophy tournament.
– Kazakhstan
– Uzbekistan
– Mongolia
– Kyrgyzstan
All image credits –  Asia Rugby
World Rugby Ranking
Based on the World Rugby rankings at the time of publishing, neither Mongolia or Kyrgystan currently have a ranking.
The Asia Rugby Sevens Trophy is due to take place in Jakarta, Indonesia from August 6-7 2022 but there still has been no news of which teams are confirmed to play.
Asian Rugby News
---
Trending Now