Bangkok International Rugby Sevens 2022 Confirmed (Now Cancelled)
Posted On September 20, 2022
---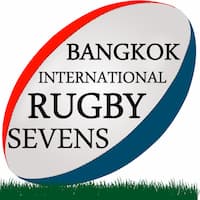 The organisers of the Bangkok International Rugby Sevens confirmed the 2022 edition will go ahead on the weekend of November 12-13 at Bangkok Patana School and it was due to be the 25th edition of the tournament!
Updated (21st September 2022)
The organisers posted in mid-September that the tournament has been cancelled:
"It is with great disappointment that I advise that this year's Bangkok International Rugby Sevens Tournament is cancelled.
Because of the rescheduling, this week, of the Finals of the Thai RU National Sevens Tournament to the same weekend as our tournament and the subsequent knock-on effect of 12 Thai teams withdrawing from our tournament it is not possible to run the Bangkok International Rugby Sevens Tournament this year.
We have spent considerable time trying to negotiate with the TRU but they will not move their event. I could go into considerable detail about these discussions but this is not the forum for this. Suffice to say we have exhausted every avenue and it can't be resolved."
After a period of uncertainty, the tournament posted online, "We are Back! After a very successful week in Bangkok meeting with our suppliers & supporters, I can confirm that the 2022 Bangkok International Rugby Sevens Tournament is happening."
We briefly caught up with the tournament organiser David Adamson about the latest:
Can you tell us how confident it will go ahead in November and what it means for the tournament?
David: Very Confident. We have the appropriate permissions & approvals in place. We have met with our suppliers & they are ready.
It is our 25th annual tournament so we are excited to celebrate this occasion.
What age groups/divisions will there be?
David: Men's, Women's, Social, Under 16 & Under 18 Boys. I am trying to establish a Women's development grade if there is enough interest.
Are you expecting only regional or also international teams (do you have a target for how many in total?)
David: Historically we have had teams from across the world and of course SE Asian teams. This year interest is high from Oceania & Europe.
Our junior grades are experiencing record numbers registering from around SE Asia. We hope to have a minimum of 8 teams per grade but we can cater for more.
The organisers have said that they are updating their website and all registration information will be updated accordingly, claiming a "Significant number of registrations" have been received.
COVID protocols – Bangkok International Rugby Sevens 2022
Regarding the tournament COVID-19 requirements, the following will be required:
Facemasks – to be worn between games and at any facility unless dining or drinking
Team registration forms: with photo id of each team member & passport or Thai ID number
Other possible requirements:
Daily ATK/RAT tests for every team member before entry to the facility
What the tournament will provide:
Hygiene stations – handwash, spare masks
Separated tent facilities per team
Rugby Balls are sanitised between games.
You can find out about other 2022 rugby tournaments in Asia here.
Asian Rugby Matches & Tournaments 2022
---
Trending Now