Hong Kong Men XV Set Sights on ARC 2022 and RWC 2023 Play-off match
---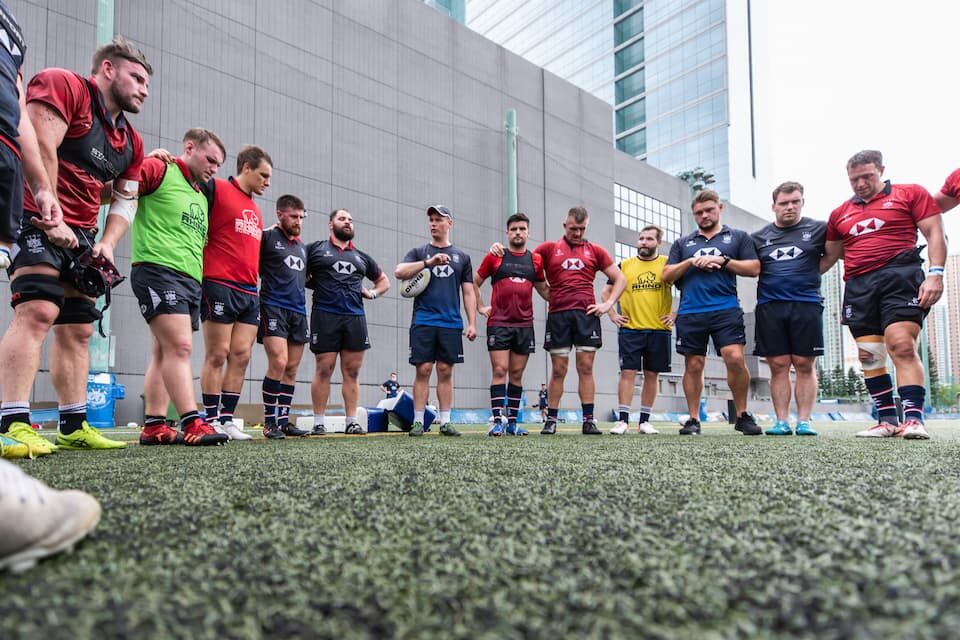 The HKRU have named their Hong Kong men's XV touring squad to face South Korea in the Asia Rugby Championship (ARC) 2022 decider, which will be played in Incheon on Saturday 9 July 2022. It will be the national XV team's first international test match since mid-2019.
South Korea beat Malaysia 55-10 in Incheon on the 4th of June to set up the tie between defending Asian champions Hong Kong and runners-up Korea. 
KROLL USRC Tigers coach, Welshman, Lewis Evans is leading the HKRU national team in his first test match as Head Coach. He arrived in Hong Kong as a Club Coaching Officer last season, and quickly was promoted to forwards coach, and later as an assistant coach, before stepping into the head coach role after a combination of staff departures and opportunities arising within HKRU.
Evans said "Twelve months ago, I would never have envisioned something like that happening, but I'm grabbing it with both hands. I consider myself a player still deep down and hope to provide some stability and drive and to just lead us well into our first international in three years. For others, it could be a daunting prospect but I see it all as very exciting.
Hong Kong is a hub for rugby talent, both playing and coaching, and that is what has been most notable for me since coming across."
HKRU XVS Squad Asia Rugby Championship 2022
Evans and the selectors have named an initial squad of 29 players, while other players may also be available to potentially play the RWC 2023 qualifier if they manage to beat Korea.
The HK-based coaches, staff and players will travel out of Hong Kong on July 1st and the whole squad will meet up in Korea with the first full team sessions planned from the second of July 2022.
A bulk of the ARC squad was picked from the players based in Hong Kong (21 players), while 8 will travel from overseas.
Evans added "It will be great as it will be the first time we will be seeing some of these players in person. We have had lots of Zoom calls and things like that but it will be good to catch up with some of these guys from abroad."
Overseas-based players include hooker Alex Post, who was recently named man of the match in the Oxford versus Cambridge game, and Hong Kong sevens veteran Jack Neville now playing at Nottingham. Ex-South China Tigers and HKFC back Nate de Thierry also returns from Castilla, alongside ex-Racing 92 player Matt Worley, now at Bedford.
A number of Hong Kong's naturalised premiership stars are potentially set to earn first XVs international caps (14 players in total) including Natixis HKFC players Glyn Hughes, Tom Hill and Patrick Jenkinson, Valley's Luke van der Smit, and Ashton Hyde from HKU Sandy Bay RFC.
Among the group of potential new caps are the squad captain (Joshua Hrstich) and one of the two vice-captains (Glyn Hughes), while already capped HK 15s international James Cunningham is the second vice-captain.
Three of the HKRU Sevens players are in the tour squad (Bryn Phillips, James Sawyer, and Harry Laidler) who recently completed their European tour and quarantined since arriving back in Hong Kong.

8 overseas-based players are in the squad and will fly into Korea from abroad.

The HK XVs squad also includes potentially 14 XVs international debutants
Hong Kong XV vs Korea – ARC 2022 9th July 2022                                                                     
Ashton HYDE, Alexander POST, Benjamin AXTEN-BURRETT, Bryn PHILLIPS, Charles HIGSON-SMITH, Callum McFeat SMITH, TANG Man Chun (David), Faizal SOLOMONA PENESA, Guy SPANTON, Glyn HUGHES, Gregor McNEISH, Gregor RAMAGE, Harry LAIDLER, Joshua HRSTICH, James SAWYER, Jack COMBES, James CUNNINGHAM, John McCORMICK-HOUSTON, Jack NEVILLE, Jamie PINCOTT, Kyle SULLIVAN, Luke VAN DER SMIT, Matthew WORLEY, Mark PRIOR, Nathan DE THIERRY, Patrick JENKINSON, Rory CINNAMOND, Tom HILL, Zacceus CINNAMOND


The Head Coach added "All of the coaches are excited and we are keen to get to Korea but there are so many moving parts. It's been a challenge but we have plans in place and they are coming along nicely but we need to prepare for the unexpected."
The coach admitted there have been unique challenges since the Hong Kong Rugby Union's Elite Rugby Programme (ERP) ended, combined with the ongoing impact of COVID-19. However, the coaching team and HKRU are confident that the squad they have is good enough to go to Korea and win, although they don't take their opponents lightly.
What's at stake for the winner of the ARC 2022?
The crucial ARC finale also doubles up as the Asian qualifier for the Asia-Pacific Rugby World Cup 2023 (RWC 2023) qualification match.  
Evans said that "The players we have, have been fantastic with trying to adapt and keeping involved and staying motivated."
"I think we just need to focus on it one game at a time, even though as coaches at the back of our minds we need to think about Tonga and the logistics involved, the team, and outcomes for that. But all of us have been focussing on Korea and it was great we got to see them play Malaysia and we managed to review the footage and some of their key players."

If Hong Kong beat Korea, they will remain in Korea before heading to Australia to prepare for facing Tonga on the Sunshine Coast on 23rd July 2022 in the RWC 2023 Qualifier, effectively making the trip a month-long tour.
So aside from being crowned Asia Rugby Championship 2022 Champions, a stake in a Rugby World Cup is looming.
The winner of the match between Tonga and (Hong Kong or Korea) will directly qualify for RWC 2023, while the loser progresses to a Final Qualification tournament due to be played in November 2022.
Four Japanese Rugby Football Union match officials have been appointed for the ARC match by World Rugby and Asia Rugby, with Tasuku Kawahara the match referee.

Korea has recently been preparing in Japan in a training camp to get ready for the match vs Hong Kong.

Asia Rugby is due to stream the ARC final live on its social media channels – more info TBC. The match is due to kick off at 5 PM Korea time.
World Rugby Pacific Nations Cup 2022
Tonga also takes part in the World Rugby Pacific Nations Cup 2022 which starts this weekend and will play Fiji Samoa, and Australia A over the next few weeks before the RWC 2023 Asia-Pacific qualifying match on July 23rd.
World Rugby will be streaming the matches in regions with no broadcast rights.
Asian Rugby News
---
- Advertisement -

Trending Now