Brave Blossoms Topple Samoa In Toulouse – RWC 2023
Posted On September 29, 2023
---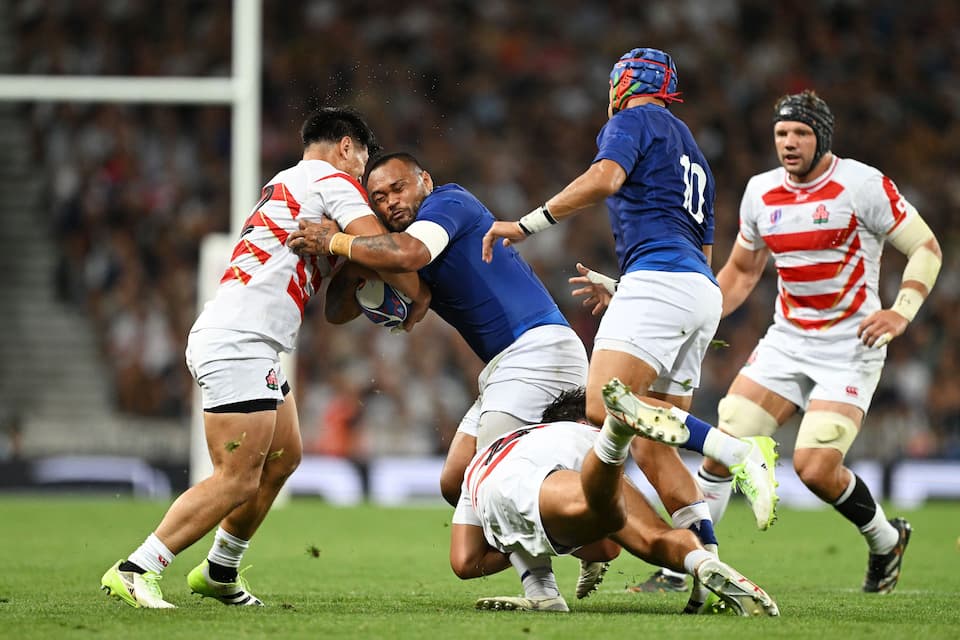 The Brave Blossoms took on the Samoans in Pool D of the Rugby World Cup in Toulouse on a stunningly beautiful night on Thursday 28th September 2023, as 31,794 watched to see Japan keep their dreams alive in France with a 28-22 win over 14-man Samoa.
Feature Photo Credit: TOULOUSE, FRANCE – SEPTEMBER 28: Alai D'Angelo Leuila of Samoa is challenged by Ryoto Nakamura of Japan during the Rugby World Cup France 2023 match between Japan and Samoa at Stadium de Toulouse on September 28, 2023 in Toulouse, France. (Photo by Pauline Ballet – World Rugby/World Rugby via Getty Images)
Japan suffered a late change in the matchday squad as the scrumhalf Yutaka Nagare was ruled out, forcing Naoto Saito to start and uncapped Kenta Fukuda to come into the matchday squad on the bench.
Following an intense and well-respected Siva Tau from Samoa, there was no real flow to the game in the opening quarter, both sides playing as if they knew what was at stake but fans were hoping for both sides to have a crack and display some running rugby.
There were opportunities as Japan and Samoa exchanged a kicking game which saw some rewards but first blood went to Japan as they moved the ball to the left and Pieter Labuschagne went over with Matsuda keeping up his 100 per cent kicking record at RWC 2023 to lead 7-0.
There were lots of bounced tackles as Japan went in unusually high but not illegal in contact on the Samoan backs but were met with strong big hands attached to bigger shoulders which were repelling them.
Samoa tried some outrageous moves to score when calmer heads probably would have worked but Alai D'Angelo Leuila scored a penalty to make it 7-3  before Rikiya Matsuda restored the seven-point lead and made it 10-3.
Japan again found success on the left-hand side and Micheal Leith lurking on the wing dotted over for a converted try to make it 17-3, with the Samoans receiving a yellow card to #9 Jonathan Taumateine for an off-the-ball push in the build-up, and the double blow of Alai D'Angelo Leuila going off injured.
Before the half, #2 Shota Horie from Japan also received a yellow card and Samoa got a reward from a driving maul try by hooker Seilala Lam. but the try was unconverted to make it 17-8 at the break.
There were more physical exchanges in the second half and the game turned when #11 Ben Lam from Samoa went off initially on a yellow card which was upgraded to a red by the TMO bunker review for shoulder to head contact.
With the extra man, it was Japan's turn for a driving maul and a successful try to extend the lead to 22-8 with Brave Blossoms captain Himeno scoring and Matsuda finally missing points.
Samoa, if anything, upped the physicality with a man down and were getting huge rewards up the centre and through the Japanese guts in defence. When Japan did earn penalties they opted for the posts instead of the bonus point try, maybe sensing this game wasn't over.
Samoa was strong in the last quarter and was getting the 50/50 passes away in the tackles, and breaching the Japan defensive line. Finally, #15 Duncan Paia'aua scored in the left corner and a successful conversion made it a nervy final period of play with the score 25-15.
Matsuda added another penalty to extend the lead 28-15 in the 75th minute but Samoa scored another converted try in the 78th minute by Leali'ifano to narrow the lead 28-22 with minutes remaining but the Brave Blossoms held on and kicked the ball dead in the 80th minute to grab the win but miss out on a bonus point.
Japanese tries were from Pieter Labuschagne, and Michael Leitch, with second-half scores from captain Kazuki Himeno with flyhalf Rikiya Matsuda kicking 2 conversions and 3 penalties (also missing his first kick of RWC 2023).
Japan plays their final match against Argentina in Nantes which could determine which of the two reaches the quarterfinals grom this Pool. Head Coach Jamie Joseph said after the game "That's our Grand Final, isn't it? We have got an opportunity to play a tier one team we have played a few times before. All the guys are going to be really excited for that – it is a big game for us."
The Samoans, who were sprawled on the grass in Toulouse at the final whistle knowing their playoff ambitions were probably over, face an unenviable final match against England. If they play like they did with 14 men,  they will be a handful.
Post-Match Reactions – Japan vs Samoa
Japan captain Himeno was full of praise for the fans, who made the loudest cheer we have hear from this World Cup at the final whistle, saying "We are always supported well, especially in these tough games. Without the fans' support, we couldn't achieve what we did tonight."
The Brave Blossoms Head Coach spoke about composure and backing his team's decision making especially when confronted by a very physical team like Samoa. "It is easy sitting in here talking about decisions. It is harder out there when you are under the pressure of the game. You prepare your players to make the right decision under pressure and have the courage to make the right decision. It is not always clear, so you have to back yourself."
"It was a really tough game and we had to work bloody hard to get the win. Hats off to the Samoan boys – they really took it to us."
He added "They [Samoa] are big fellas, aren't they? They got on top of us at times and we had to really keep at it for the whole game. The commitment was certainly there but there were one or two things to work on for next week."
Both Joseph and the Samoan Head Coach Seilala Mapusua spoke of the challenges of the world cups and Joseph added, "When you come to a World Cup, there are three tier two teams and two tier one teams in each pool. To make a quarter-final, you have got to bowl over a tier one team…by winning tonight, we have created an opportunity for ourselves and that is really exciting for us."
Japan Men's XV – Rugby World Cup 2023 News
---
Trending Now