CA Brive appoints a Rugby Ambassador to Asia
Posted On December 16, 2019
---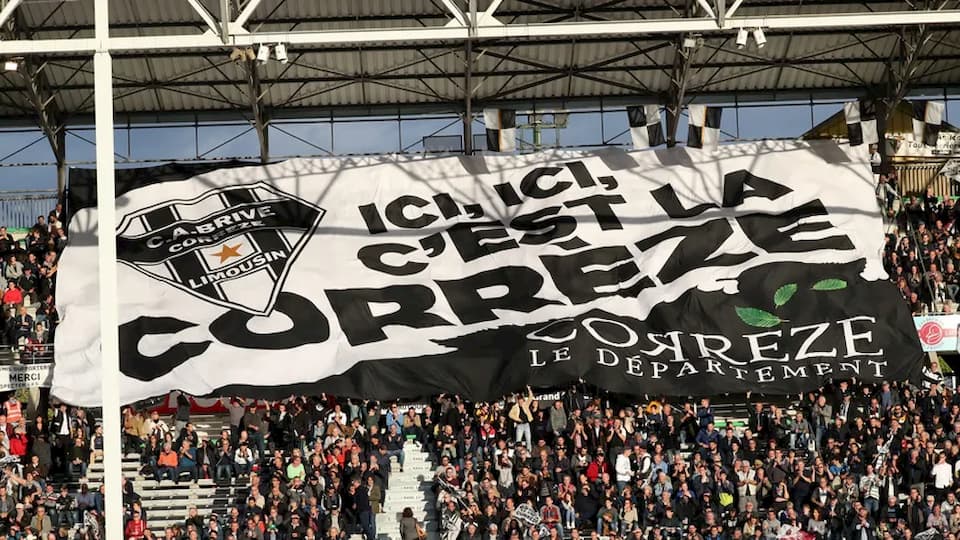 CA Brive, a Top 14 French rugby club, has recently appointed a Rugby Ambassador to Asia and his name is Christophe Marchive. Christophe was born in Brive and played rugby for the club. However, he has been living in Asia for the past ten years. Recently, Simon Gillham (Chairman of CA Brive Rugby Club), nominated him as the Ambassador in Asia for the club.
We caught up with Christophe at the recent SEA Games in the Philippines where he was networking and watching the rugby sevens. We discussed his new role and how he sees the French rugby union club building bridges in Asia and how they can help develop rugby in the region.
CA Brive Rugby Ambassador to Asia
Hi Christophe, can you tell us about your role as the CA Brive Rugby Ambassador in Asia. What is your main focus?
Brive is now looking to expand its network outside of France, and the governance of Brive is orientated to sharing our rugby expertise in Asia. I can see three important areas we want to develop, and my role is also to identify opportunities in Asia:
Our brand. We want to express our values as a club, as we were established more than 100 years ago, and our city is very special in terms of rugby spirit. Its heart is rugby and the culture and DNA of Brive is rugby. 

It is important for us to develop our ecosystem in Asia. This means for us to find win-win partners in terms of sports and economic interests. We want to really develop a sports partnership based on a commitment with each country based in Asia. The commitment should be for us to share our top facilities and our Stadium and our Academy. Our Academy was recently acknowledged by French Rugby as the best in the country. 

It will be key for us to look at Asia for a new way to develop rugby and in alignment with French rugby and with World Rugby governance, to see what would be our added value in Asia. 
In terms of your background with Brive, you were born there but you also played at the club. Tell us about your ongoing rugby connections.
I am still very connected to the rugby network* in France and in the UK. I was a rugby player at Brive and a coach in the UK. It's also why Brive nominated me as their first ambassador in Asia as I have experience working here, and with my rugby background, it is very important to know the culture, not only within Asia but also at Brive. So I can understand how to build a bridge between these cultures.
*Christophe is also the uncle to recent French Under 20 World Rugby Champion, Quentin Delord.
Rugby Development in Asia
As the 1st ambassador from any Top 14 Club in France to Asia, you are here in a long-term role. You also have a blank canvas to a degree. What rugby have you seen in Asia and how could Brive support rugby's development?
First, we need to know the initiatives from the past. I am here full time in Asia and we know some French clubs had one-off marketing shots in Asia, like Racing Metro playing games in Hong Kong, and we know other clubs are looking at setting up projects in Asia, like Montpelier, but it's very different for us.
Our key to success is to understand the added value we, Brive and myself, can bring and to understand the needs here in Asia. I have attended rugby events in Thailand and now at the SEA Games in the Philippines. It helps me understand the needs and how we can add value in terms of creating connections.
For example, our head coach at Brive is available to coaches here and they could learn from his elite advice. Especially in countries which are new to developing their rugby and they want to reach a higher level. This could be an example of our added value. Also, it can be done without any real financial cost, but us sharing connections and experiences. 
I will also be looking to develop a program for any Asian federation or interested rugby club to use our facilities in France. We can create a bridge with Brive because its an attractive area in terms of rugby; our facilities, the passionate rugby town and also to advertise our sport of rugby.
Simon Gillham, President of CA Brive, said: "Christophe will promote CAB in Asia and can support the search for young Asian talents while looking for opportunities for cooperation between our club and partners possible in Asia."
Overall, we are in a period now, post-Rugby World Cup in Japan, which is very interesting for rugby and of course the next RWC is in France in 2023. So it is a good opportunity to meet the rugby nations in Asia to begin to explore connections and cultures and create opportunities.
I was speaking with the Laos national rugby team recently who have a low budget but we can asses the possibilities to invite smaller nations like these to visit Brive before the World Cup in France.
And you mentioned you attended the RBSC Tens in Bangkok, the Bangkok International Sevens and other domestic rugby. Now you are attending the SEA Games. Do you have an opinion on the quality of the rugby, based on what you have seen so far in Asia?
The situation is eclectic. Again I don't want to judge at this stage. We can create an overall impression but with the top nations in Asia, like Japan and Hong Kong, you can see they are at a higher level. But the gap behind them is quite big and the good thing is there is engagement with World Rugby and the energy from the World Cup can increase the participation in many nations.
New rugby nations are emerging like Indonesia. Two years ago the level was low and in 2 years its increased a lot. I suppose the main objective of these countries, in sevens rugby, would be to reach the Olympic Games and this can be done if they increase the quality of rugby and development locally.
Brive Rugby expertise
In terms of identifying players in Asia that could be recommended to the Brive Academy system; this could be a big win-win for local players who might be diamonds in the rough, and if they went to Brive, they would get support and exposure to rugby at a higher level. 
Would you also be looking at offering financial support to Asian rugby federations, as that is one of the first things they most likely will ask for?
I am very clear about this. First, the initiative in Asia is based on trust and the win-win. We don't want to invest just money at this time. 
We can share our elite rugby expertise and elite facilities freely. This will be our initial contribution without any expenses and we can invite any Asian rugby nation to enjoy our rugby facilities and experiences with our rugby coaches. We will, of course, prepare programs to suit the Federations or club that is visiting so it's adapted to their needs. This means more than money.
We are among the top 5 rugby academies in Europe so it makes sense. 
The business is not focused first on the financial aspect. If we are running all of our initiatives to a high standard and commitment for all of the stakeholders, the job will be sustainable and the money to the Federations will come naturally and they will develop quickly.
Any final comments?
Everything is possible here. We are starting now, and we are a pioneer, I like this word for what we are doing. At Brive, we don't expect to make money in Asia, but we really want to develop our network in Asia. We also count on all the other pioneers of rugby in Asia and welcome all the support to develop rugby in the Asian nations.
Who are the CA Brive rugby club?
CA Brive (Club Athlétique Brive Corrèze Limousin) is a professional French rugby union team who currently play in the Top 14 League in France. The club was founded in 1910 and the club colours are black and white.
CA Brive Top 14
They won promotion to the Top 14 for the 2019-2020 season by winning the promotion playoff last year. However, the club has won the French championship several times and famously won the Heineken Cup in 1997.
They have also produced a number of French internationals over the years, more than 30, and the team has featured international rugby players from many nations throughout its history. 
The CA Brive supporters won the 2019 Best Rugby Fans of Top 14 award. The city only has 47,000 inhabitants but has seen average attendance figures of 10, 000 plus in the Top 14 this season which is remarkable. 
CA Brive Stadium
The Stade Amédée-Domenech (capacity 16,000) is the home stadium for the rugby club.
Find out more on CA Brive Rugby on their website and Facebook.
Read more about rugby growing in Asia
---
Trending Now