Emirates Dubai 7s 2023 Pools
Posted On November 28, 2023
---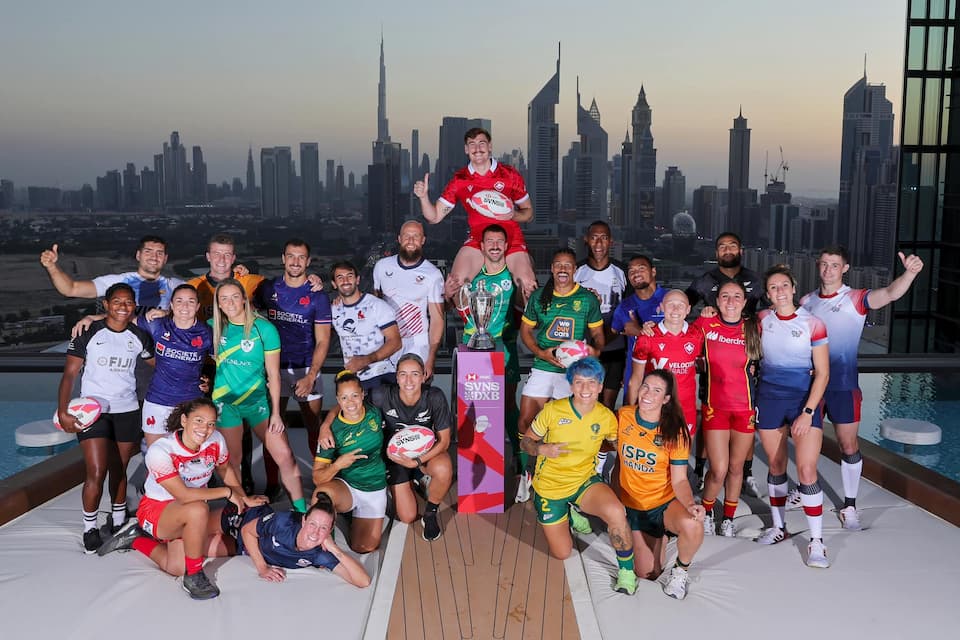 The new HSBC SVNS will kick off in Dubai from 2-3 December and the Emirates Dubai 7s 2023 pools and match schedule are all confirmed for the opening round which will feature the top 12 men's and 12 women's rugby sevens teams in the world.
Updated 30th November 2023 – The 12 women's and 12 men's HSBC SVNS captains at Dubai's world record-breaking Sky Cantilever at One Za'abeel ahead of round 1, the Emirates Dubai 7s. Photo: Mike Lee – KLC fotos for World Rugby
The Emirates Dubai 7s has been part of the HSBC World Series (and now the HSBC SVNS) since its inception in 1999, and the new look HSBC SVNS 2024 will feature seven regular-season events plus a Grand Final with promotion and relegation at stake.
World Rugby Chief Competitions and Performance Officer, Nigel Cass said: "We are excited to kick off what will be a thrilling year for rugby sevens at the Emirates Dubai 7s in December in front of a packed house of knowledgeable, enthusiastic and passionate rugby fans.
With a new and exciting format featuring promotion and relegation plus a 'winner takes all' competition at the Grand Final in Madrid, we know the action will be fierce at The Sevens Stadium in Dubai from the opening match on Saturday morning to the final whistle on Sunday evening to get the season underway in style."
Music and Entertainment –  DXB SVNS 2023
The 2023 edition of Emirates Dubai 7s will feature its biggest line-up to date with several sports (invitational rugby, netball, cricket, WODON3, and Padel on display as well as global music artists.
Pop star Becky Hill and global dance DJ MK are confirmed as 2023's headliners for Saturday night at Emirates Dubai 7s on Frequency on 8 stage.
Artful Dodger and DJ Luck & MC Neat will be on Beats on 2.
See more for Dubai 7s 2023 ticketing and event details here.
Emirates Dubai 7s 2023 – Men's Pools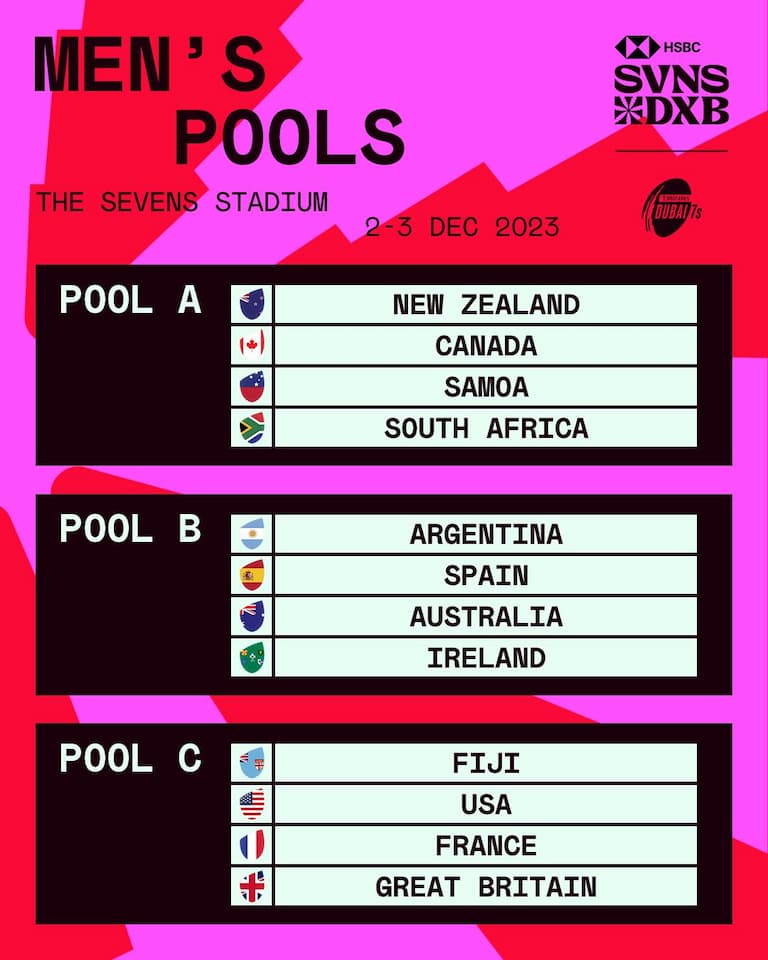 Pool A
The 2023 men's competition in Dubai sees 2023 champions New Zealand (who were winners in Sydney, Los Angeles, Hong Kong, Singapore and Toulouse last season), headline Pool A alongside Canada, last year's Cape Town winners Samoa and the defending Emirates Dubai 7s champions South Africa.
New Zealand
Canada
Samoa
South Africa
South Africa men's captain Selvyn Davids said: "The first tournament of the new season is always exciting. I've been out for a while so to be back on the pitch is going to be great and I'm really looking forward to it. With only 12 teams on the circuit now it is going to be even tougher and every game is going to be crucial. Dubai is always a big tournament. We had some tough times last year but we've talked about it, put it in the past and we're here for business and we want to play our best rugby."
Pool B
Three-time event winners from last season (Hamilton, Vancouver and London) Argentina, will take on Spain, Australia and Ireland in Dubai's Pool B.
Argentina
Spain
Australia
Ireland
Ireland women's captain Stacey Flood added: "We're really looking forward to kicking off here in Dubai. We've had a really long pre-season so everyone is raring to go and raring to get in to it. I think it's really good we're growing the game throughout the world and I think it's going to be a great year for rugby sevens. It's great to have the Olympics as the cherry on top waiting for us but each and every tournament on the series is going to be just as important because that's what is going to rank us for the Olympics."
Pool C
Double Olympic gold medal winners Fiji are in Pool C with France, USA and Great Britain.
Fiji
USA
France
Great Britain
You can follow the full match schedule for the Emirates Dubai SVNS 2023 here.
Emirates Dubai 7s 2023 – Women's Pools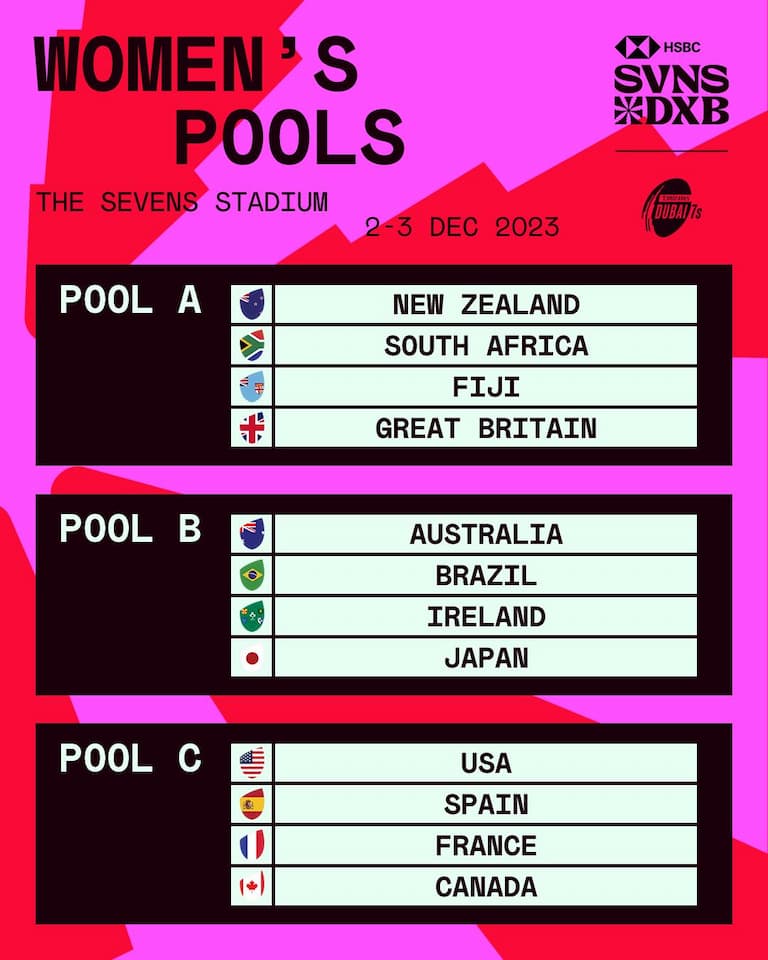 Pool A
New Zealand Black Ferns were dominant on the way to winning last season's title, claiming six of seven tournaments to lift their seventh series title. They will be faced head-on in Dubai's Pool A by a combative Fiji, Great Britain, and the World Rugby Sevens Challenger Series 2023 champions South Africa – who newly joined the series this season.
New Zealand
South Africa
Fiji
Great Britain
Pool B
Defending Emirates Dubai 7s champions Australia, who were flat last season compared the 2022 when they won the HSBC World Sevens Series and the RWC Sevens, are in Pool B, with Brazil, Ireland and Japan.
The Japan Sakura 7s will look to qualify from this pool and have had a busy time in 2023, winning the Asia Rugby Sevens Series and claiming silver at the Asian Games. They will still play the 2024 Olympic Qualifiers at home in November before the SVNS season gets underway.
Australia
Brazil
Ireland
Japan
Pool C
A competitive Pool C in Dubai sees North American rivals USA and Canada pooled with Spain and France. USA will hope to continue the form from last season where they ended third overall and in October 2023 picked up the Pan-Am Sevens Gold.

What To Know – Emirates Dubai 7s 2023
Two fields will be used across two days and in total there will be 64 matches for the first round of the HSBC SVNS.
New Zealand men and women begin the defence of their 2023 titles in Dubai.
South Africa (Blitzbok) men and Australian women look to repeat their victories at The Sevens Stadium in December 2022.
The Dubai 7s action begins at 9:00 local time (GMT+4) on Saturday 2nd December and concludes with a highly anticipated match between New Zealand and South Africa at 20:44 (local time) in the men's competition (Pool A).
The festival of sports sees 230 teams from 32 countries involved in a number of social and invitiational divisions – the biggest invitational 7s rugby tournament in the world.
Asian Match Officials – Emirates Dubai Sevens 2023
Sunny Lee and Thomas Ngan from Hong Kong are in Dubai after being selected by the HKRRS (Hong Kong Rugby Referees Society) as part of an exchange, and will both be involved in the 2023 Emirates Dubai Invitational 7s.
Craig Chan (HKCR) and Ano Kuwai (JRFU) will be officiating the World Rugby HSBC SVNS Series core teams.
How To Watch The Dubai SVNS 2023?
A full guide of streaming and broadcast channels is available here for watching the Emirates Dubai SVNS 2023.
RugbyPassTV is shown as the partner for Asia – Pitch 1&2
Sevens Rugby News 2023-2024
---
Trending Now