HSBC World Sevens Series Rebranded and Launched as HSBC SVNS – Promises Festival of Immersive Experiences
---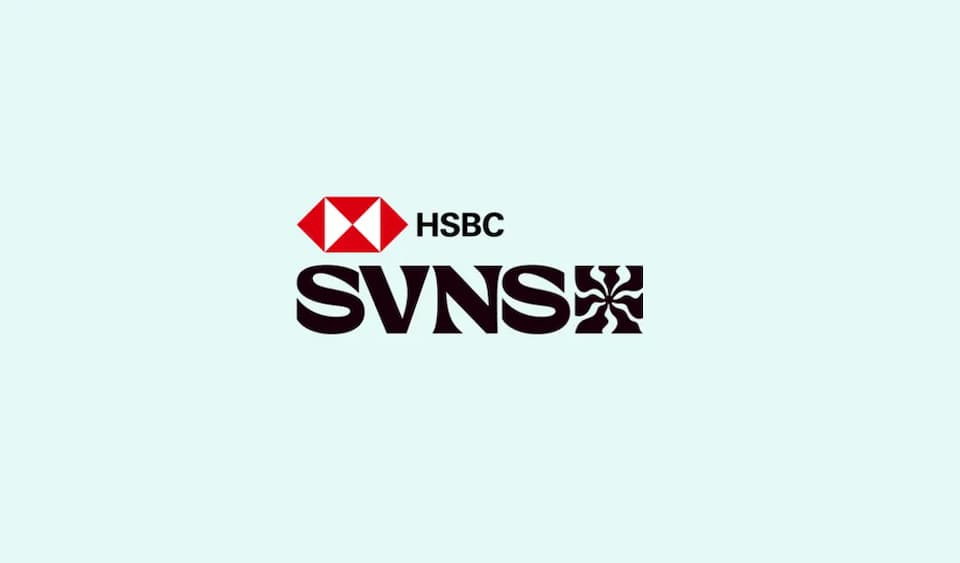 The popular HSBC World Rugby Sevens Series has been rebranded as HSBC SVNS and is set to travel to 8 global destinations in the 2023-2024 season.
HSBC SVNS has been launched as a "rugby event, festival and must-attend experience set in some of the world's most exciting locations' said World Rugby, adding they hope to "supercharge rugby's global reach and appeal by being more relevant and accessible to younger, leisure-hungry audiences."
World Rugby Chief Executive Alan Gilpin said of the new HSBC SVNS: "Our ambition is for SVNS to be at the forefront of our growth strategy, appealing to a younger, leisure-hungry audience. In eight iconic destinations played over seven months, we will bring together a truly immersive festival of rugby, music, food and experiences to create the ultimate weekend-long get-together for young people, the hottest ticket and open a new era for the sport."
He added, "We are delighted to be extending our long-standing and impactful title partnership with HSBC. They share our passion to grow the sport in new nations and communities and have played an instrumental role in advancing the reach and success of the sport, particularly at the community game level. We are excited by the opportunity we have in front of us to work with HSBC to take SVNS to the next level."
HSBC SVNS – Host Cities & Dates
The SVNS Series gets underway in December 2023, and aims to provide a showcase for the world's best sevens rugby athletes and teams to shine with 12 men's and women's sides "sharing a global stage at the same location."
World Rugby says in addition to a festival feel and an immersive approach which will also promote local cultures, "there will also be a range of competitive and social sports for all at SVNS festivals, from non-contact rugby to functional fitness. Every event will deliver something unique."
The three current Asian locations remain on the annual calendar; Dubai, Hong Kong, & Singapore.
Dubai, UAE – 2-3 December, 2023
Cape Town, South Africa – 9-10 December, 2023
Perth, Australia – 26-28 January, 2024
Vancouver, Canada – 23-25 February, 2024
Los Angeles, USA – 2-3 March, 2024
Hong Kong SAR, China – 5-7 April 2024
Singapore, Singapore – 3-5 May 2024
Madrid, Spain – 31 May-2 June, 2024
Cathay/HSBC Hong Kong Sevens said online: "We are so excited to announce our event dates for 2024 as part of the new HSBC SVNS! Even better, we're stoked to confirm that you'll be able to see the Hong Kong China teams in action over the weekend."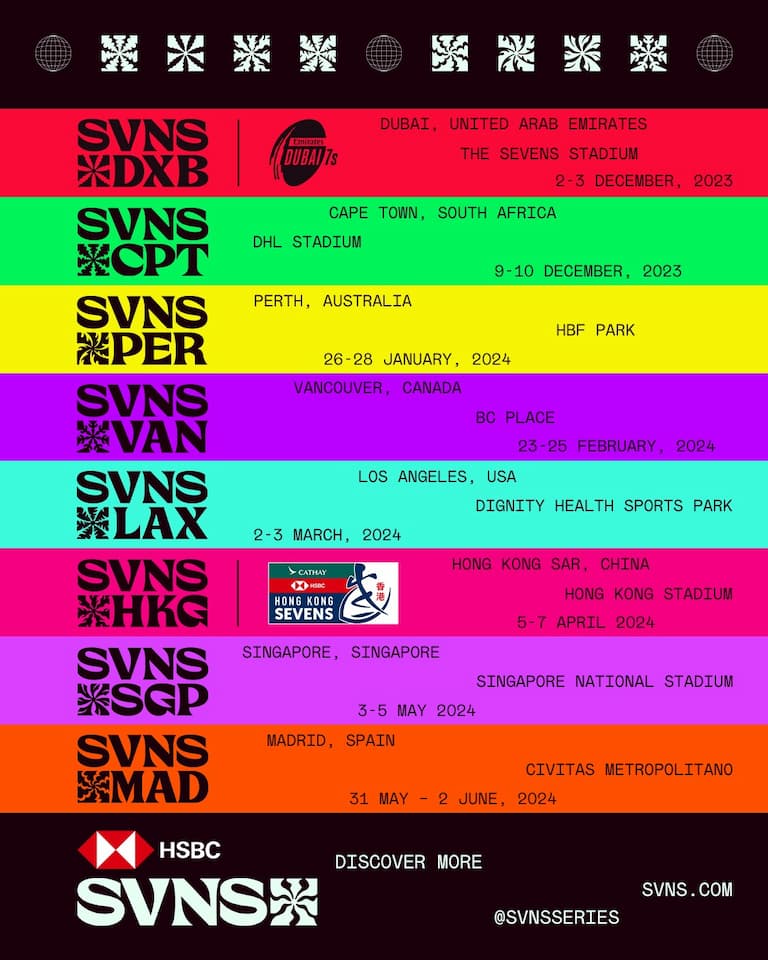 HSBC SVNS Series Format
As part of the HSBC SVNS format, the top eight placed teams, based on cumulative series points, at the conclusion of Singapore SVNS will secure their opportunity to compete in the new 'winner takes all' Grand Final in Madrid, where the women's and men's SVNS champions will be crowned.
Madrid will also play host to the high-stakes relegation play-off competition where teams ranked ninth to 12th will join the top four teams from the World Rugby Sevens Challenger Series (which is similar to how the Men's Series was played in the previous season).
The top four placed teams of this play-off will secure their place on next year's SVNS.
Why Have The Sevens Been Rebranded?
World Rugby claims that the rebrand and innovation comes after consulting with players, fans, broadcasters and unions.
Under the new model, SVNS aims to deliver "gender parity with all seven rounds and the Grand Final featuring combined men's and women's competitions and equal participation fees, with a 70 per cent uplift in World Rugby's investment in participation fees as a commitment to sustainable growth."
HSBC & World Rugby Extend Partnership
Extending on the 12 years of support of rugby sevens, HSBC has been confirmed as SVNS title partner in a four-year deal, it was also confirmed.
HSBC Group Chief Executive, Noel Quinn said of the deal and SVSN: "Through many years of working closely with World Rugby to showcase and support the sport around the world, HSBC has become synonymous with the World Rugby Sevens. I'm particularly proud of the new opportunities that we have helped to open up by taking the sport into new markets, supporting the growth of the women's game and giving tens of thousands of young people the chance to try rugby for the first time. I'm delighted that our hugely successful partnership with World Rugby will continue for years to come, and that HSBC will be able to help the sport reach even greater heights."
Over the 12-year partnership with World Rugby to date:
558,962 young people picked up a rugby ball through grassroots programmes.
Supporting and driving the expansion of the women's series to help for gender parity.
The HSBC World of Opportunity Programme has helped teenagers across 5 markets.
HSBC helped grow the profile of rugby sevens players and bring new players to the sport.
What Have The HSBC Ambassadors Said?
HSBC Ambassador, Brian O'Driscoll – "HSBC is the perfect partner to help guide SVNS into this exciting new chapter. Building on a long track-record of successful partnership, and with the international network and expertise that the sport needs to fulfil it's potential, I can't wait to see what the future has in store for the sport."​
HSBC Ambassador, Nolli Waterman – "Over the past few years, HSBC has played a significant role in the growth of the women's game on the global stage. It's brilliant that the new HSBC SVNS competition comes with complete parity of events and pay, and I can't wait to see how the partnership continues to support rugby sevens as a sport for all."
HSBC Ambassador, Bryan Habana – "I've been lucky to see first-hand the impact HSBC grassroots programmes have had in helping young people all over the world experience the sport I love. I'm delighted HSBC's partnership with World Rugby will continue and that many more youngsters will have new opportunities opened up for them in and outside of the sport."
Destination SVNS – What You Need To Know
Iconic festivals- – SVNS will ramp up its culture and entertainment offering at each of the 8 destinations. Food and drinks will match the local flavours, while competitive and social sports will be on offer.
Equal share of the spotlight – Fully combined and equal men's and women's festivals aligning with the Olympic competition model (12 women's and 12 men's teams).
'Grand Final' Format – To crown SVNS champions and offer pathway opportunities for four men's and women's teams to achieve promotion from the World Rugby Sevens Challenger Series.
Promotion and Relegation – The similar format as the Men's competition in the 2022-2023 season will see teams ranked ninth to 12th join the top four teams from the World Rugby Sevens Challenger Series in a relegation play-off competition – the top four teams will secure their places in the next edition of SVNS.
Second Chances: The four unsuccessful teams will go into 7s rugby regional competitions to qualify for the next Challenger Series -This will comprise of 12 men's and 12 women's teams competing in the second level of international rugby sevens.
Rugby Tournament News 2023-2024
---
Trending Now