Cathay/HSBC Hong Kong Sevens 2024
Posted On November 6, 2023
---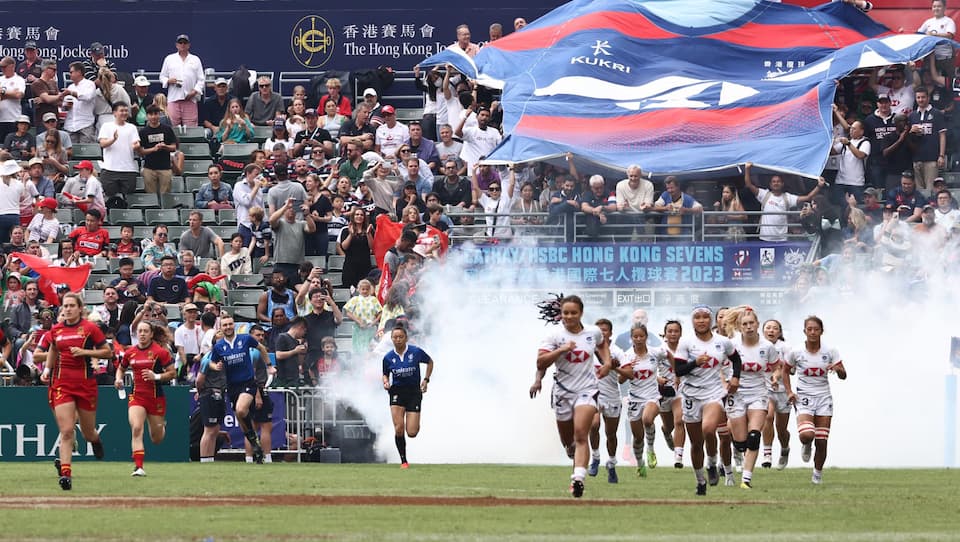 The tickets for the highly anticipated Cathay/HSBC Hong Kong Sevens 2024 go on sale for general admission on 1 December 2023. This will likely be the last time the famous sevens event takes place at the Hong Kong Stadium before moving to the newly built Kai Tak Sports Park.
This will be the first time the Hong Kong Sevens are part of the newly revamped HSBC SVNS Series and will be held from April 5-7 2024 on the 30th anniversary of the Sevens being held at the So Kon Po stadium.
Whereas most of the events on the re-imagined sevens circuit have an Olympic format of 12 women's and men's teams, the Cathay/HSBC Hong Kong Sevens 2024 will have more teams with a healthy Asian contingent included, making this the largest Sevens event on the SVNS circuit.
Robbie McRobbie, CEO of the Hong Kong China Rugby Union told Rugby Asia 247 that they had special permission to invite the regional teams and they would be competing in a mini pool among themselves but not compete with the core SVNS teams.
"World Rugby have been supportive and allowed us to basically organise our own competition for the men and women. So we invited (for the men), Japan, who unfortunately were relegated from the World Series last year, and the China men, who I think we've all been impressed with the progress they've made over the last 12-18 months. They'll come down and play with the Hong Kong, China men.
For the women, China and Thailand will play the HK China women, while the Japanese women are still on the SVNS Series, which is great."
He added that these mini-competition pool matches will be spread among the main core SVNS matches, adding, "Hopefully, that will provide the local interest, which you know, we want to preserve."
(We will be bringing you more from our interview with the HKCR CEO soon)!
The Hong Kong Sevens Week is always extremely busy with events and we will bring you a guide highlighting all that is happening in 2024.
In terms of rugby tournaments taking place in the HK Rugby Sevens Week:
All Girls Rugby Sevens 2024 – 29-30 March 2024
Hong Kong International Touch Championship (HKITC) – 31st March 2024
HKFC 10s –  3-4 April 2024
Kowloon RugbyFest 2024 – April 4 2024
Cathay/HSBC Hong Kong Sevens 2024 – Teams
HK7s 2024 Men's Teams 
New Zealand, Argentina, Fiji, France, Australia, Samoa, South Africa, Ireland, Great Britain, USA, Spain, Canada,
Mini pool – Hong Kong, China, Japan, China
HK7s 2024 Women's Teams 
New Zealand, Aus,ralia, USA, France, Ireland, Fiji, Great Britain, Japan, Canada, Spain, Brazil, South Africa,
Mini pool – Hong Kong China, Thailand, China
Cathay/HSBC Hong Kong Sevens 2024 – Ticket Sales
Tickets are priced at:
HK$1,950 for a 3-day adult entry
HK$950 for a 3-day child (aged 2-12) entry
Several package deals are already available from event partners such as sponsor Cathay Pacific, Trip.com and Klook.
HSBC SVNS Series 2023-2024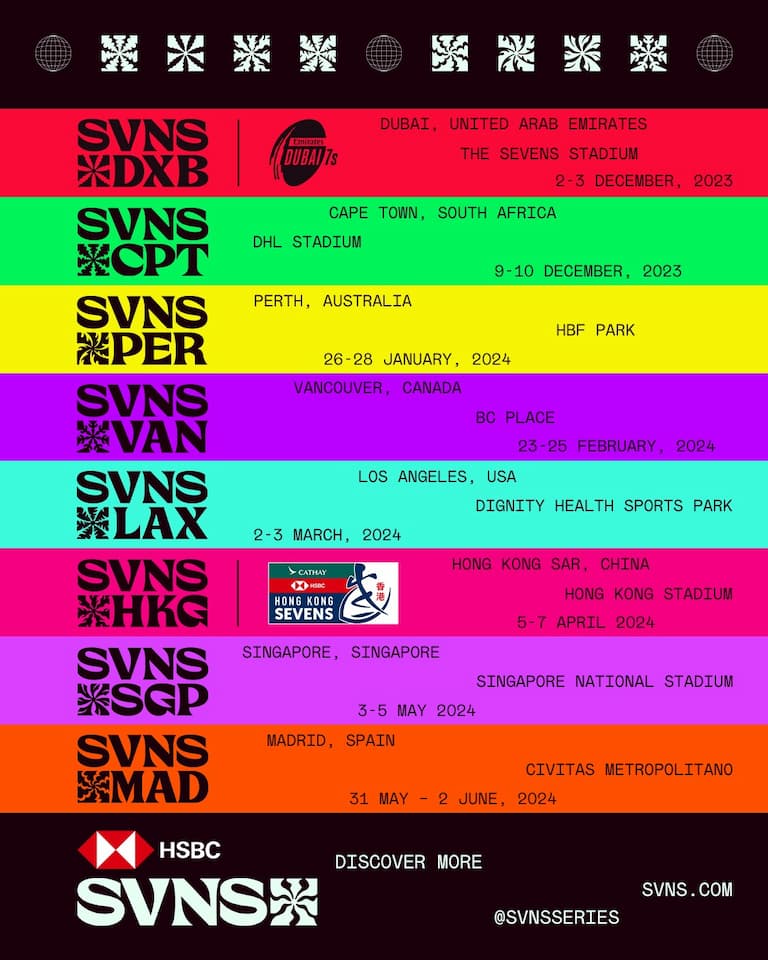 Emirates Dubai 7s 2023
The SVNS season kicks off with the Emirates Dubai 7s 2023 which takes place from 1st-3rd December at The Sevens Stadium, followed up by the SVNS in Cape Town from 9-10 December.
The Dubai event includes "5 different sports, 4 stages of music of all genres, and activities for all the family."
HSBC SVNS LAX 2024
Tickets for the HSBC SVNS LAX 2024 are also available for the two-day event to be held at Dignity Health Sports Park in Los Angeles from 2-3 March 2024. The LA Galaxy home stadium will feature the best 12 men's and 12 women's teams in the world.
Tickets for the events in Cape Town, Perth, and Vancouver have already gone on sale.
Rugby Sevens Tournament News
---
Trending Now