Emirates Dubai Rugby 7s 2021 Day One Review
Posted On December 4, 2021
---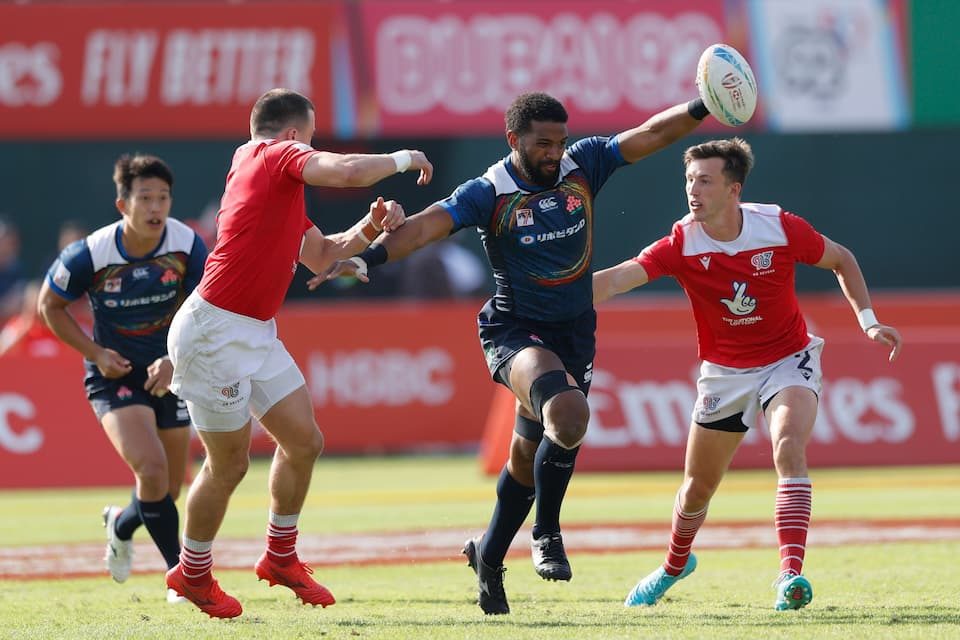 The return of a fan-packed Emirates Stadium at the Emirates Dubai Rugby 7s 2021 day one was something to savour after two years of COVID-disruptions.
As World Rugby stated in their official press release, the rugby was unpredictable and the second round of the HSBC World Rugby Sevens Series 2022 delivered shocks and records. It's good to have international rugby and fans back.
(Feature photo credit: Mike Lee – KLC fotos for World Rugby)
Emirates Dubai Rugby 7s 2021 – Day One Men's
While a large number of social and invitational divisions got underway for their second of three days of rugby on the number of outlaying rugby fields, the action inside the Emirates Stadium started with a bang.
France upset Fiji in the opening men's game (for only the second time in Series history), the Fijians problems were compounded when Spain defeated them (33-19) for the first time, and deservedly. This means that for only the second time in Series history in Dubai, Fiji failed to make it through to a Cup quarter-final.
Reigning Dubai champions South Africa, who also won the first Series leg last week, were victorious in all three pool games, beating Japan easily, as well as Ireland and then GB in the last match of the day. The Blitzboks go into the final day as firm favourites, and if they succeed in lifting the Cup, they would be the first team in almost two decades to win a hat-trick of titles in Dubai.
From an Asian perspective, Japan was on the receiving end of three heavy defeats again, including a bizarre passage of play against SA. Kameli Soejima, one of the Fijian-born but long term Japanese 7s players told us (following the disappointment of not qualifying for RWC Sevens and the losses in the first round of the HSBC World Sevens Series): "A lot of the boys have just played their first World Series round and it's a big step up. It's going to take time for us to gel but I can see the improvements in the games."
In terms of season goals, Soejima added that Japan wants to be a permanent Core team World Series member: "We want to stay in the Series and be consistent throughout. We want to get the maximum points at every tournament."
Blitzbokke Ronald Brown told Rugby Asia 247 (despite expressing that he felt the team were sloppy in their second win over Ireland) that the team was feeling good this weekend. "We are happy with the results and need to fix the discipline issues in our game and control the flow for us."
The SA team is on a roll of wins and Brown added: "It's about preparation. We say in the camp prepare before and take that confidence into the games. I think we have prepared well and you can see that on the field."
Asked about the Series and a big 2022 ahead (Commonwealth Games and RWC Sevens in SA), Brown commented that he has not yet played in Hong Kong and was excited about the prospect of playing the other Series legs in Asia which include Singapore.
"I heard Hong Kong is quite a vibe and I'm excited to go there. As the Sevens has grown over the years, Ive heard it's one of the places to go."
Emirates Dubai Rugby 7s 2021 Day Two- Men's Cup Playoffs
The men's Cup quarter-finals begin with a match between Pool B winners Australia and the best third-place side Ireland – who have the inspirational Jordan Conroy back after sitting out round one of the Series.
Pool C winners Argentina and Pool A runners-up Great Britain play in the second Cup quarterfinal, followed by the two second-place sides in Pools B and C, USA and France. The QF is rounded out by South Africa playing Kenya.
Australia vs Ireland
Argentina vs GB
USA vs France
SA vs Kenya
Emirates Dubai Rugby 7s 2021 – Day One Women's
Australia's women were again in top form, only conceding points in the final game of their day against a gutsy Brazil, but the Aussies won all three group games handily.  They also look set to repeat lifting the Cup as they did last week – their first in three years.
Olympic medallists Fiji and France, as well as the impressive Russian women also take unbeaten records into day two when the pool stages will be played to a finish before the competition enters the knockout phase.
Australian star Caslick spoke with us after the third win against Brazil and said: "It was a really great day and as a group, we are focused on being consistent and back up last week's win. " She added that the change since the Olympics was down to some changes in personnel and a tough pre-season which has prepared them well.
"We are enjoying our footy and smiling and having so much fun. I think that's what's making us play better", added Caslick.
On the season ahead in 2022, without taking her mind off a tough day two in Dubai, Casslick added that she is excited for the Birmingham Commonwealth Games: "My moms family is from Manchester so to play in Birmingham in front of her family will be really special for me."
All of the results and fixtures can be seen here.
Emirates Dubai Rugby 7s 2021 Day Two Women's Playoffs
The race for the semi-finals in the women's competition starts with Brazil taking on Spain, before France taking on the USA (which should be one of the picks of the games), while Fiji has a must-win encounter against France later in the day.
Australia's will complete the women's group games by taking on a buoyant Russian side before the semi-final places are confirmed.
We will publish more from our interviews with USA 7s player Lucas Lacamp who played in Hong Kong, and Japan's Kameli Soejima.
Emirates Dubai Rugby Sevens Tournaments 2021
---
Trending Now