First Weekend of Rugby World Cup Tournament 2023 – Key Takeaways & Lessons
Posted On September 11, 2023
---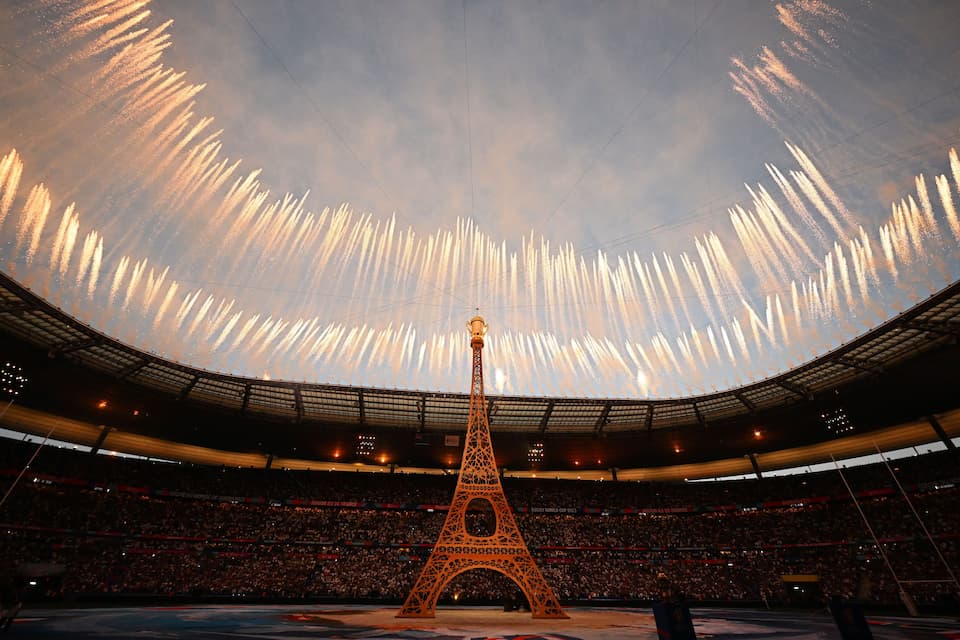 The first weekend of the Rugby World Cup 2023 tournament in France came to a close with the best game of the opening round of salvo of matches with Wales beating Fiji in Bordeaux, but what lessons have we learned and what key takeaways were there from France?
World Rugby and the France 2023 Organising Committee has thanked the French and international fans who were involved in celebrating the start of the 10th men's Rugby World Cup and although both would like to think it was a seamless and busy three days, it was not all perfect.
Some of the numbers the organising committee released were:
More than 220,000 spectators were present for the first 8 matches and the Rugby Villages,
Collectively more than 140,000 people watched the opening match between France and New Zealand in the villages and the stadium.
France's largest domestic TV audience of the year –  15.4 million watched TF1's opening night coverage from Paris.
The weather has been warm – being based in Asia it's not really an issue – but it has impacted the players and fans and the mandatory water breaks have been introduced. Whether this will last for many weeks it is unknown but it might impact some match results as reams adjust in the opening rounds.
Stars Head To Rugby World Cup Tournament 2023
We saw a number of social media posts of some of the sporting and other stars who are in France to watch the Rugby World Cup 2023 beyond the alumni from the rugby world.
Football stars included David Bekcham, Kylian Mbappé, and Roberto Carlos, as well as British Royalty as the Prince and Princess of Wales attended matches in Marseille.
Stadium Access Issues – Marseille & Bordeaux
We were lucky enough to be at the opening ceremony and opening match in Paris on Friday night and saw nor experienced any negative issues with crowd entry to the stadium or transportation – it was a job well done.
However, from the entry point into Charles De Gaulle airport and the two days in Paris we let there was some visibility of the tournament but not a huge amount, and very very few English-speaking staff at transport hubs, in or around Stade De France to assist visiting fans or media.
Marseille on Saturday night was disappointing from an organisational point of view. The France 2023 Organising Committee did address it quickly on Saturday morning and made changes for the match on Saturday night (there were also issues in Bordeaux). They said "All matches were played in a safe environment, with seamless access to the stadia and an improved fan experience" but this was not our experience or of those we spoke with in Marseille.
We have heard (and we have published) about the preparation and large amount of volunteers who will be making this Rugby World Cup Tournament 2023 a success but we have yet to see many volunteers with non-French language skills or knowledge of the stadium to answer some of the most basic questions. The organisers say it has been addressed and it's still early days for the 48-match tournament but better signage, clearer instruction and volunteers on the ground before ticket security areas will be needed.
We All Knew Match Officials and Cards Were Going To Be A Key Part of Rugby World Cup 2023
For several years now, players and teams have had to adjust to the regimen of the calls on yellow and red cards and what constitutes time in the sin bin – it should come as no surprise to anyone who plays or watches rugby that match official decision (in reaction to what players do) would have an impact on this Rugby World Cup.
There were some perceived harsh yellow cards and we saw plenty throughout the weekend in the 8 matches. World Rugby rightfully is protecting the match officials from abuse but the view that the calls on the yellow and red cards remain inconsistent remains a key theme.
It's worth considering a rewatch of the process explained for all involved as World Rugby is trying to raise awareness but sometimes the fans (and the media) don't take the time to understand what's at play.
Are The Choir Anthems A Hit Or A Miss At France RWC 2023?
One of the introductions for this RWC was using children's choirs singing the national anthems – with each group consisting of students from diverse backgrounds.
In all three matches we have attended, it was really not the same experience as the pace and notes were out of sync with the teams and mass of fans singing these energetic anthems while the actual word are mostly incomprehensible, a pity as these anthems usually add a last crescendo pre-kick off to allow the atmosphere eot hit fever pitch.
Players and coaches have defended the use of them in the post-match interviews thus far but wether that's a World Rugby mandate or honest feedback we don't know. They will unlikely drop the idea now but it needs adjusting to make it beneficial to all in attendance,
Opening Match Round – Standout Moments RWC 2023
France coming from behind to beat New Zealand 27-13 in the opening match of Rugby World Cup 2023 at the Stade de France to inflict NZ's first pool defeat at a Rugby World Cup.
Chile making their debut and scoring their first points, while the fans are a welcome mix to those attending World Cups.
Pool B remains anyone's to qualify from but Ireland and South Africa lay first claims to try and escape the pool of death
England and Wales silence some critics with vital pool wins against Argentina and Fiji respectively.
The stadiums and atmosphere in the two we have attended so far have been great but we hope the levels only continue to rise.
Match Results – 9-11 September – RWC 2023
Pool A
France 27-13 New Zealand
Italy 52-8 Namibia
Pool B
Ireland 82-8 Romania
South Africa 18-3 Scotland
Pool C
Australia 35-15 Georgia
Wales 32-26 Fiji
Pool D
England 27-10 Argentina
Japan 42-12 Chile
The next round of Rugby World Cup 2023 matches start next Thursday 14 September 2023 with the Pool A match between France and Uruguay.
Rugby World Cup 2023 Innovations & Fan News
---
Trending Now