HSBC France Sevens 2023 Pools
---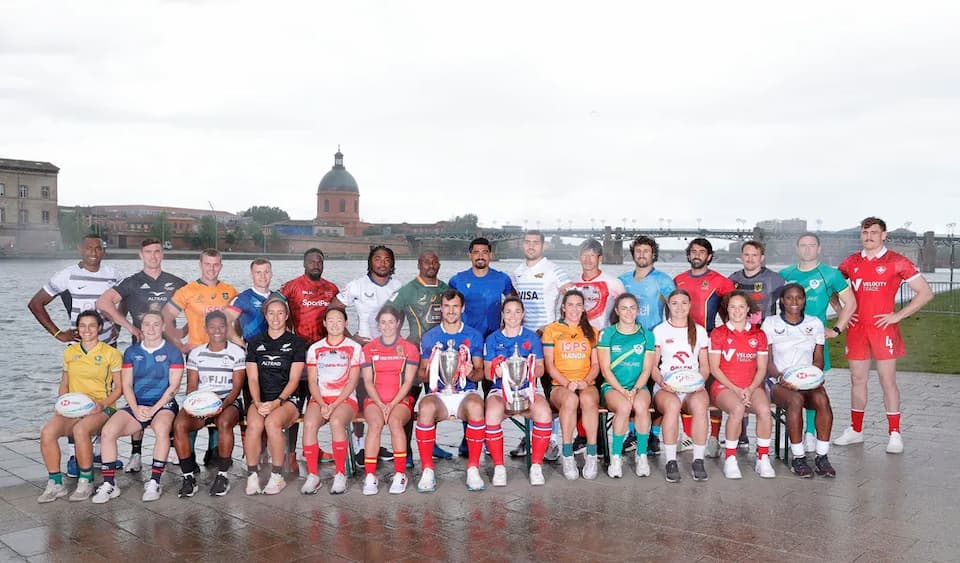 The HSBC France Sevens 2023 pools for men and women have been confirmed following the completion of the HSBC Singapore Sevens. The tournament takes place from 12-14 May at Stade Ernest-Wallon and is the final round for the World Rugby Sevens season for the women and the penultimate round for the men.
*Updated May 10 2023
Who will be crowned the women's Series champions, which teams will claim a spot in the Paris 2024 Olympic qualification and which Men's team will avoid relegation?
HSBC France Sevens 2023 Pools – Men
The France 7s 2023 pools for the men see Series leaders New Zealand lead Pool A alongside Uruguay, Kenya and Canada, while Pool B features Argentina, Great Britain, Spain and the invitational side from Germany.
With a maximum of 42 points available in Toulouse and London, the All Blacks Sevens could win the 2023 Series title in France this weekend if they finish 19 points clear of second place Argentina.
Defending HSBC France Sevens champions Fiji headline Pool C and will meet hosts France, South Africa and the USA, in what is arguably the toughest pool. France men's captain Paulin Riva said: "It's very exciting for us to play in our home country, and for me, I'm very lucky to play in my hometown of Toulouse, so we're really excited for this weekend. We want to win a tournament and have had good results so far this season and we have been working very hard ahead of this weekend. We want to win and finish the season in the top three."
Pool D includes Samoa, Australia, Japan and Ireland.
NZ won both Sevens tournaments in Asia -in Hong Kong and Singapore, Japan is currently in the 15th automatic relegation spot with teams still competing for a top-four finish to qualify for the 2024 Paris Olympics, and teams in the battle to avoid the relegation/promotion playoffs.
Pool A
New Zealand
Uruguay
Kenya
Canada
Pool B
Argentina
Great Britain
Spain
Germany
Pool C
Fiji
France
South Africa
USA
Pool D
Samoa
Australia
Japan
Ireland
You can see the Men's standings here.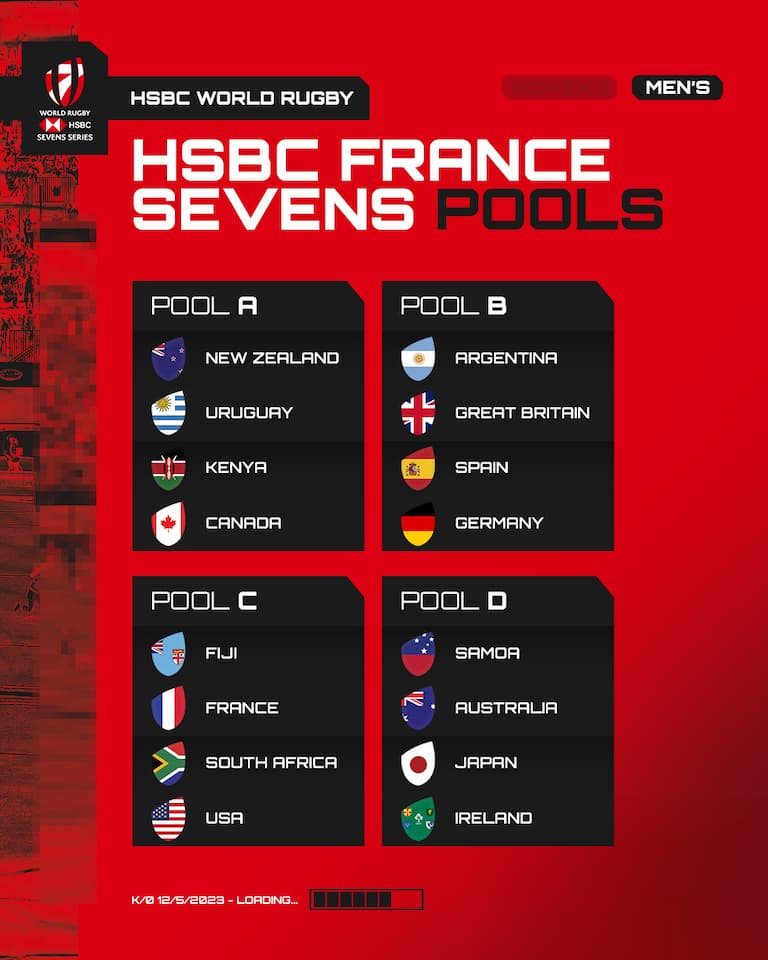 HSBC France Sevens 2023 Pools – Women
New Zealand sits firmly on top of the standings after six rounds with 118 points having won the last five tournaments in Cape Town, Hamilton, Sydney, Vancouver and Hong Kong.  The Black Ferns Sevens can officially clinch their first Series title since 2020 by qualifying for the quarter-finals this weekend in Toulouse.
Australia (102), are the only other nation to have won a tournament in Dubai and sits 12 points ahead of the USA at 90 points.
Only four points separate Ireland (64), Fiji (62) and Great Britain (60) in the race for the final Paris 2024 qualification spot to be decided at the Series finale in Toulouse.
The Irish will need to finish ahead of the pack to head to the Olympics and Ireland women's captain Lucy Mulhall said: "We're feeling very excited for this weekend. It's nice to play close to home so there we've got a large contingent of family coming over to watch us so we're really excited. We're hoping this weekend is third time lucky for some of us to qualify for the Olympics. There's everything to play for and we knew going into the last tournament that it was going to come right down to the end so it's really exciting and really special to hopefully qualify here in Toulouse with our family support behind us."
In the women's tournament in France, Series leaders New Zealand are Pool A alongside Canada, USA and invitational side Poland.
Series defending champions Australia will face off against hosts France, Ireland and Brazil in Pool B, while Pool C sees Hong Kong bronze medal winners Great Britain with Fiji, Spain and Japan.
No core team will be relegated this season for the Women.
Pool A
New Zealand
Canada
USA
Poland
Pool B
Australia
France
Ireland
Brazil
Pool C
Great Britain
Fiji
Spain
Japan
You can see the Men's standings here.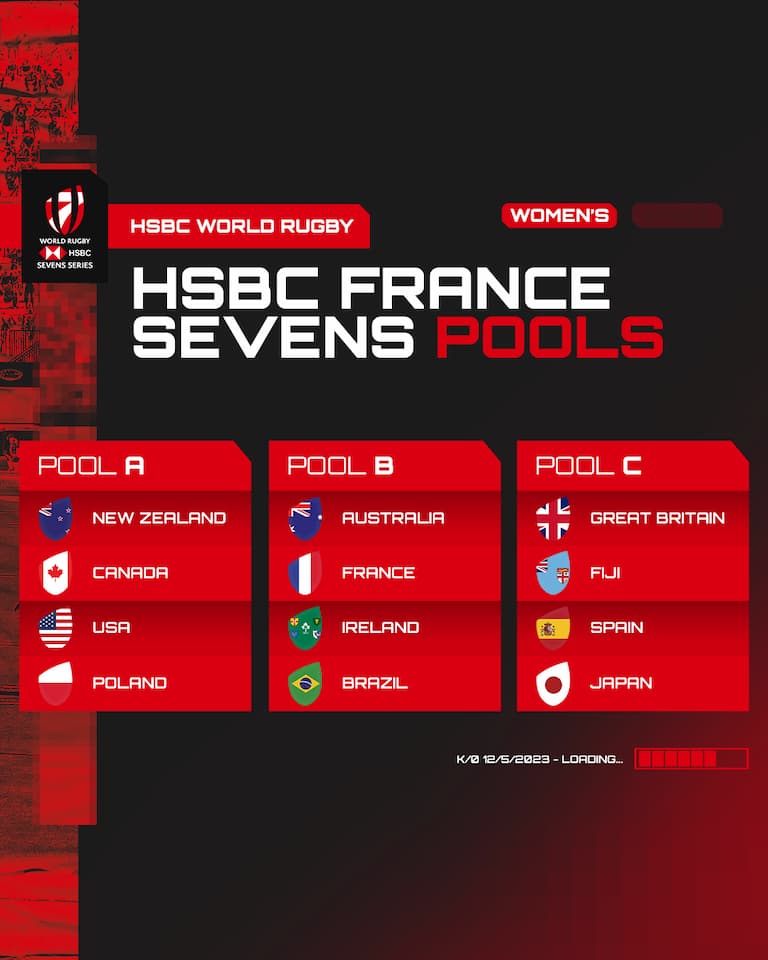 How to Watch the HSBC France Sevens 2023?
Find a full list of broadcasters here, with matches getting underway at 10:00 local time (GMT+2) on Friday.
Fans can watch the action via live stream www.world.rugby in countries where there is no national broadcaster covering the event.
Rugby Sevens 2023
---
Trending Now