Japan vs USA RWC 2021 – Pool B Match Preview
Posted On October 14, 2022
---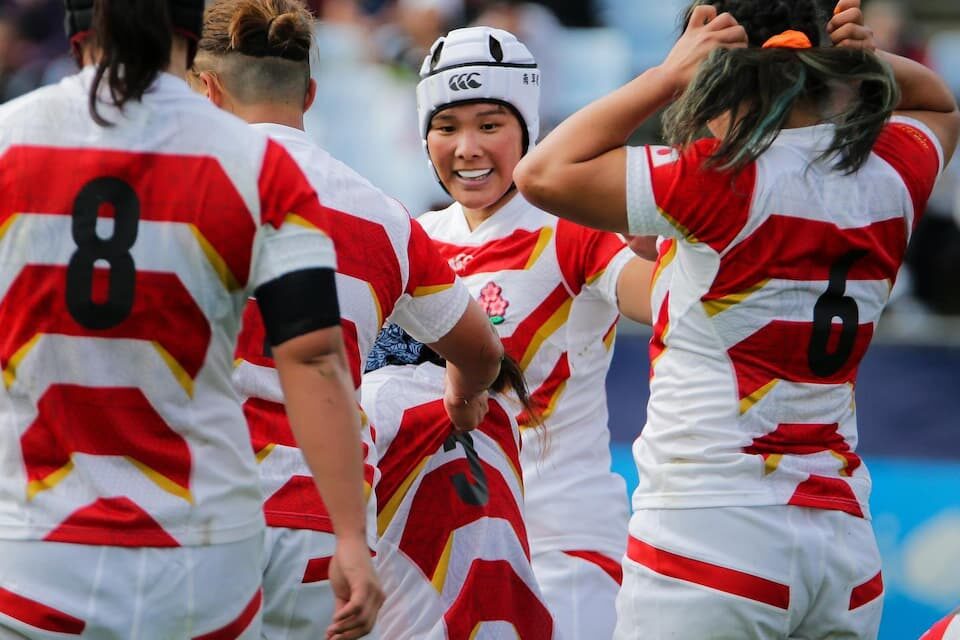 Japan Sakura XV will look for improvements in their second Pool B match at Rugby World Cup 2021 on Saturday 15th October at Northland Events Centre when they take on the USA, with both sides looking for their first win of the tournament. 
The USA have never lost their opening two games of a Rugby World Cup before and currently are on their longest losing run in RWC history (three matches).
Meanwhile, Japan has only ever won one Rugby World Cup pool match and a win could also see the team enter the World Rugby top ten in rankings (Scotland would also need to lose their match against Australia).
This is the second meeting between the two sides with the USA winning the only previous encounter 121-0 at Rugby World Cup 1994 in Scotland.
Japan vs USA – RWC 2021 Preview
Japan – RWC 2021
Head Coach Lesley McKenzie said of the challenge the USA will pose "America have always played very like America – so they'll be direct and they'll be excitable and they'll be physical. That's something, as a Canadian, I've enjoyed in all my playing career. It's a good opportunity for the girls in the Sakura Fifteen to have an 80-minute hit-out against them, and we'll see how we go."
She added that the USA has also made squad changes saying to bring a more physical encounter – "They've picked a very big team – they have a history of picking big teams – and if we want to compete in a World Cup we've obviously got to be able to deal with that. We're hopefully up to it – a little bit better timing around our attacking ruck support this week, hopefully, should give us more access through our attack. We'll see…"
Last week against Canada the Japanese team took too long to adjust to their opposition's physicality, scrums and mauls from attacking line-outs and it will be the same challenge this week.  However, Sakura's fitness and tenacity in defence need to be backed up by better attacking sets and hands as they have the ability to create space and open up the opposition. In the second half last week, they created more line breaks, carries, tackle breaks, and completed more offloads than in the first half.
Against Canada, Japan conceded four scrum penalties and only won 50% of the lineouts on their own throw – they just need to be better.
McKenzie wants more from her team: "I think the fallback for everyone speaking about Japan is that we're fit, we're organised and we're well-skilled. But we have to realise the professionalism of the women's game has brought 12 teams to the tournament that are fit, that are well-skilled and that are organised.
We have to find more than that. That's something we'll have to grapple with through the tournament is the fact that our defining features aren't unique to us any more, so what else do we bring? That's something we've challenged the girls with."
(Follow all of the RWC 2021 matches here)
Japan Matchday Squad – 15th October 2022
McKenzie has made five changes in the Japanese squad to face the USA compared to the team that lost their opening fixture against Canada.
Two of the five changes are positional with Seina Saito moving to number 8 and Iroha Nagata switching to blindside and Kyoko Hosokawa joining the line-up at openside.
Hooker Kotomi Taniguchi will make her first test start for Japan after four appearances off the bench – it will be her Rugby World Cup debut.
Minori Yamamoto moves from the bench to start alongside Mana Furuta in the midfield.
Replacement prop Wako Kitano and full-back Ria Anoku are set for their first involvements of RWC 2021 from the bench.
Image Credit: JRFU
Image Credit: JRFU
1. Saki Minami
2. Kotomi Taniguchi 3. Sachiko Kato 4. Yuna Sato 5. Maki Takano 6. Iroha Nagata 7. Kyoko Hosokawa 8. Seina Saito
9. Megumi Abe
10. Ayasa Otsuka
11. Komachi Imakugi
12. Minori Yamamoto
13. Mana Furuta
14. Hinano Nagura
15. Rinka Matsuda
16. Hinata Komaki
17. Nijiho Nagata 18. Wako Kitano 19. Kie Tamai 20. Otoka Yoshimura 21. Moe Tsukui 22. Ria Anoku 23. Ayano Nagai
USA– RWC 2021
The USA Eagles will be looking to avenge their opening weekend 10-22 defeat against Italy and a loss by more than 15 points to Japan would mean the team could drop to tenth in the World Rugby rankings.
USA Head Coach Rob Cain said, "Obviously, coming off a loss of any kind is never the best start to any tournament but we knew how close the group would be and we prepared ourselves for what might have happened if we didn't get the win, and very much our focus turned very quickly to not just beating Japan but putting in a really, really pleasing performance and ticking all of the boxes that we speak about during the week so that we can control our own destiny for the quarter-finals."
On the challenge of playing Japan, he added "tactically we're looking to play a bit differently and we have to make sure that we've got the right people out there that can deliver what the team needs, and we have to make those hard decisions as a coaching group."
USA Eagles Kate Zackary didn't hide how the team plan to take on the Sakura "The biggest thing that we want to highlight out is set piece. Going into the match that will be a really strong suit for us, working our way down the field from set piece to penalty to another set piece to a try is going to be our biggest outcome. And when we don't get that right it's about going back to the basics and focusing on what we're good at which is that pace and physicality."
USA Matchday Squad – 15th October 2022
Cain has made seven personnel changes and one positional change to his starting line-up for the match against Japan in Whangārei on 15 October.
On the team selections, Cain added: "We're very fortunate to have such a group like that and now the responsibility is on the 23 to make sure they deliver come match day and do justice to the work that's been put in by the players that aren't involved in the match day against Japan."
Charli Jacoby will start at tight-head while Kristine Sommer and Evi Ashenbrucker form a new second-row partnership with Kathryn Johnson named on the blindside.
Scrum-half Olivia Ortiz lines up alongside Gabriella Cantorna with a new centre pairing outside them as Alev Kelter shifts from full-back to partner Eti Haungatau.
Meya Bizer replaces Kelter at full-back with Tess Feury starting on the left wing.
Megan Foster and Elizabeth Cairns, will make their Rugby World Cup debuts if they start from the bench.
Catherine Benson will become the 11th Women's Eagles player to reach 30 caps if called from the bench.
1. Hope Rogers
2. Joanna Kitlinski 3. Charli Jacoby 4. Kristine Sommer 5. Evi Ashenbrucker 6. Kathryn Johnson 7. Rachel Johnson 8. Kate Zackary (captain)
9. Olivia Ortiz
10. Gabriella Cantorna
11. Tess Feury
12. Alev Kelter
13. Eti Haungatau
14. Jennine Detiveaux
15. Meya Bizer
16. Kathryn Treder
17. Catherine Benson 18. Nick James 19. Jenny Kronish 20. Elizabeth Cairns 21. Carly Waters 22. Megan Foster 23. Lotte Clapp
The match will be officiated by Amber McLachlan (Australia) who will make her Rugby World Cup debut as a referee. In the previous test matches, she has been in control of – Japan beat South Africa earlier in 2022 while the USA lost to Canada in 2019 when McLachlan had the whistle.
RWC News
---
Trending Now