Japan vs USA – RWC 2021 Match Review
Posted On October 16, 2022
---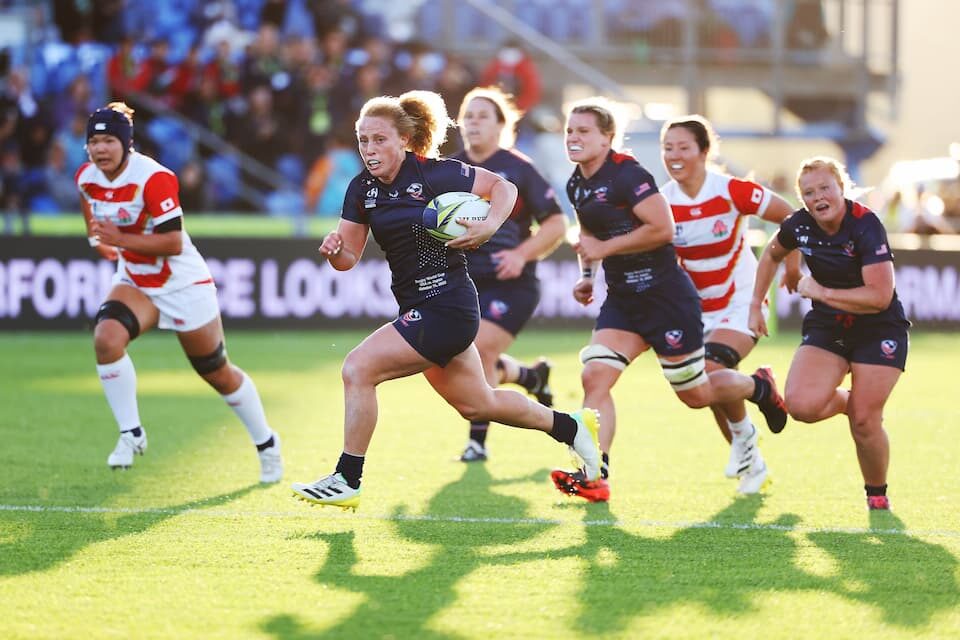 The Japan Sakura Wave went down to USA 30-17 in their Pool B encounter on Saturday 15th October 2022 at Rugby World Cup 2021 but there were plenty of positives for the team despite the loss.
(Feature Photo by Fiona Goodall – World Rugby/World Rugby via Getty Images)
You can read our full preview of the match here.
Japan vs USA – RWC 2021 Match Review
In the post-match interviews, Japan's Head Coach Lesley McKenzie was visibly disappointed with the match and her frustrations were understandable. Japan was fantastic, especially in the first half when they dominated all the stats but could only muster a slender lead at the break and we wondered at the time if they would rue their missed attacking opportunities.
USA came back stronger in the second half and used their forward dominance as well as some well-conjured tries to take the game away from Japan. It was the pressure in the second 40 minutes that Japan struggled with, giving away repeated penalties but it was a far superior performance than their opening match against Canada.
McKenzie said "I'm really gutted for the girls because they did everything that we asked of them, minus the penalty count. It's a really horrible way to come unstitched, because it is on us, and so we have the knowledge that we could have handled the game better than we did.
We wanted to control possession better than we did in the first game and we were particularly able to control territory – I'm so proud of the way they did that. They managed that throughout and I think we just missed opportunities, lack of discipline and lapses in judgment are the issue here and I'm really sorry for the team that they had to learn a lesson this way."
Otsuka at fly-half and Abe at 9 were excellent throughout the match poking holes in the USA defence and keeping them checked with a range of plays off set moves. The scrums were better and the lineouts improved but they still have some way to go at the top level.
The Japanese captain also spoke of the need to be more clinical, with Saki Minami saying "I think considering the possession and territory we had, that there were many chances for us but we just couldn't use them. There were times when we couldn't even make use of the opportunities, we were making ourselves and because of that things seemed to go in the USA's favour and that's when the game was taken from us."
Positive Takeaways for Japan
The Head Coach added o the positives "It's a trajectory and a learning curve, the game doesn't love us and it teaches us some hard lessons and that's part of the world cup. I'm still quite happy with a lot of things we did, we still need to remind ourselves of the good things we did.
We have put a lot of work into this rugby world cup, we have a lot of players that could be playing we are working with senior players so the girls are operating at a really high capacity considering the domestic infrastructure that we don't have and so I'm really proud of where they are but we can do better and that's the frustration."
The USA head coach was also full of praise for Japan and the style of play with Rob Cain saying "They move the ball so well, they're so brave. The way they want to play, I have so much respect for their ambition, their creativity and at the breakdown they're ferocious."
Japan came to play and played exceptionally well in that first half, they just weren't able to take the opportunities we gave them. And credit to our players, they worked really hard to ensure we didn't come in with a big deficit."
Simon Durrant also spoke with the Japan Head Coach after the game for Rugby Asia 247 and she added that for their final pool match against Italy she wants the team to give an 80-minute performance and build on all the positives they displayed against the USA.
She added that fatigue may have set in around the 60-minute mark so the technique in tackling bigger players was not quite there."We want to put Italy under massive pressure and we want to come away with a win".
Mckenzie also said on the style of play and identity of this Japanese team, that it is not up to her but she wants the team to establish their own identity but she will give them the tools to do that, and what they are developing is a "very skilled, very fit, very creative and sometimes risk-taking" identity.
Japan lie bottom of Pool B and plays Italy on Sunday 23rd October 2022.  You can watch the full match highlights of Japan vs the USA here.
Rugby World Cup News
---
Trending Now