Japan vs Canada – RWC 2021 Match Review
Posted On October 10, 2022
---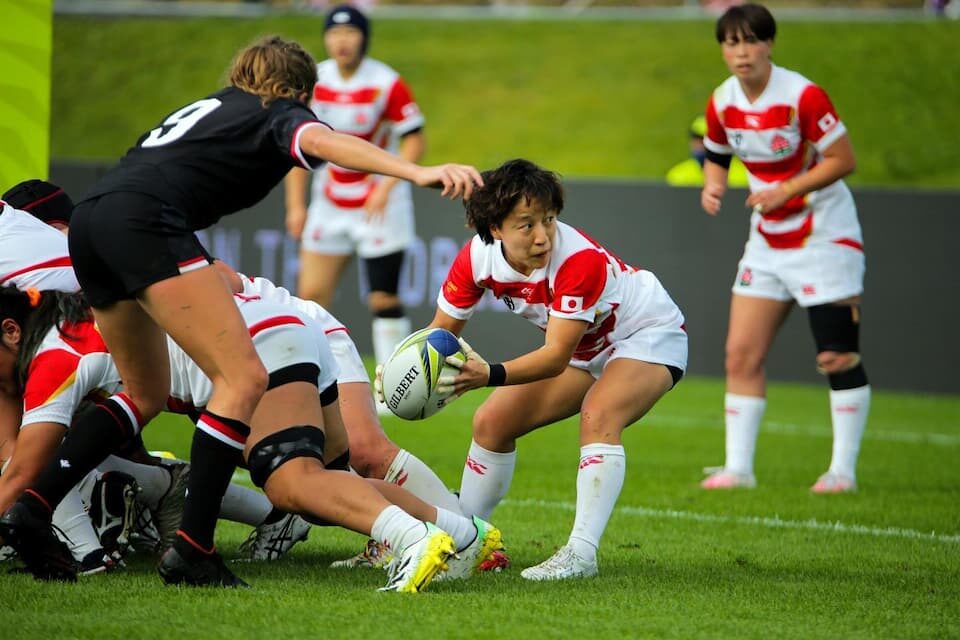 Japan Sakura XV struggled in their opening match against Group B favourites Canada on Sunday 9th October 2022 at the RWC 2021 falling to a 41-5 loss at Okara Park. 
Japan vs Canada – RWC 2021 Match Review
The Japanese players were outmuscled up front, which would have been no surprise in the planning of the game, but they found no real answers to Canada's dominant pack and rolling mauls from attacking lineouts which helped Canadian hooker Emily Tuttosi to a hat trick of tries. These were areas of frustration for the head coach and the players but can be rectified before their second match.
(You can read the match preview here)
Head Coach Lesley McKenzie said the team's performance was varied – "So we did a lot of the things that we wanted to do in this game. Really happy to see how our scrum learned. We made some decisions probably around our defence that we wouldn't necessarily need to. I think around our game management it's such a good opportunity for us to take some hard lessons into the next two weeks. I think overall really happy with a lot of positives. Good in contact, some good ball movement, and I think we showed a little bit of what Japan have."
Following on from conceding an early try from a charged kick, McKenzie said she was pleased with the way that they came back. Although Canada ran in more tries in the second half, Japan found a way to somewhat nullify the maul threat and they also created chances in attack but often the final pass or hands let them down.
Some of the Japanese backs also received praise from pundits with the flyhalf Ayasa Otsuka and full back Rinka Matsuda (whose father player for Japan and popular Squidge Rugby Tweeted during the match – Rinka Matsuda is today's New Favourite Player) getting singled out. The scrumhalf Megumi Abe was under pressure but also distributed well – McKenzie said the number 9 has been working on the accuracy of her passing and the coach has been really pleased with her development as a player.
(Abe was named in Rugby World Mag's RWC team of the week with 51 passes in the match and she was Japan's second-highest tackler with 13 in the 65 mins she was on the field.)
McKenzie also told our roving reporter Simon Durrant / bc magazine after the match "I think it's obvious why we decided not to compete (at the lineout) as we needed to remove that momentum and ask them to go elsewhere to get their go forward. It's just a matter of learning that lesson faster and adjusting more quickly.
Japanese captain Saki Minami added on the positive takeaways, "We were able to express what we've been preparing and the scrum set as well. We were levelling with Canada. We weren't defeated by them. So that was something that."
Canada Head Coach Kevin Rouet said of the Sakura Fifteen "Japan has a solid team's structure, they have defended well, especially during the maul, but for sure I think we should have scored more points on this game. …We know that defensively and offensively they always were there.
We know we are more physical than them. That's our advantage against Japan. We know our kicking game also could be better than Japan, so those two things we were aware of before this game. And I think we executed the kicking game pretty well on the dominance on the physicality, but again some mistakes on the field for sure."
Canadian captain Sophie De Goede, who has an unbelievable legacy in following her parents in captaining the national team, said of the opposition "Well, they're a very well-disciplined team. I think they stick to their structures very well and they work really strongly as a collective. So they play off of each other very well. And I think they gave us exactly what we expected today, which was a really strong fight."
RWC 2021 Participation
On the participation at RWC 2021, Mckenzie added: "Everyone's got a story coming in that they tell themselves, and then just trying to match that with the reality. But all at a reasonably high rate, so that we can get some flow and some individual performance. I guess at the level that they want to get to.
There's always that gap between what you're expecting and what it is. So we've crossed a bit of that today and hopefully, we can assemble the next six days against the USA."
This is what it feels like to playing the best teams in the world. Also, we play the number two team in the world and the number three team in the world. Now, we've discovered that we can really control and dictate collision in some areas, dictate the speed of the game and we need to be able to put more that together."
McKenzie also told Simon Durrant that part of the joy and risk and reward of coaching Japan is that the players are under such internal motivation to do things and do it now, that's a vulnerability but it's all about learning.
Growth of rugby in Japan
The Head Coach on being involved at RWC 2021 added, "I really hope that this is a tournament that we provide some of that platform from the game to continue growing in Japan. I think the Olympics added some vibrancy to the women's game, but I think we need to take that further for the fifteens to keep growing because we need to be on the world stage. I think when we saw enough of what is good in Japan today that people want more. So yeah, that's the plan."
The Japanese captain echoed this by adding that there are "more eyes on women's rugby in Japan first of all, and then having a game under those eyes and letting people know what we're doing. I feel like that's very valuable for us….So I feel like we've been building up and moving."
You can watch the highlights of the Japan vs Canada RWC 2021 Pool B match here.
Japan next take on the USA on Saturday 15th October 2022 at the same venue. The USA team also lost their opening match against Italy.
RWC 2021 News
---
Trending Now