Rugby World Cup 2023 – 100 Days Countdown
---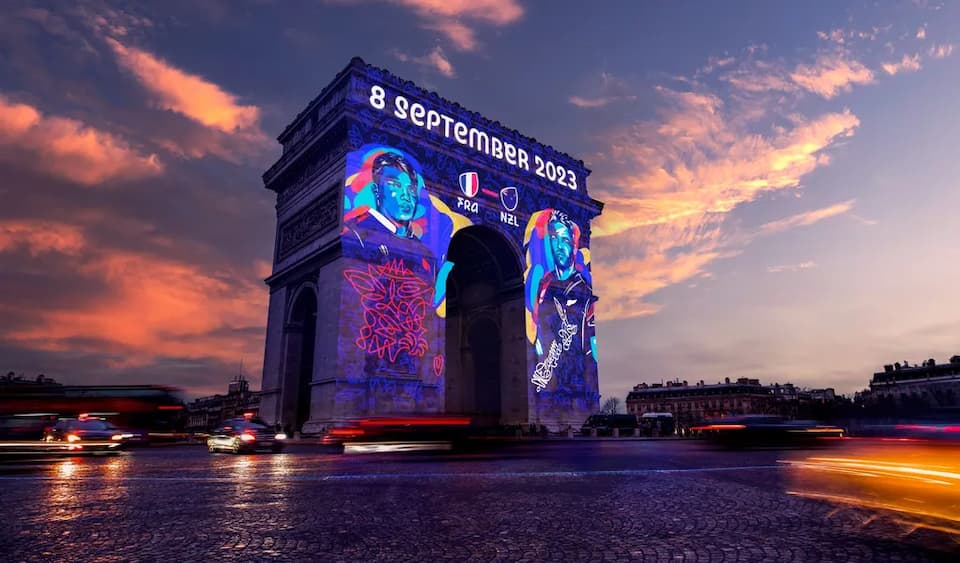 World Rugby and Rugby World Cup 2023 have arranged celebrations throughout France to mark the 100-day countdown to the start of the Rugby World Cup 2023 which kicks off on September 8th with the hosts playing New Zealand.
World Rugby Chairman Sir Bill Beaumont said: "With 100 days to go, we are confident that Rugby World Cup 2023 is excellently placed to be the greatest celebration of rugby and togetherness, a fitting way to mark 200 years of rugby.
Across the ten host cities and around the world, excitement is at a fever pitch. From ticket sales to international visitors, records are tumbling and there is a genuine air of expectation as to which nation will ultimately lift the biggest prize in men's rugby, the Webb Ellis Cup. I can't wait!"
Leading the range of events was the return of the Webb Ellis Cup to France as champions South Africa passed the iconic Webb Ellis trophy to the hosts. Springbok Rugby World Cup 2019 winner Tendai Mtawarira escorted the trophy to hand it over to the France 2023 Chairman but the 117-time Springbok prop will also accompany the trophy through a programme of activities showcasing French culture and expertise.
World Rugby can also confirm that this has been the fastest-selling edition ever, with almost 2.5 million tickets sold to date and 600,000 travelling fans expected to attend rugby's 200th birthday party.
What Has Been Arranged To Mark the RWC 2023 100-Day Countdown?
The Webb Ellis Cup will be passed to hosts France, before the attention turns to the 10 host cities across France, culminating in a light show which is set to transform the Arc de Triomphe in Paris.
RWC 2023 tournament medals will be unveiled on 31st May – made from recycled phones collected via grassroots rugby initiative and donated by fans and community rugby clubs.
Plans are being unveiled for exciting Rugby Villages to provide celebration areas for local and international fans across France's host cities.
The Webb Ellis Cup will arrive on top of the Arc de Triomphe in Paris on Wednesday 31st May – which will coincide with a light show and video projection onto the iconic French monument.  Projections will also take place in the nine host cities: Bordeaux, Lille, Lyon, Marseille, Nantes, Nice, Saint-Denis, Saint-Etienne, and Toulouse.
*The RWC 2023 medal designs will be unveiled and pressed at the Monnaie de Paris (France's national mint) in the presence of Sir Bill Beaumont, Chairman of World Rugby, Jacques Rivoal, President of France 2023, Amélie Oudéa-Castera, France's Minister of Sports, Olympic and Paralympic Games and Alexandre Martinez, President of the Fédération Française de Rugby.
Fans can follow the action from 7:00 (Paris time) on France 2023's Facebook account and 21:45 for the live action from the iconic French monument.
The Popularity of RWC 2023
The French public approval ratings topped 90 per cent, while 76 per cent of the host nation's population is planning to interact with RWC 2023, confirmed the organisers.
RWC 2023 is confirmed as the fastest-selling edition ever. As many as 2.5 million tickets have been sold and 600,000 travelling fans are expected to enjoy RWC 2023 in France.
The 600,000 international visitors will be a record for a Rugby World Cup and the average duration of stay for each visitor will be 15 days.
The top 5 international visitors are expected to come from:
England
Ireland
Australia
The Netherlands
New Zealand
RWC 2023 Rugby Villages
Rugby Villages, which will be able to host up to 40,000 people, will be open to all with free admission. These Rugby Villages will offer a programme of activities, including live coverage of Rugby World Cup 2023 matches, live music, food and beverage, rugby activities, cultural events and children's zones.
The hosts will announce their complete schedules over the coming weeks.
Rugby World Cup 2023 Tickets
Amazingly, tickets for RWC 2023 sold in record time and all available tickets had sold a year out – this means France 2023 is on set to break the RWC 2015 attendance record.
72 per cent of ticket holders will attend with family.
45 per cent of ticket holders will attend with friends.
Rugby World Cup 2023 – Impacts
91% of those surveyed believe that the Rugby World Cup 2023 will have a positive impact. The RWC 2023 will generate an estimated 17,000 jobs in total and is expected to generate 1.2 billion Euros.
Some of the France 2023 projects include:
The apprentice programme Campus 2023 – the apprentice training centre launched by France 2023 will see 1,400 young people between the ages of 18 and 30 benefit from the staging of the Rugby World Cup 2023. They have been trained for jobs in sports, tourism and event security.
Official Charity – Rugby au Coeur 
XV of Gastronomy – who will design menus based on, seasonal, local products.
Rugby World Cup News 2023
---
Trending Now