Touch Rugby Singapore -TSG
---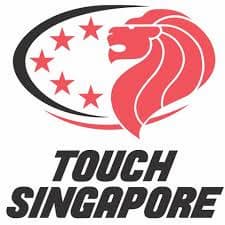 Touch Rugby Singapore – TSG has revealed their Annual Report for 2019-2020 and voted in a new Touch Singapore Executive Board from 2020-2022.
Since 2017, when Touch Singapore – TSG was formed, the number of players has increased from over 100 to 2000.
Touch Rugby Singapore -TSG Annual Report
The annual and financial reports have been released online following the AGM on 13th June 2020, and Touch Singapore said "TSG is a registered Not for Profit Organization (T16SS0073J). As of June 7, 2020, TSG has met all of its financial obligations. In summary, in 2019 we completed the year with a net balance of $73k and in 2020 we have received $53k of cash inflows, $43k of cash outflows leaving an $83k balance. The $83k balance is comprised of $78k in available funds in the bank, $4k is held by TRC as a holding deposit for field use and $1k outstanding deposits."
Touch Singapore Executive Board 2020-2022
Included in the Annual Report, a Presidents (Jeslyn Lim) message included some of the following highlights for Touch Singapore.
A State of the Game meeting between club representatives and TSG was held to discuss the difficulties that the clubs were facing and to make aware the constraints that the committee faced in running the sport. It was established that we had to strike a balance between catering to the masses and focusing on the elite programme. There is a need to build infrastructure and pathways to increase our player pool but to do that, we need more support from the community.
By February 2020 117 teams registered, the highest number ever recorded.
COVID-19 Disruptions 2020
Due to the pandemic, the league was cancelled in 2020.
Plans for the Asian Champs at the end of the 2020 and the Youth World Cup 2021 placed on hold.
In addition, the new Executive Board from 2020-2022 was elected with all position and names in the image below: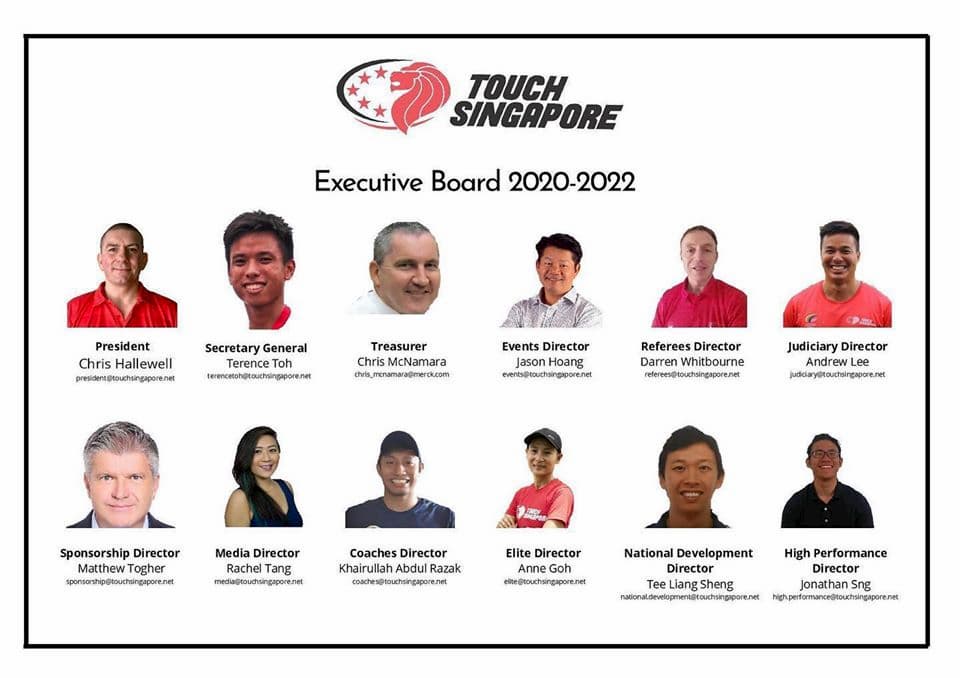 Return to Play 2020
The association has posted details on the latest return to play guidelines in Singapore (Phase 2) and a PDF with all the information is available online.
Although there are still many restrictions and no contact play is allowed, players can now "train in groups of a maximum of 5 people and must not interact with other members of your club if they are training in the same facility. This number includes any coaches or other personnel that might be present. We recommend that the same five people stick together at every session, with drills three meters apart."
This means Touch rugby clubs in Singapore "can consider starting small group training in line with the safety measures". Centaur Sports started training this past weekend (27th June 2020) in Singapore and have taken all precautions and posted relevant information on how to train under the guidelines.
HSBC Singapore Rugby Sevens 2020
Singapore is due to host the penultimate round of the HSBC World Sevens Series from 10-11 October 2020 but a final decision is to made by July, RugbyAsia247 has been told.
Hong Kong and Singapore should host HSBC World Rugby Sevens Series 2021 tournaments as per usual in April.
Rugby News Asia
---
Trending Now