USA hosts Rugby World Cups in 2031 (men) and 2033 (women)
---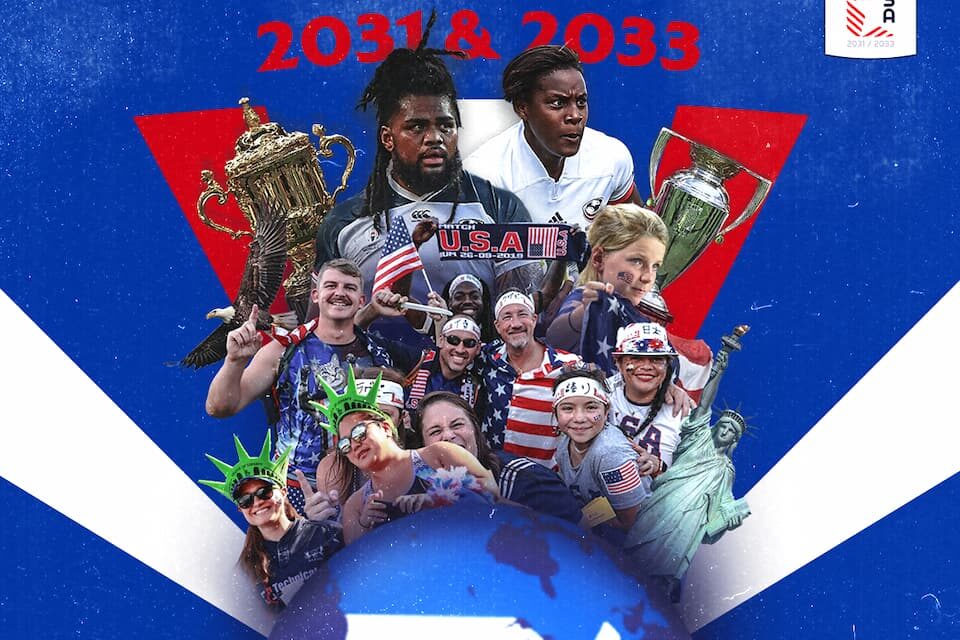 When it was announced that the USA would host Rugby World Cups in 2031 and 2033, the reaction was a mix of excitement and scepticism. Some of the biggest challenges for the USA will be in raising visibility, engagement and awareness of rugby when it hosts the showpiece events.
The country has a highly competitive sports framework from high school through to college and onto its national sports franchises – so what does USA Rugby propose?
See the first three parts of the series here:
The USA hosts Rugby World Cups in 2031 and 2033
USA Rugby Chief Executive Ross Young said at the announcement that the USA would be hosting the RWC, that the technical and operational capabilities are not a challenge and that the US has 28 venues which could host crowds over 60,000.
"USA Rugby will now venture into a new era and ensure the sport's most treasured event is a springboard for creating lasting, sustainable enthusiasm and passion for rugby from coast to coast. We look forward to partnering with World Rugby in the years ahead to ensure that our preparations for these tournaments and the events themselves are a paradigm-shifting catalyst for the growth of our sport, not only here in the United States but around the world."
There were several media questions on the challenges and potential of games not selling out but Gilpin was confident and reminded the media that the same fears existed pre RWC 2019 in Japan but every game was a sell-out.
"Part of the philosophy around the bid, in general, was to make it a mega-event so we want the average crowds to be as high as possible. There are long-term plans for increasing the capacity of certain venues. But if we are using the current model of 48 games at 50-60,000 capacity venues, we want to get as near as we can to three million-plus across the tournament – that has to be the goal."
What are the goals of the USA hosting RWC 2031 & 2033?
Young added that there is an aspirational mood in hosting the events in the USA: "The tough part is going to be the intangibles around the engagement – getting rugby balls in young boys and young girls' hands to allow them to get a taste of what the game is about – and as everyone has talked about, the aspirational feeling around the hosting of that event.
It isn't going to be easy but 48 games spread across the country, in the right venues that are going to be put together in the right way, is eminently achievable. We are very confident of that."
In an article published by SportMedia after the event, they claim that:
Hosting tournaments in the US is already projected to cost US$500 million.

As many as 4.1m fans could attend both events at RWC 2031 and 2033.

Multiple cities, including Los Angeles, New York and Washington DC, have expressed interest in hosting matches in either or both 2031 and 2033.
ESPN added that NFL and soccer stadiums are already on board for the 2033 World Cup.
"95% of or 90% of the stadiums or cities that have signed, they've signed for 2033 and 2031, and in every case, they have signed stadium agreements that also apply to 2031 and 2033. We have, on reserve, smaller stadiums if need be. So most of our cities have Major League Soccer stadiums, so they have the smaller 30,000-, 25,000-seater stadium," USA bid chairman Jim Brown told ESPN.
The growth potential of rugby in the USA
Victoria Folayan (USA Rugby Board Of Directors Athlete Representative And Former Usa 15s And Sevens Player) was the visibly most excited and said about the opportunities hosting the Rugby World Cup would present: 
"Getting this opportunity to have an investment in the women's game is going to be pivotal. Women's sport in the States is already full of lots of big potential. We have the women's national soccer team, a national soccer league, the women's NBA … there's a lot we can learn from those organisations and programmes. What we need is an educated and informed approach as we go forward. I think this is also an opportunity to give tribute to the first Eagles of the 90s and really show we can do a lot of great things.
The NCAA (National Collegiate Athletic Association) is a huge part of this as well. We have got about 30 Collegiate teams already that are at the Varsity level, and if we can get some sponsoring from the NCAA that'll also give opportunities to young women who have never dreamed of playing a Varsity sport an opportunity to do that as well.
We have a goal to have a women's professional league, and having the World Cup is an opportunity to do that."
On the USA RWC bid website- they said that "one of the most important aspects of sport is the opportunities it creates for young people, especially those from low-income communities. From the chance to experience teamwork, leadership and inclusivity on the pitch, to the opportunity to earn college scholarships, sports are a pathway to possibility."
As such, USA Rugby and the United States' Rugby World Cup Bid Committee is looking to partner with groups "to design and deliver these proposed legacy efforts and mentioned that discussions are "underway with stakeholders including Major League Rugby (MLR); USA Rugby's Youth, College and Senior Club councils; USA Youth and High School Rugby; the NCAA and school districts across the country."
Americas Rugby News reported that USA Rugby says plans to reach a membership of 450,000 players by 2031, up from the current level of 109,000 registered members.
RWC 2031 & 2033 USA – Key Takeaways
Aim to have three million-plus fans across the tournament – a huge goal.

Potential to have more teams involved at the RWC as 28 stadiums can host crowds of 60,000 plus.

The goal is to have a women's rugby professional league by the time of the RWC in 2033.

Align programming across age groups and organisations to create an integrated and sustainable sports ecosystem to facilitate organic growth for the future of rugby.
You can find more information on the official USA RWC 2031 and 2033 bid website.
Rugby Tournament News
---
Trending Now