2022 Cathay Pacific/HSBC Hong Kong Sevens Launched – Everything You Need To Know
Posted On October 12, 2022
---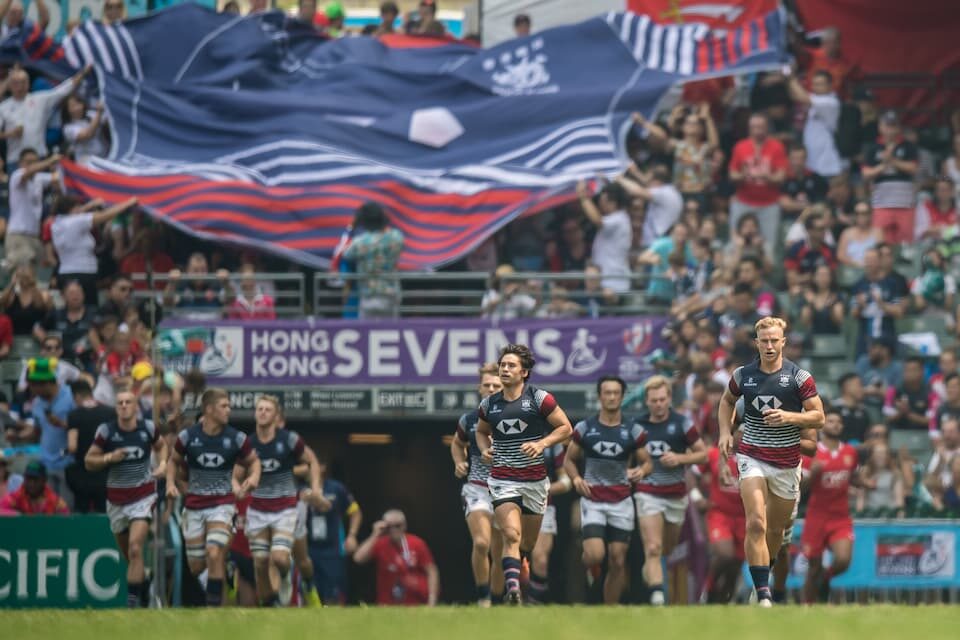 The 2022 Cathay Pacific/HSBC Hong Kong Sevens was launched in the city's central business district at the HKEX Connect Hall. The Hong Kong Rugby Union confirmed that the world's best rugby sevens tournament is back in business with pools and details announced, while the HK government also announced new relaxed COVID entry rules.
(Updated with entertainment, match schedule, and Cathay Pacific/HSBC Hong Kong Sevens Ambassadors)
The symbolic launch, which was also on the back of growing pressure from the business and sporting community in Hong Kong to re-open, saw Mr Paul Chan Mo-po, Financial Secretary of the Hong Kong Government, and one of the Sevens' most steadfast supporters throughout the pandemic enforced closures, have the honour of physically striking the gong to close Hong Kong market trading on Friday 23rd September and officially open Sevens season in the city.
Mr Chan added "The Hong Kong Sevens and business have been an inseparable pair, famously intertwined, for decades. The return of the Sevens means business is returning too. My colleagues throughout the Government are working with HKRU to relaunch sporting events – despite the unprecedented challenges brought about by the pandemic.
The momentum will keep on building. Today's "Gong Striking" makes that clear. Hong Kong is poised to re-embrace the world, and a world of rewarding connections – in business, sports, entertainment and whatever else you have to offer. See you at the Sevens."
'Our HK7s'
The tournament draw was made under the theme of 'Our HK7s' and will see the first HK Sevens since 2019.
Chris Brook, the newly elected Chair of the HKRU said "as a resident of this incredible city for over 40 years; and a lifelong rugby player and fan, I am both very delighted and very relieved to mark the kick-off the 2022 Cathay Pacific / HSBC Hong Kong Sevens."
He also thanked Augustus Tang and Luanne Lim, chief executives of co-title sponsors HSBC and Cathay Pacific respectively, for their patronage.
Luanne Lim, Chief Executive, Hong Kong, HSBC also added that HSBC will bring rugby into the metaverse. "Between mid-October and the end of November, we will be staging a virtual stadium in The Sandbox, allowing the public to immerse themselves in rugby through games and quizzes."
In the information supplied to the media, the HK Sevens generates an estimated HK$500M+ annually for the city and has done so for decades. The postponement since 2019 has seriously affected the HKRU finances to the tune of HKD+250m  in financial losses and forced a reduction in staff at the union by 50%.
HK Sevens 2022 Entertainment
DJs RTHK jock Simon Willson and veteran Sevens DJ Simon Southgate, (who will celebrate his 20th year at the Sevens), and RTHK personality Ben Cullen, who makes his tournament debut in 2022.
Live music will come from Chris Polanco, Friday night headliners Tai Chi, Saturday night will see The Naggin Eejits and The Red Stripes perform, as well as Sunday performances from Eli Zeolo and the United Band and Helium3.
Cathay Pacific/HSBC Hong Kong Sevens Ambassadors 2022
The HKRU confirmed in mid-October 2022 that the Cathay Pacific/HSBC Hong Kong Sevens Ambassadors include:
Waisale Serevi – Fiji's king of sevens
DJ Forbes –  New Zealand All Black Sevens captain
England stars Phil Greening and Simon Shaw
Australia's Adam Ashley-Cooper
Former Welsh international Andy Powell
2022 Cathay Pacific/HSBC Hong Kong Sevens Pools
Defending Series champions Australia, 2019 Hong Kong winners Fiji (and current World Cup champions), New Zealand, South Africa, Great Britain, Ireland, France, Spain, USA, Canada, Argentina, Uruguay, Japan, Kenya and Samoa will be involved as core teams.
Hosts and reigning Asia Rugby Sevens champions and Asian Games sevens gold medallists Hong Kong make up the 16th participating team.
Hong Kong Sevens Head Coach Paul John said: "Playing in the Hong Kong Sevens is something we want the players to really enjoy and just take in the experience, especially after such a long hiatus. After three years the fans are going to really love it and we want the boys to relish the occasion.
"As the invited team this year, we are not expected to win – although that is certainly our target, but we can enter the event really loose, knowing that we have nothing to lose. Playing against three of the best teams in the world in our pool is a great challenge and a perfect opportunity for us to go out and show them how we play sevens here and why Hong Kong is the best place in the world to play sevens," added John.
Pool A
Australia
New Zealand
Samoa
Hong Kong
Pool B
South Africa
France
GB
Uruguay
Pool C
Pool D
Argentina
Ireland
Kenya
Canada
The full schedule for the weekend was released by the HKRU on October 12th 2022 – you can download it here.
2022 Cathay Pacific/HSBC Hong Kong Sevens Restrictions
HKRU Chief Executive Mr Robbie McRobbie gave a detailed presentation to update the latest event protocols for the 2022 Cathay Pacific/HSBC Hong Kong Sevens.
For Fans
30,000 fans will be allowed entry with stadium capacity capped at 85% due to health and safety measures.
Fans will need to present their vaccine pass and be subject to temperature checks on entry.
Over 16,500 tickets have been sold.
Fans can be seated in groups of 8 or fewer.
Fans must wear masks when not consuming food or drinks.
For Participating Teams
Should a team have 5 or more positive indications within the 13-person squad they will be automatically withdrawn from the tournament and sequestered until their departure
The HKRU will enforce a stringent bubble around the participating teams and officials arriving from abroad.  This bubble will remain in place through to their departure. The HKRU has reserved hotels exclusively for the teams and officials on a single-room basis, with each team also having its own dedicated transport and training venues throughout their stay. Team sequestering and extensive Covid-19 testing and monitoring will be maintained throughout the tournament.
New Hong Kong Rules – Quarantine Arrivals
It was also announced that from September 26, 2022, overseas travellers will no longer be confined to hotel rooms for quarantine upon arrival and even unvaccinated residents are also allowed to enter the city.
According to the SCMP "Under the new "0+3" arrangements taking effect from September 26, travellers from overseas or Taiwan will no longer undergo three days of hotel quarantine. That will be replaced by three days of medical surveillance, with travellers staying in their own homes or hotel of their choice."
Arrivals will only need to conduct a rapid antigen test (RAT) within 24 hours before boarding their flight, replacing the existing PCR screening requirement.
Upon arrival at the airport, visitors will undergo a PCR test and be allowed to head home or to a hotel via any kind of transport before results are released.
Those with a negative PCR result will receive an amber code for the next three days, which will prohibit them from entering places that require vaccine pass checks, such as restaurants, gyms, nightclubs, swimming pools, beauty parlours and salons.
Travellers will need to conduct a daily RAT until Day 7 – the eighth day of arrival – in addition to PCR tests on days 2, 4 and 6. The PCR tests can be conducted at community screening centres, mobile specimen collection stations or by testing firms recognised by the authorities. After obtaining a negative PCR result from the Day 2 test on the morning of Day 3, the medical surveillance period will end.
2022 Cathay Pacific/HSBC Hong Kong Sevens Tickets
Subscribers to the HK Sevens newsletter will receive 24-hour early access to ticket sales on 28 September 2022 and the general public sales will begin on 29 September with tickets retailed via the official HKRU Ticketing Platform.
The HKRU acknowledges the likelihood that the majority of spectators will be HK residents in 2022, a deviation from the traditional 50% locals / 50% overseas visitors.
HK Sevens 2022 Ticket Prices are frozen at 2019 levels:
HK$1,950 for a three-day adult pass
HK$950 for a three-day child's pass
The Red Stripes will be headlining the local entertainment showcase, while Waisale Serevi has been confirmed to attend as ambassador. The HKRU hope to host thousands of local school children to the event without cost on Friday evening as part of our community engagement efforts.
The HSBC World Rugby Sevens Series 2022/23 will see a second series event in Hong Kong for the traditional tournament in early April including the women and men.
HSBC Rugby Sevens News
---
Trending Now