2023 Cathay/HSBC Hong Kong Sevens Pools
---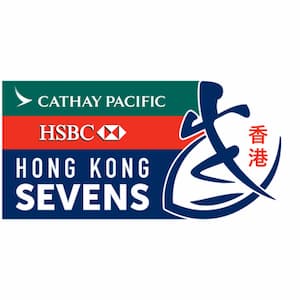 The 2023 Cathay/HSBC Hong Kong Sevens pools see Hong Kong China Men grouped in Pool B with France, GB, and Uruguay, while the Hong Kong China Women* are in Pool A with New Zealand, Canada, and Great Britain.
With 28 international 7s teams heading to Hong Kong for the 2023 Cathay/HSBC Hong Kong Sevens from 31st March- 2 April – the home national 7 men and women play together for the first time in history at the Hong Kong Stadium and the first time that the men's and women's sevens teams of Hong Kong, China have played in a World Series tournament simultaneously.
Japan Men and Women will also be representing Asia as they are both core teams in this season's HSBC World Sevens Series.
Edward Bell, General Manager, Brand, Insights, and Marketing Communications, Cathay added "The 2023 Cathay/HSBC Hong Kong Sevens is the event where people from all around the world come to Hong Kong to play. Cathay has been a title sponsor of this iconic event for over 40 years and we are thrilled to continue to help make the magic happen for Hong Kong again this year."
*The HKRU Men and Women's teams are now called Hong Kong China.
Hong Kong Sevens Pool Draw – Hong Kong Reaction
The tournament pools for 2023 were revealed to local audiences with the help of officiating guests Mr Kevin Yeung Yun-hung, Secretary of the Culture, Sports and Tourism Bureau of Hong Kong; Ms Luanne Lim, Chief Executive Officer of HSBC Hong Kong; Mr Ronald Lam, Chief Executive Officer of Cathay Pacific Group; and Mr Chris Brooke, Chair of the Hong Kong Rugby Union at the Fullerton Hotel in Hong Kong.
Hong Kong, China sevens coach Paul John said: "It is going to be another tough competition, but it is fantastic for us to be a part of it. It was a great event last November, the atmosphere in the stadium was brilliant, and this is the next step. Performance-wise we just want to show that we can keep improving. It is a big occasion; last time we rose to the occasion and showed what we are capable of, we just need to keep improving on that performance."
HKRU Coach Paul John added, "Having our women's team involved is huge for the programme. I see how hard everyone works, the coaches, the players, the physios – everyone. So much goes into this. This is a boost for the whole programme for the girls to be a part of it in what is a very, very tough group.
The girls are excited about it; they want to play against the best. If we can relax and enjoy it then I am sure we can show what we can do, put on a good performance, and learn as much as we can from the experience".
Read our full guide on all of the events at the 2023 Cathay/HSBC Hong Kong Sevens!
2023 Cathay/HSBC Hong Kong Sevens Pools Men
In the men's competition, Vancouver champions Argentina slot into Pool A alongside Fiji, Samoa and Canada, while France headline Pool B with Great Britain, Uruguay and hosts (as well as invitational side) Hong Kong China.
Uruguay has beaten both SA and Fiji over recent events in the HSBC World Sevens Series, and HK last played them in the Challenger event which Uruguay won to claim a core Series spot this season.
HSBC Canada Sevens bronze medallists Australia will face off against USA, Spain and Japan in Pool C, while Ireland will meet Series leaders New Zealand, Kenya and South Africa in Pool D.
Japan Men lie firmly in the relegation spot on the log and even with a high calibre coaching team including Dan Norton and Simon Amor, are in serious danger of dropping out of the World Series as a core team.
Pool A
Argentina
Fiji
Samoa
Canada
Pool B
France
Great Britain
Uruguay
Hong Kong China
Pool C
Australia
USA
Spain
Japan
Pool D
Ireland
New Zealand
Kenya
South Africa
2023 Cathay/HSBC Hong Kong Sevens Pools Women
The women's pools see Series leaders New Zealand (the Black Ferns also became the first team to qualify for the 2024 Olympics) in Pool A alongside Canada, Great Britain and invitational team Hong Kong China in Pool A. This is the first time the hosts will play on the World Series ar home.
Vancouver runners-up Australia will take on Fiji, Ireland and Brazil in Pool B, while Pool C sees USA (they have medalled at every event this year), with France, Japan and Spain.
Sakura 7s (Japan) have a slender lead over Spain and Brazil on the World Series log and are currently in 9th place, only one point behind Canada as they look to maintain their Core Series status.
Pool A
New Zealand
Canada
Great Britain
Hong Kong China
Pool B
Australia
Fiji
Ireland
Brazil
Pool C
The full match schedule for the 2023 Cathay/HSBC Hong Kong Sevens is available here.

2023 Cathay/HSBC Hong Kong Sevens Ambassadors
Several former and current rugby players will make an appearance at the Hong Kong Sevens 2023 as ambassadors, including:
DJ Forbes (NZ)
Christy Cheng (Hong Kong China)
Rochelle 'Rocky' Clark (England)
Jim Hamilton (Scotland)
Greig Laidlaw (Scotland)
Jamie Roberts (Wales)
Jodie Ounsley (England)
Kevin Maggs (Ireland)
Kelly Brown (Scotland)
Nick Easter (England)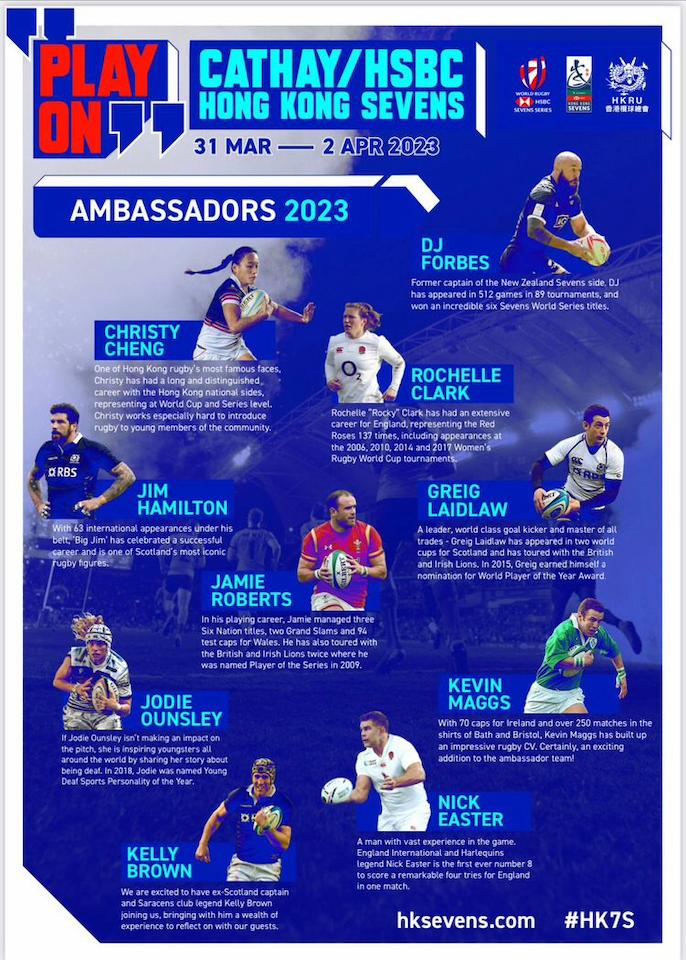 How to watch the 2023 Cathay/HSBC Hong Kong Sevens Rugby?
The sevens are live-streamed on World Rugby digital platforms including www.world.rugby, YouTube and Facebook in countries where there is no national broadcaster covering the event.
We will be publishing more in the build-up to the HK Sevens over the coming weeks including a comprehensive guide to all events, interviews with HKRU Match Officials and more.
Sevens Rugby News 2023
---
Trending Now