ARWC 2023 Match 1 Preview: Hong Kong China vs Kazakhstan
---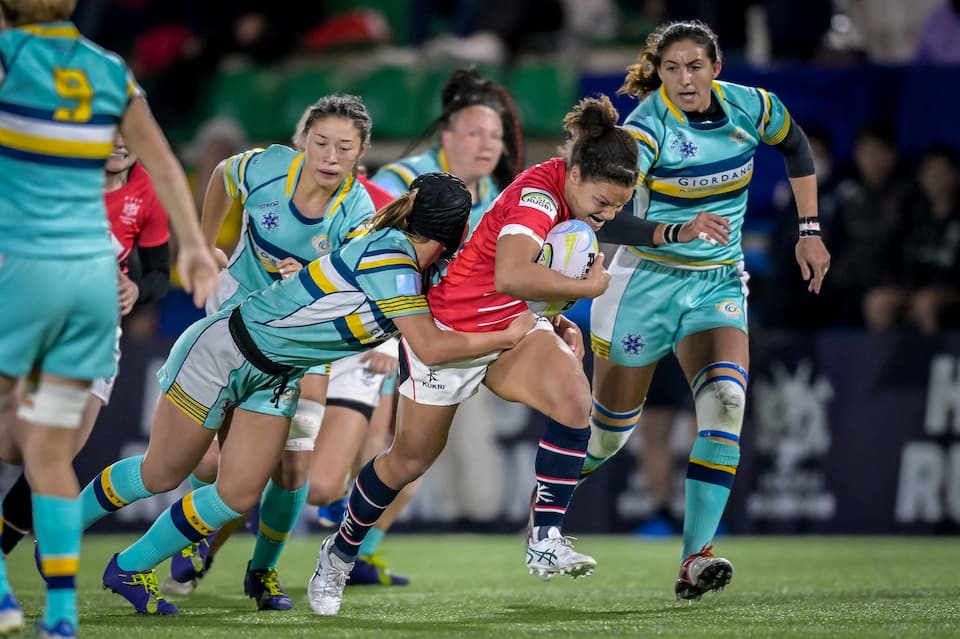 The Hong Kong China Women's XV take on Kazakhstan in the opening match of the ARWC 2023 (Asia Rugby Women's Championship) in Almaty for the 12th edition of the tournament with this year's added incentive of WXV qualification. The winner of the match will play Japan in the final.
Although the tournament has seen a late change with China withdrawing, for the Hong Kong China ladies the first encounter remains the same – try and beat Kazakhstan for the first time in Almaty. 
A win against the hosts at the Almaty Sports Training Complex on Tuesday 23 May will guarantee WXV qualification and a match against Japan in the ARCW Final on 28th May at the same venue. Hong Kong China heads into the match slightly higher ranked by World Rugby at 16th, while the hosts are ranked 19th globally.
Over the course of the ARWC, Kazakhstan has won five times, Japan four times, and China and Hong Kong China one time each.
ARWC 2023 Preparation
The Hong Kong China Women XV have had four crucial matches post-pandemic, with a 2-0 series win over Kazakhstan in Hong Kong in December 2022, followed up by the recent tour to Europe in which they beat Sweden but narrowly lost to the Netherlands in Amsterdam. 
HKRU Women's Head Coach Royce Chan Leong-sze said of the tour: "In terms of the preparation, it has been quite challenging but the opportunity to play in Europe definitely helped us to get ready for the ARWC. We have always been focused on the first game against Kazakhstan. We know they are a good opponent and are really competitive. It will be a really close game and a tough game."
She added "It was good to travel as a group again, we haven't been able to travel together as a new team and management and we had a lot to overcome. I think it's a big credit to all the players and the management. Those teams in Europe are very physical and they had just finished playing the European Championship as well so we have had good game time to prepare for Kazakhstan"
The Kazakhstan Challenge – ARWC 2023
The matches have allowed the coaches to blood a number of new caps while still balancing the inclusion of key players who have been tied up in the Sevens programme, such as Natasha Olson-Thorne, Rosanna Wright and Jessica Ho. The week in Europe also allowed the squad to experience playing two tough physical tests with a short turnaround – something they will be aspiring to overcome in Almaty.
Olson-Thorne said of the upcoming tournament in Almaty: "We're really excited going into the Asia Rugby Championship next week. Everyone in the squad, both players and management, has been putting in the hard work to be in the best place we can be – both physically and mentally – as we go into our first game against Kazakhstan. 
We've been building to this tournament for several months now and had a strong preparation leading up to it, which included the two recent hit outs against Sweden and the Netherlands. We learned a lot from those games, and now are just excited to go out and play and show what we can do."
In total, the travelling squad of 28 includes a good representation from the HK Premiership clubs USRC Tigers, Gai Wu, Kowloon, HKFC, and Valley with the same coaching staff that have overseen the previous four test matches; both Sam Hocking and Sam Beard supporting Royce in preparing the team.
HKRU Women's XV backs and attack Coach Sam Beard said of the prospect of playing the Kazakhstan team in their backyard in the opening fixture: "We're expecting a big contest. We know that Kazakhstan will bring a lot of physicality, so we'll be concentrating on the things we can do well, such as playing at speed and moving the ball.
The continued investment into the women's game is something we're really proud to be a part of, and qualifying for the WXV would be a huge reward for this group after all the hard work they've put into their preparations"
The winner of the Hong Kong China vs Kazakhstan match will (along with Japan) be guaranteed to play in WXV this year. The winner of ARWC 2023 will go on to play in WXV Division 2, while the runner-up will compete in WXV 3.
However, the whole team is focused on the first match before they can think about the prospects of playing Japan or participating in WXV. "Kazakhstan always gives us a surprise. I think it's down to the day who can perform better and implement their game plan and execute it better on the day," added Royce. "But I think we are all excited and ready for the challenge."
The Kazakh side is said to have ten players who toured in last year's series defeat in Hong Kong in the starting XV and Anna Yakovleva is still the Head Coach. The Kazakh Nomads have not played an international test since the series defeat in December 2022.
The match referee is Eri Kamimura (Japan Rugby Football Union), supported by assistant referees Christabelle Lim (Singapore Rugby Union) and Hibiki Ikeda (Japan Rugby Football Union).
Hong Kong China Women's XV Squad
1. NG Ki Sum 2. LAM Tim Yeung Iris 3. LEE Ka Shun 4. TURNER Roshini 5. CHOW Mei Nam 6. PUN Wai Yan 7. LI Nim Yan Melody Blessing 8. LAM Tsz Yan 9. HO Jessica Wai On 10. RYAN Aileen 11. CHONG Ka Yan 12. QIAN Jiayu 13. OLSON-THORNE Natasha 14. NAM Ka Man 15. WRIGHT Rosanna
Reserves: 16. GOT Fion 17. CHAN Hiu Tung 18. RICHARDSON Megan 19. BALTAZAR Chloe 20. AU YEUNG Sin Yi 21. AU King To 22. FUNG Hoi Ching 23. SMITH Zoe
Kazakhstan Women's XV Squad
1-Yelena Yurova 2-Xeniya Kim 3-Natalia Kamendrovskaya 4-Daiana Kazibekova 5-Symbat Zhamankulova 6-Liliya Kibisheva 7-Anzhelika Pichugina 8- (c)Karina Sazontova 9-Mariya Grishina 10-Diana Abisheva 11- Veronika Stepanyuga 12-Anna Melnikova 13-Lyudmila Sherer 14-Amina Tulegenova 15-Gulim Bakytbek
Reserves: 16-Karina Tankisheva 17-Moldir Askhat 18-Darya Simakova 19-Svetlana Malezhina 20-Milana Alayeva 21-Alyona Drobovskaya 22-Vlada Odnoletok 23-Anna Melnikova
Match Permutations – Hong Kong China vs Kazakhstan ARWC 2023
Hong Kong China will provisionally slip below Fiji if they are beaten by the lower-ranked Kazakhstan.
Kazakhstan must win by more than 15 points to improve on 19th place in the World Rugby rankings – this would see them jump three places to 16th and swap places with Hong Kong China.
A win for Hong Kong China will see them swap places with the Netherlands, reclaiming the 15th place they lost following their defeat to the Dutch recently.
Defeat would see Kazakhstan drop below Sweden to equal their lowest-ever ranking of 20th.
ARWC 2023 Women's Matches – Almaty, Kazakhstan
The matches will be played at Almaty Sports Training Complex, Abaya. Matches will be streamed on Asia Rugby's Facebook page and YouTube channel.
23 May 2023 –  Hong Kong China vs Kazakhstan 16:00 (+6 GMT) (Video Stream)
28 May 2023 – ARCW Finals – Japan vs winner of Hong Kong China vs Kazakhstan 15:00 (+6 GMT) (Video Stream)
This piece was written in collaboration with hkrugby.com & Rugby Asia 24/7 – Keep up to date with previews, squad announcements and streaming details.
Asian Rugby News
---
Trending Now