Japan XV and Brave Blossoms 2023 Match Schedule
---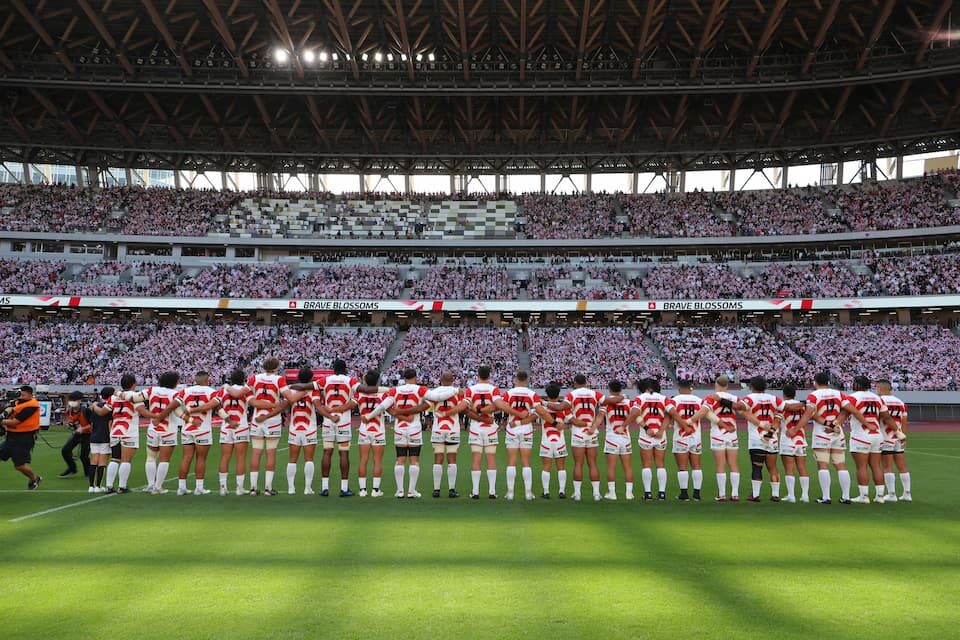 The Japan XV and Brave Blossoms Men's team have confirmed their 2023 match schedules, which will see five matches played across Japan in July and August, before one RWC 2023 warm-up match and the World Cup in France later in the year.
Japan Rugby Football Union President Masato Tsuchida said of the fixture list: "We are delighted to welcome the All Blacks XV, Samoa, Tonga, and Fiji to Japan for these five Lipovitan D Challenge Cup matches in front of Japanese fans ahead of Rugby World Cup 2023 in France…..Together with our fans, the Brave Blossoms will challenge the world's best and we hope that as many people as possible can witness the continuing evolution of our national team under Head Coach Jamie Joseph and cheer them on in packed stadiums throughout Japan."
LipovitanD Challenge Cup 2023
The Japanese Men's development team, Japan XV, will take on an All Blacks XV in a non-capped match on 8th July 2023 with the match set to be played at Chichibunomiya Stadium in Tokyo which is the first of fixtures that form part of the LipovitanD Challenge Cup 2023.
Japan XV assembled in 2022 to play Australia A in a three-match series in Japan, while the All Blacks XV is the next senior national representative team after the All Blacks, and follows in the footsteps of similar teams which have assembled throughout New Zealand rugby's history, including the Junior All Blacks, New Zealand A and Emerging Players, said the JRFU.
New Zealand Rugby general manager of professional rugby and performance Chris Lendrum added "The All Blacks XV is a crucial development pathway to the All Blacks, so locking in international matches of this calibre is crucial to the growth of our next tier of talent and also provides valuable international experience for a wider base of players in a Rugby World Cup year.
"We're looking forward to the team heading to Japan and competing in what will be two competitive and high-quality matches. It will expose our group to a different playing style, and different life experiences, which can only benefit their development."
The JRFU Men's test team, the Brave Blossoms then take on the All Blacks XV the following weekend (July 15 2023) at Egao Kenko stadium in the second LipovitanD Challenge Cup 2023 match.
Lipovitan D Challenge Cup 2023 Pacific Nations Series
In their final home matches before RWC 2023, the Brave Blossoms play Samoa*, Tonga, and Fiji over consecutive weekends in July and August in official test matches as part of the Lipovitan D Challenge Cup 2023 Pacific Nations Series before heading to Italy to play a final warmup match and then to their base camp for Rugby World Cup 2023 in Toulouse, France.
*Japan is in the same pool (D) as Samoa at RWC 2023, and their match in July 2023 is two months before the pivotal RWC 2023 fixture. They have been in the same RWC pool for three tournaments in a row.
Brave Blossoms Head Coach Jamie Joseph said "The confirmation of these five home matches is hugely exciting for both the team and our fans in Japan. They will form a massive part of our preparations ahead of the World Cup, providing four diverse and challenging opponents, that along with Italy will give us a level of competition closely matching the intensity and quality we will face in France.
The All Blacks XV will represent a huge challenge with a team made up of players hungry for All Black selection, while Samoa, Tonga and Fiji will bring the physicality and passion typical of Pacific Island rugby. With players in every team looking to impress ahead of the World Cup, these matches are guaranteed to be fast, physical, and highly entertaining."
The Japan U20 Men are also heading to South Africa to play in the World Rugby U20 Championship from 24 June-14 July.
Japan Brave Blossoms Fixtures 2023
A number of stadiums featured at RWC 2019 will be used in the five matches in Japan.
LipovitanD Challenge Cup 2023
Saturday 8th July 2023 – Japan XV vs All Blacks XV @ Chichibunomiya Rugby Stadium, Tokyo
Saturday 15th July 2023 – Brave Blossoms vs All Blacks XV @ Egao Kenko Stadium, Kumamoto
Lipovitan D Challenge Cup 2023 Pacific Nations Series
Saturday 22nd July 2023 – Brave Blossoms vs Samoa @ Sapporo Dome, Hokkaido
Saturday 29th July 2023 – Brave Blossoms vs Tonga @ Hanazono Rugby Stadium
Saturday 5th August 2023 – Brave Blossoms vs Fiji – venue TBC
RWC 2023 Warm-up Match
Rugby World Cup 2023 Fixtures – Pool D
Sunday, September 10 2023 – Japan vs Chile @ Stadium de Toulouse.
Sunday, September 17 2023 – Japan vs England @ Stade de Nice,
Thursday, September 28 2023 – Japan vs Samoa @ Stadium de Toulouse
Sunday, October 8 2023 – Japan vs Argentina @ Stade de la Beaujoire, Nantes.
The JRFU said more information about these five home matches, including the venue for the Fiji match, match kick-off times, tickets and broadcast details will be announced in due course.
Sakura XV 2023 Match Schedule
There are no confirmed matches yet for the Sakura XVs Women's team yet. They are scheduled to play the Asia Rugby Championship which is scheduled for May 2023 by Asia Rugby.
Lesley McKenzie, the Head Coach of the Sakura Fifteens extended her contract with the JRFU following the Rugby World Cup 2021, and is due to stay with the team until March 31, 2024.
The Women's Asia Rugby Championship 2023 impacts the WXV and potential RWC 2025 qualification pathways. Japan, Hong Kong and Kazakhstan should feature in the ARC 2023 while the other divisions are still to be confirmed by Asia Rugby.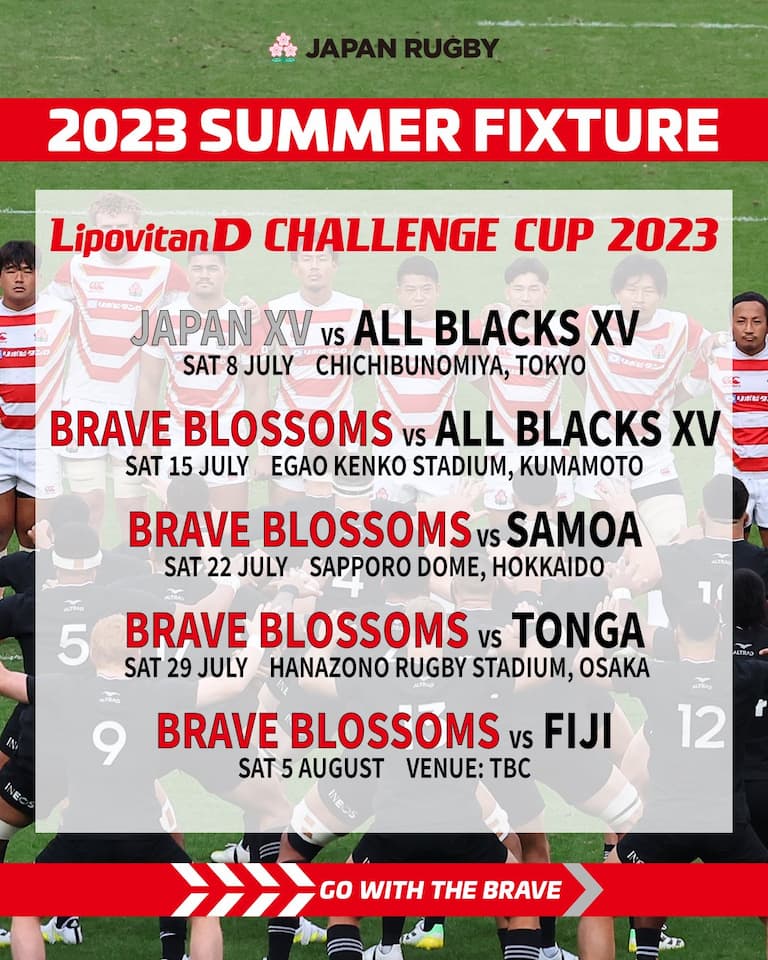 2023 Rugby Fixtures and Tournaments
---
- Advertisement -

Trending Now