Kazakhstan Nomads Sevens – Proudly Representing Asia on the World Stage
---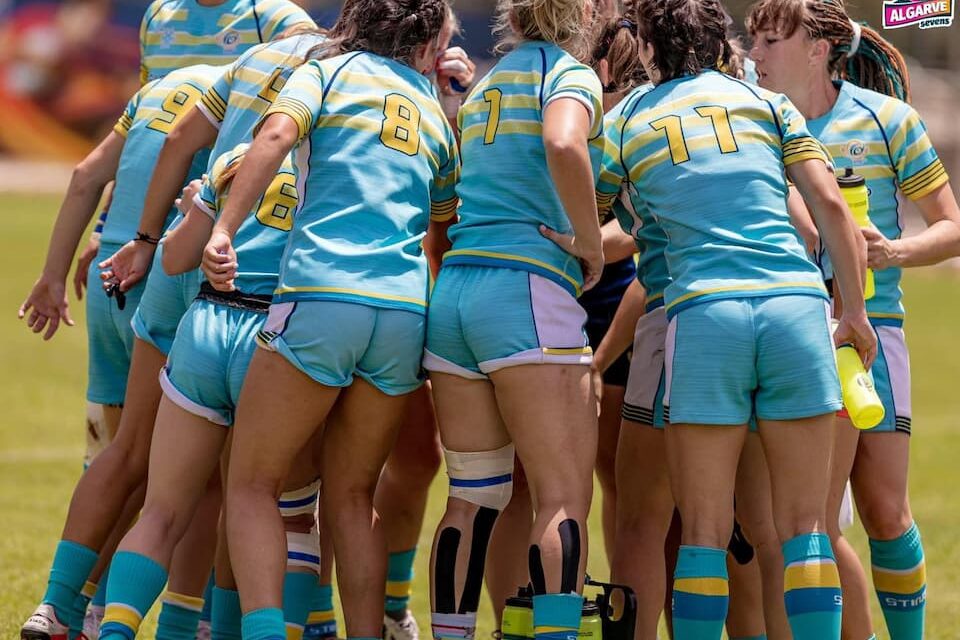 We spoke with Kazakhstan International Relations Manager for the Kazakhstan Rugby Union, Nurlan Balbarakov, as the Kazakh Nomads were on tour at the Algarve Sevens. 
The Nomads Women's 7s team have a busy and important year ahead and this tour was the start of the preparation process which will see the Kazakhstan team head to Chile in August 2022 to take part in the World Rugby HSBC Challenger Series to try and claim a spot as a HSBC World Sevens Rugby Series core team.
Feature Photo Credit- Photo Credit: Algarve Sevens 
Kazakhstan Women's Sevens Rugby – Euro Tour 2022
The weekend before the Portuguese tournament, the ladies had successfully defended their title by winning the competitive Amsterdam Sevens, and when we spoke with Nurlan, they were already semi-final victors in the Algarve and heading to a final against a team that had just knocked out the Hong Kong women.
Women's rugby in Kazakhstan started as far back as 1992 and has generally maintained good World Rugby rankings. They were medalists at the 2010 Asian Games, bronze medalists at the 2014 and 2018 Asian Games, and have been consistently in the top four in Asia women's rugby sevens.
So Nurlan told us more about the importance of this tour and what it means for the squad to be representing Kazakhstan on the global stage.
Nurlan: We planned this European tour ahead of the HSBC Challenger competition which will be held in Chile in August 2022. Last week we won the Amsterdam Sevens and we defended our title – as we all know due to the COVID pandemic we could not visit Europe for some time, but now we are back. 
And here we are, in another final at the Algarve Sevens which is great.
Yes, congratulations, and unfortunately it won't be an All-Asia final as we were hoping it would be you and Hong Kong playing – but you have made it and will be representing Asia for the women in the final.
How have you found the level of competition at the Algarve 7s as it's the first time Kazakhstan has played here?
Nurlan: You know, Paul John (Hong Kong Head Coach) and I were chatting recently in Dubai and were discussing our respective plans for 2022, and he told us HKRU would be playing at the Algarve Sevens. I didn't focus on it at the time as we had many competitions in mind to compete in but after we were sent some more information, tournament photos, and team rankings for the Algarve, I contacted some friends about the level and we decided we wanted to come here and play.
The first step was started by chatting with Paul John, and we thought, if they (HKRU) were using this to prepare for the Rugby World Cup Sevens and the Challenger Series, and they don't play easy competitions, we wanted to play this tournament at the Algarve as it would give us strong competition and we would play strong teams.
I double-checked the teams that were confirmed to play and reached out to my friends around the world to find out more about these teams, and thanks to the support of the President of our federation and the board, they agreed to send us here following the Amsterdam Sevens.
How have you found the facilities and the experience so far?
Nurlan: We are very lucky to be here playing under the sun and it's fantastic. Everything from the first day we arrived until today we are very happy with. The hospitality has been very good from the organisers, and from everyone involved. 
I have new contacts now with Portugal rugby and it's possible we can extend the relationship to training camps together or they could have a camp in Kazakhstan or we have a camp in Portugal.
So it's been a very useful and successful trip.
In terms of this weekend, you had three big wins on Saturday but coming into a Cup semi-final on Sunday, the level was noticeably higher and the team had to dig deep and fight hard to win the semi-final.
Nurlan: Yes, the goal was to win, but we had some challenges in the first half. At halftime, our Head Coach (Anna Yakovleva) asked the girls "What are you doing here? We are a professional team and we have our schedule and our goals and we have to follow our rules. Go and finish your job!"
And it worked!
Nurlan: (Laughing) Yes they did it. It was an amazing semi-final (they won 26-21 against RugBan). After the game, I went to speak to the Rugban team, and their coaches told us their squad is a mix of two good French clubs, so the standard was very good.
The Kazakhstan Head Coach played for the national team when she was 16 years old and participated in four Rugby World Cups, won multiple Asian rugby 7s and rugby 15s championships and was one of the 15 "Unstoppable" women leaders in Asian Rugby as part of the Try and Stop Us campaign by World Rugby.
You can find out more views from the Kazakh player and coach pre-tournament at the Algarve Sevens 2022.
And you move into the final to play the side Fantastic 7s that just narrowly beat Hong Kong 12-10 with pro and semi-pro players? But regardless of what happens, it has been a successful trip?
Nurlan: Yes. The Fantastic 7s actually played in Amsterdam last week too and they lost to the Poland team in the Cup semifinal. I am surprised with the squad they have here, it appears more organised, with strong runners and tackling, and they move and control the ball well.
Competing at the HSBC Challenger Series 2022
Nurlan: We have a responsibility to our government too as we are fully supported by them. When we get back from the tour, the head coach will present her report to the board members and government officials.
In total, we have played around 14 games between the Amsterdam and the Algarve tournaments and that's great practice and preparation for Chile and the Challenger competition. As a competition organised by World Rugby, we are showcasing Asia – from the manager to the players and physio – we are all trying our best to be good ambassadors.
We will have a one-week break when we get back to Kazakhstan and then the players enter the domestic championship, and then we head to the south of the country for a training camp by the mountains and we will have a camp for two weeks to prepare for Chile.
We then return to Almaty, which is where our federation is based, and prepare visas and leave in the first week of August to Chile.
What are the goals and expectations for the Challenger Series?
Nurlan: What I always say to our players is that you have to make your goals to reach and play at a high level. It doesn't matter if you lose or win, we have to show our skills at a high level as you are full-time rugby players. All year long you train, and train, and in these arenas you can show your skills as you represent your country and the region.
At every competition, we represent our flag and of course, as we are part of Asia Rugby, it's a big honour to represent the region on the international stage. Teams and media from around the world will be there in Chile and we will try and qualify for the World Series. 
We have a good opportunity to play in the Asia Rugby Series against Japan, China, and Hong Kong, and don't forget that Thailand is coached very well. Two or three years ago we could easily beat them but now it's difficult to compete with them.
That's why we are going to play plenty of games and be ready for the Asian Rugby Sevens Series too.
Algarve Sevens 2022
It's the hope of the Algarve sevens to attract more elite teams from the Asian region and maybe they could have an Elite Division here for the women. The more high-level competition you have, the better prepared you will be for World Series, Olympic Qualifiers and so on.
Nurlan: You know, we have responsibilities as we were always top three in Asia but at the last Asia Rugby Sevens tournament we lost to Hong Kong, so when we returned to Kazakhstan we reviewed things and looked at our mistakes. We now have young stars who can compete at the top level.
After each trip, we, as a coaching team, review and discuss players and the ways to build the team. Sports are competitive too in Kazakhstan and we are lucky that we have the government support and the women have a high-performance development program.
So we have to perform and we have that responsibility – we are known as the Kazakhstan Nomads and when we come to play – we come to give it all and finish well.
Kazakhstan Nomads – Representing Asia
Talk about that briefly – when you represent Kazakhstan as the Kazakh Nomads on these tours outside of Asia, maybe some people don't know what to expect from you – so what feedback have you been getting, and can you explain the popularity of the sport at home?
Nurlan: Rugby is a fast-growing sport in Kazakhstan and the federation has a hard job improving the development of all of the players and the coaching staff. All of us are trying to recruit young players and find new stars who have to prove themselves in training camps which we have before each tour.
We have three youngsters on this tour and they are enjoying it, especially as we have had so many people come to us and tell us "You are so impressive and the girls played so well!' 
I was a little surprised but we do try to show who we are on the field but we try to stay humble. We want to be in the finals and play at a good level – even though it's nice to be recognised and receive compliments.
Unfortunately, Kazakhstan women narrowly lost the final, which was a great game, to an impressive Fantastic 7s 17-14 and claimed second place at the Algarve Sevens.
The general feedback from many people we spoke to over the weekend, mirrored Nurlans comments – and the players, organisers and fans were impressed with how the Kazkakshtan Nomads played their rugby. 
We wish them all the best for the Challenger event to be played in Chile in August 2022.
You can read more about the final results here and from Day One here at the Algarve Sevens.
Asian Rugby News
---
Trending Now