Asia Rugby U19 Men's Divisions 2019
Posted On December 11, 2019
---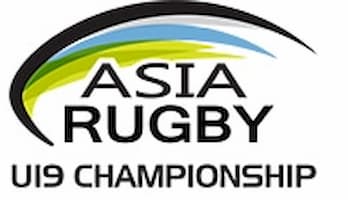 The Asia Rugby U19 Men's Divisions 2019 Divisions 1 and 2 kick off this week after the top Championship got underway last week.
Asia Rugby Under 19 Men's Division 1 2019
Four national men's Under 19 teams are competing in the 1st Division in 2019. They are the Philippines, Thailand, China and Sri Lanka. The teams will be playing in Chongqing, China from the 11th-14th December.
In Division 1, the teams start their first game as a semi-final with the winners playing the final on the 14th December, to win promotion to the top Championship in 2020. The 3rd place decider is also played which will determine which team is relegated to Division 2 and who stays in Division 1. You can see more on the Asia Rugby website.
In an interesting note, Philippines Rugby has secured some top coaching talent to get their Under 19s ready. Jake Letts of Philippine Rugby said "We are blessed to have the likes of Stu (Head Coach Stu Woodhouse who has been with Philippine Rugby for over seven years), Campese (Campese Ma'afu who has played over 50 caps for Fiji) and David Johnston train our next generation, so much experience in one team. They can share their knowledge and teach our players how best to perform at the international level,"
Wednesday 11th December Semi-finals
Philippines vs Thailand
China vs Sri Lanka
The final game and 3rd-4th decider are played on the 14th of December 2019.
Venue: Yongchuan Sports Center, Chongqing, China

Date: 11-14th December 2019
Asia Rugby Under 19 Men's Division 2 2019
Only two teams will contest the Men's U19 Division 2  and the chance to earn promotion to Division 1 in 2020.  All three divisions appear to have a different format for their competition in 2019.
We assume that Malaysia and the United Arab Emirates UAE) will be playing their two games with the aggregate scores determining the winner of the Division.
Game #1 Under 19 Men's Division 2 2019
Sunday 15th December: Malaysia vs UAE
Game #2 Under 19 Men's Division 2 2019
Wednesday 18th December: Malaysia vs UAE
Venue: Padang A, UPM Kuala Lumpur, Malaysia

Date: 15-18th December 2019
Asia Rugby U19 Men's Championship 2019 results
In the top tier U19 Championship, all four nations played their 1st games on Saturday 8th December. The 2nd round of games takes place on the 11th December with the final round on the 14th December 2019. The top tier is a round-robin format. You can read more about the Championship here.
8th December 2019 results
Hong Kong 47-20 Singapore
Chinese Taipei 7-22 Korea
All of the rugby games should be streamed via Facebook on Asia Rugby.
Other rugby news in Asia
---
Trending Now