Japan Sakura Will Host Ireland and South Africa before RWC 2021
---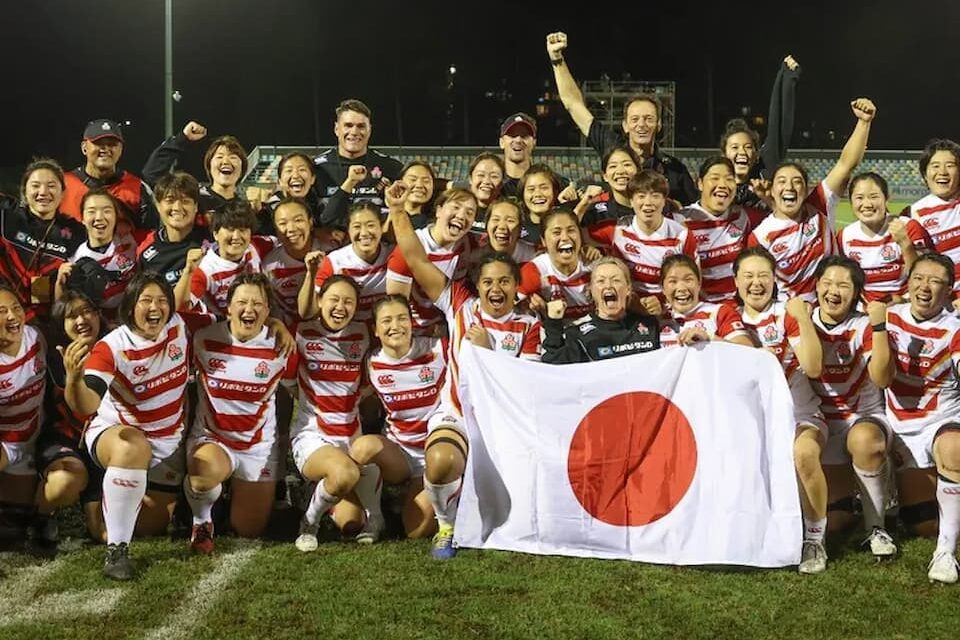 Both the Springbok women and Irish women will be playing test matches in Japan before the RWC 2021 (playing in 2022) takes place, giving the Japan Sakura Fifteen invaluable game time.
In May 2022, the Japanese women's XV team, coached by Lesley McKenzie, beat Australia, Fiji, and an Australian Barbarian team on tour in Australia.
Japan Sakura vs Springbok Women 2022 Test Matches
The Springbok Women will head on their first tour to Japan and play two test matches against the Sakura, on 24 July 2022 in the Kamaishi Unosumai Memorial Stadium in Iwate, and on 30 July 2022 in Kumagaya Rugby Stadium in Saitama.
The Sakura Fifteen's Team Director, Keiko Asami said: "We're pleased to be able to play test matches in front of our home fans as we prepare for Rugby World Cup in New Zealand in October. We would like to express our appreciation to all those who have worked hard to make these matches possible.
These test matches will be hugely important for our RWC preparations, not only for player selection, but also for the team experience, and for giving young and new players the chance to play at the highest level. Our recent victories over Fiji, the Australian Barbarians, and the Wallaroos have given us a great deal of confidence."
SA Rugby High-Performance Manager for Women's Rugby, Lynne Cantwell – who will want to use the tour in preparation as part of their own Rugby World Cup plans – told SA Rugby "the tour will give the squad that experience to play after travelling west to east, something they will experience when going to New Zealand in late September.
It also provides another opportunity to play together as a team and do so in a highly competitive environment. The matches form part of our build-up phase to prepare our squad as best possible for the Rugby World Cup."
South Africa thrashed Zimbabwe 108-0 in their first match of 2022 last week and will face Namibia on Thursday 23rd June in the second of their Pool A matches in the Rugby Africa Women's Cup.
At RWC 2021:
SA is in Pool C with England, France, and Fiji.
Japan is in Pool B with the USA, Canada, and Italy.
Japan Sakura vs Ireland Women 2022 Test Matches
Japan Sakura will host Ireland for a two-Test series in August 2022, following the SA tour. The Irish women are coached by Greg McWilliams and the two test matches in Japan take place at Ecopa Stadium in Fukuroi City, Shizuoka on Saturday, August 20, before a second Test on Saturday, August 27, at Chichibunomiya Rugby Stadium in Tokyo.
Ireland head coach McWilliams said: "The TikTok Women's Six Nations was the first staging post on our journey together as a squad and a summer programme, including two Tests against Japan, is an exciting opportunity for us to build on that."
He added, "The Invitational Series will then give us the opportunity to spend time together as a group, build cohesion, learn and grow and test ourselves against a very strong Japanese team in their home conditions. It will be a hugely beneficial development opportunity for us as we work hard to progress as a team."
Sakura Fifteen Head Coach, Lesley McKenzie added on hosting the games : "It means so much to host these games in Japan. We've been doing all our work in Japan yet playing all our games outside Japan during my time here, so I'm thrilled to have the opportunity to play for the Japanese people at home…..
This month we discussed, as a whole squad, the sense of power and momentum that the wins in Australia gave our team, whether they were watching at home in Japan, in isolation in hotel rooms on the Gold Coast, or at the field; it was clear that equally strong was the urgency that all of us felt to continue our own work and our own acceleration towards individual responsibilities."
The Irish women failed to qualify for RWC 2021 and their women's game has been under some scrutiny recently leading to internal reviews and the IRFU to apologise to its players and pledge increased funding.
The tour was first rumoured to be taking place back in April 2022.
The JRFU has said that kick-off times, ticket information, and broadcast schedules will be announced in due course (we will update the article as more is made known)
Japan Sakura Women's XV Home Test Matches 2022
Japan vs South Africa – 24 July 2022 – Kamaishi Unosumai Memorial Stadium in Iwate

(14:45)

Japan vs South Africa – 30 July 2022 – Kumagaya Rugby Stadium in Saitama

(17:45)

Japan vs Ireland – 20 August 2022 – Ecopa Stadium in Fukuroi City, Shizuoka

(19:00)

Japan vr Ireland – 27 August 2022 – Chichibunomiya Rugby Stadium in Tokyo

(19:00)
For ticketing information, the JRFU announces details for South Africa matches here.
Matches are also due to be shown on JSports On Demand.
World Rugby Rankings
According to the World Rugby's rankings at the time of publishing:
Ireland is currently ranked 7th
Japan is currently ranked 12th
Springbok Women are ranked 13th
Asian Rugby News 2022
---
Trending Now