Catching up with Lucas Lacamp – Former Hong Kong Age-grade Rugby International
Posted On December 16, 2021
---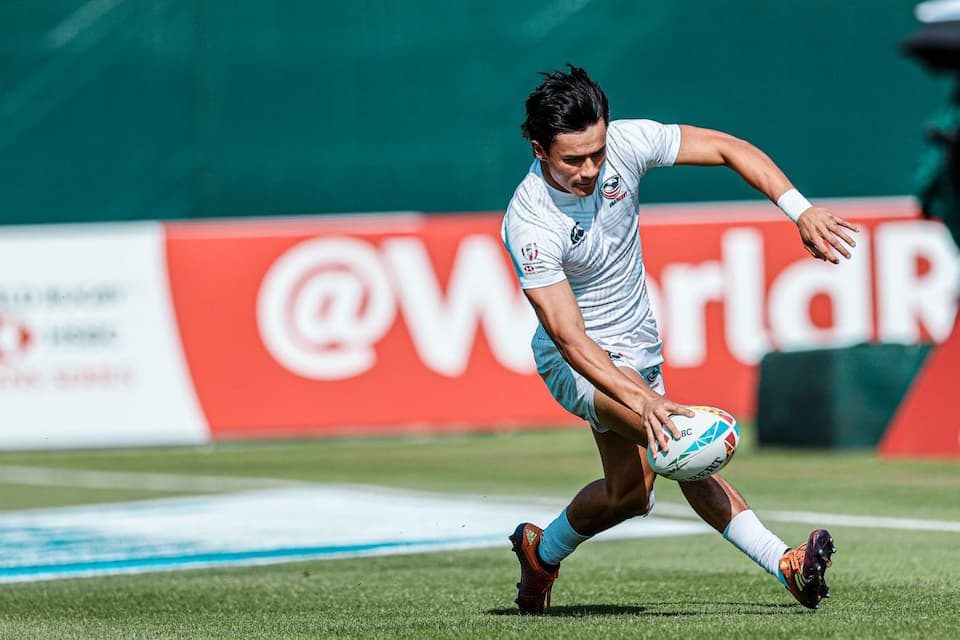 We spoke to the up and coming USA rugby Sevens star Lucas Lacamp on the first day of the Emirates Dubai Sevens recently. He is part of the new generation of the USA Sevens team after the departure of several long-standing stalwarts. 
Lucas is an exciting player, and we were told, a potential new playmaker for the USA Sevens squad moving forward. With a rugby upbringing forged in the UK and Hong Kong, we discussed his excitement of being on the world stage and of course iconic weekends watching the HK Sevens from the South Stand.
(In fact, the events in Dubai ultimately were the final HSBC World Series legs for two more US players as Martin Iosefo and Matai Leuta officially bid farewell to USA Sevens after the weekend.)
Feature Photo Credit: Mike Lee-KLC Fotos
Lucas Lacamp – USA Rugby Sevens
Lucas helped the USA team finish second at the first tournament in Dubai on the weekend of November 26th 2021, scoring his sides only try in the final against a strong South Africa outfit.
Lucas and the team endured a mixed first day at the Emirates Sevens winning two and losing their final game of the day and he gave us a glimpse of his awareness of the game and well-rehearsed media training.
We showed what we can do and that last game, unfortunately, it shows we still have work-ons. We play France in the quarterfinal (a game they ultimately lost) – In the game of Sevens you never think to yourself it's going to be an easy game. I think if we bring our A-game and do the basics right then it will be a good game.
A number of sevens teams in Dubai were in a transition phase, rolling out many new players. We asked Lucas about his role in the USA Sevens team.
It was a big step up (he says laughing). It wasn't anything I could have expected but all of the boys have helped me out, they are all around me helping me out, even on the pitch I can hear them telling me what to do. I might be looking at something on-field that I would do at College or University and they would tell me "no, it's not on!" or "yeah, have a go" – so it's been encouraging. 
It's the best place to learn (back to back Sevens Series events in Dubai) and last week was a warm-up without the crowd. Again, I didn't really know what to expect but it's been great (breaking into a massive grin). 
I thought I would be able to block it out (the crowd noise) and play my game, but just the noise was great, I love it!
Lucas played for HK in 2019 at the 2019 World Rugby u20 Trophy tournament. He also played with The USA Boys HS All American team in New Zealand for the 2019 World School 7s.
Earlier in 2021, Lacamp was part of the USA u23 team that won the Bowl at the RugbyTown 7s 2021 and he was his team's top scorer with (8) tries, scoring in all but one game including a hat trick against the North American Lions.
America Rugby News singled out Lucas when he was one of 6 rookies named to train with the USA squad before the events in Dubai, adding "Lacamp, is a standout collegiate player at UCLA, and represented Hong Kong at the 2019 World Rugby u20 Trophy tournament."
Its a big season ahead in 2022 – what are your personal and team goals for 2022?
I want to play as much as I can. When I play, I play to the best of my ability. It's a great growth period for me being new. I want to play with these guys as much as I can and learn as much as I can.
We asked him if there was any one player that he was enjoying playing with, or was a personal idol of his?
I don't want to say (breaking up laughing again.) All the boys, like Perry (Baker), Marty (Martin Iosefo), there are so many. All of these boys I have watched since I was 12-13 years old (he breaks into a grin again) It just shows how old they are!
Lucas Lacamp on playing for Hong Kong
Tell us a little about your experiences playing in Hong Kong?
I lived there and played rugby for a little bit when I went to boarding school in England. When I was in HK I played Under 18s and Under 20s and then I went to university (which is where he is studying now at UCLA.)
I was a fan at the Hong Kong Sevens (we mentioned the South Stand) "haha yeah you know", he said.
I've always looked up to these boys I'm playing with now. Honestly, I've been watching some of these guys in the team since I was 12 so it's a bit surreal still. And the same for playing against some guys, it's crazy.
USA Sevens Results – HSBC World Sevens Series Dubai Round 2:
vs Canada | 38-14 (W)

vs Kenya | 24-21 (W)

vs Australia | 19-22 (L)

vs France | 12-28 (L)

(QF)

vs Kenya | 0-19 (L)

vs Ireland | 26-19 (W)

(7th place playoff)
Mike Friday, the USA Coach said after the Dubai weekend:
"The World Series is a ruthless place if your performance is off the mark and unfortunately that was us today. We have to look in the mirror and realise that if we play like this, we'll get punched in the face. 
Still, these are valuable lessons as we evolve and we have a lot to look forward to in the tough challenges 2022 will bring. We will enjoy our time with families over the holidays and will continue working hard to be better for the next two legs where we'll welcome back a number of the exciting players who will return from injury."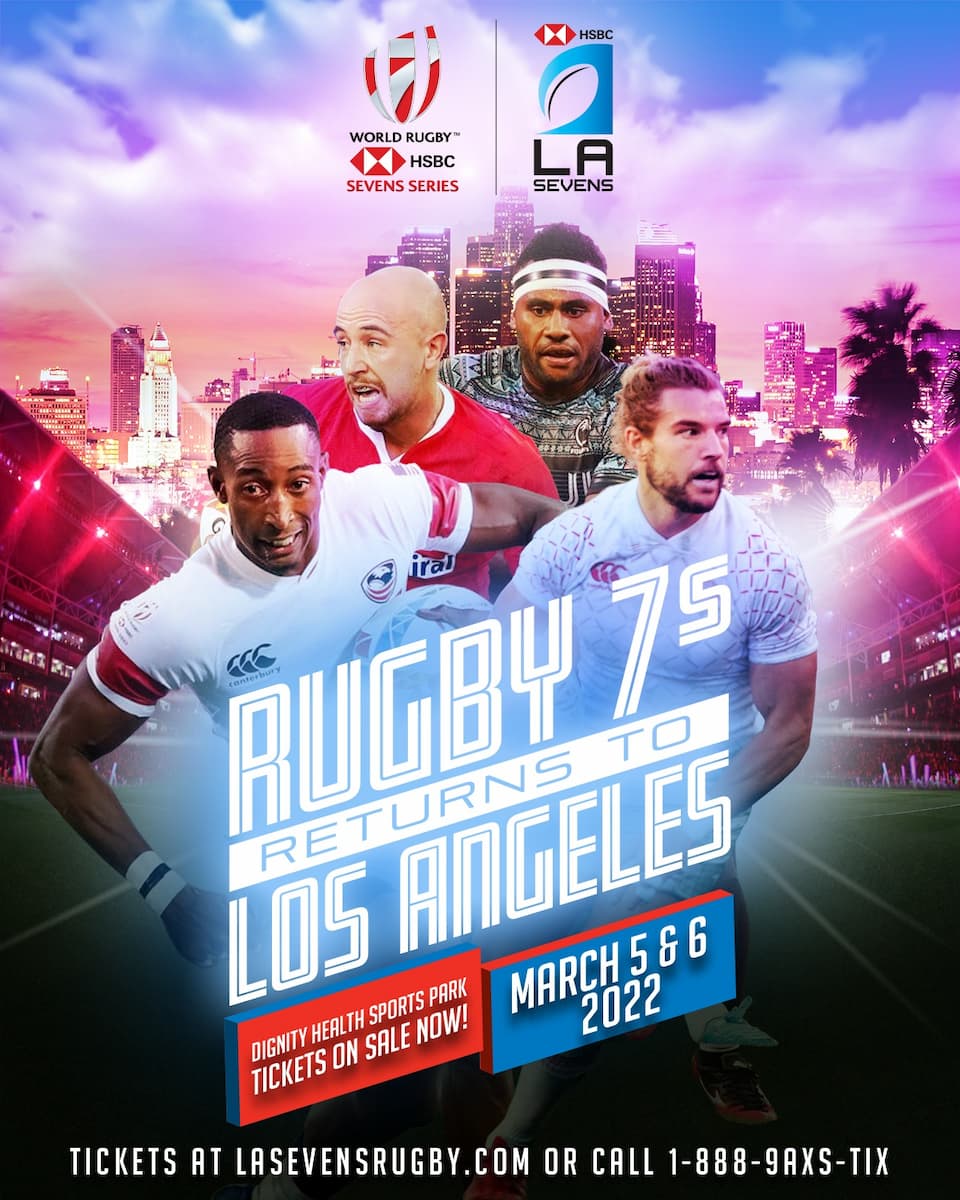 We hope Lucas makes the squad for the future events which next takes the HSBC World Series to Spain (Malaga and Sevilla) in January 2022, but there is also a tasty US home event in Los Angeles for Lucas from March 5-6 2022, and a homecoming of sorts with the Cathay Pacific/HSBC Hong Kong Sevens in November 2022.
UPDATE – in January 2022 it was announced that the LA Sevens has been moved to 27-28 August 2022.
World Rugby Sevens News
---
Trending Now