Blitzbokke and Australian Women Sevens Do The Double in Dubai
Posted On December 5, 2021
---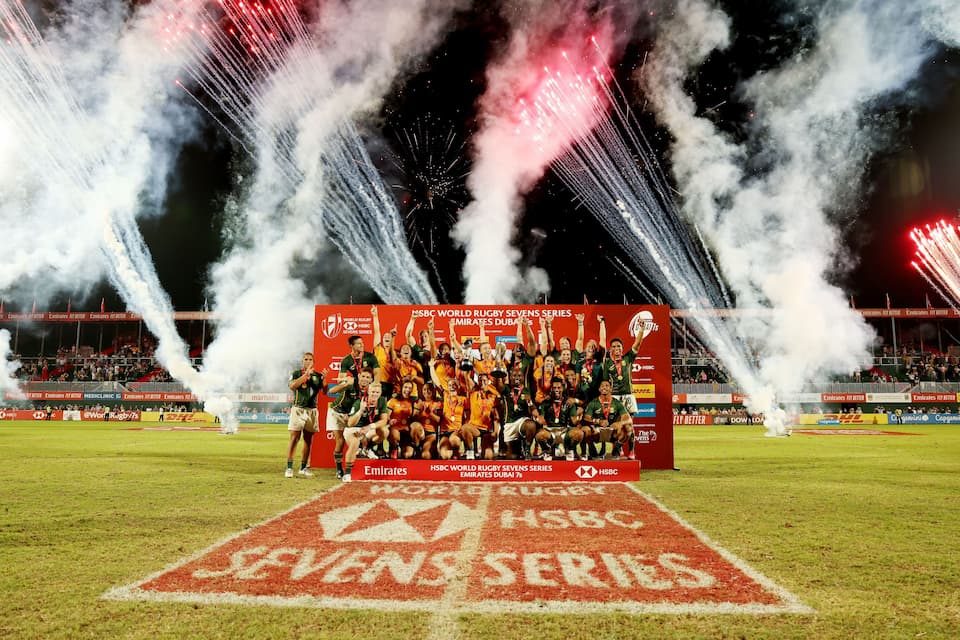 The South African men (Blitzbokke) and Australian women Sevens rugby teams completed a double in Dubai at the Emirates Stadium, with gold medal triumphs in round two of the HSBC World Rugby Sevens Series.
Photo Credit: (Christopher Pike/Getty Images) 
Dubai Sevens Festival of Sport 2021
For the third day, the atmosphere in and around The Sevens Stadium was fantastic. All of the social and invitational divisions played their finals on Saturday 5th December, many taking place on the main pitch in front of an energetic crowd.
One of the picks of the finals was the Vets Internationals which featured more caps than a Vans store and saw the 100 World Legends beat the Nomads 26-5. The World Legends squad was coached by former England 7s star Ben Gollings and he had at his disposal players such as Todd Clever, Delon Armitage and the great Waisele Serevi.
All the results for the rugby social, invitational and others can be seen here.
HSBS World Series – Emirates Dubai Sevens 2021 Results
In the main Sevens Series, Australia won the women's event for the second weekend in succession with a 15-5 final win over Fiji following a scare in their final pool game in which Russia was leading at the halftime break.
The Aussie women recovered from a poor Olympics to race out to a strong lead in the World Series, after beating Fiji in the final over two consecutive weekends.
Australia captain Demi Hayes said "I feel really stoked and so proud of the team who have worked so hard. Winning back-to-back is harder but we had one goal in mind this weekend and that's exactly what we did. It was amazing to have the crowd back, it's the first time we've experienced it since 2019 so we were so happy to feel the support. We will have a little Christmas break but then get straight back into it and be ready for Spain."
France repeated their bronze medal triumph over Russa with a strong 28-5 win and the USA beat Spain 7-5 in the fifth-place play-off.
Ireland defeated Canada to secure seventh place, while Brazil finished ninth with a thrilling and tense 26-24 victory over GB.
(We will bring you more from our interview with Brazilian player Izzy Cerullo on the growth of the game and women's rugby in Brazil).
You can read our Day One Review here.
The men's Cup final was a close nail-biting affair as South Africa fought back from being 7-5 down to Australia at half-time, but JC Pretorius scored the winner in the second half to earn a 10-7 victory, and extend the Blitzbokke winning streak to more than 20 games, and now four consecutive World Sevens tournaments.
Argentina made it two men's bronze medals over two consecutive weeks, beating France 38-21, while team GB beat Kenya to fifth place. The USA ended in a disappointing seventh after losing last weeks final, while Fiji finished ninth after defeating Spain 31-7.
Japan finally won their first game over the two weekends, beating Canada 21-12 in the 11th place play-off match.
South Africa captain Siviwe Soyizwapi said: "Australia really took us the wire, it was a brilliant match. Credit to my boys though, we battle so hard for each other and showed grit when we had to. It is such a great way to end 2021.
These boys really play with heart, no one can buy that, it comes from within and it's in our mindsets. We are part of an awesome system and the heart shown by these boys is incredible."
"The crowd really brought so much atmosphere and energy to the stadium."
Both the SA men and Australian women head into 2022 as top contenders for the 2021-2022 HSBC Series titles.
All of the results from the Dubai Sevens can be seen here.
Rugby Sevens in Asia
---
Trending Now