Cathay/HSBC Hong Kong Sevens Long Lunch 2023
Posted On November 8, 2023
---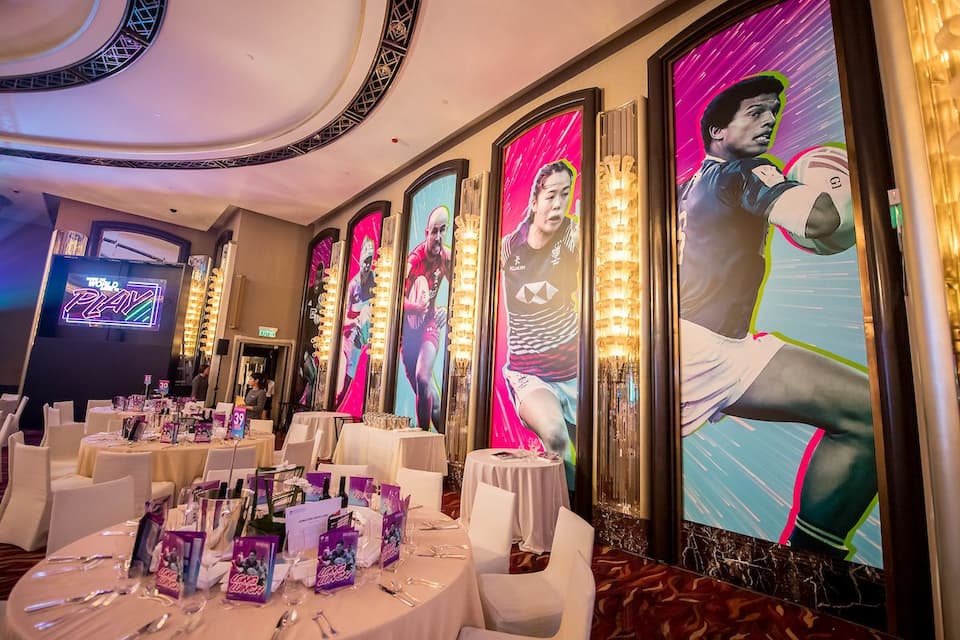 The Cathay/HSBC Hong Kong Sevens Long Lunch returns on Friday 17 November 2023 at The Grand Hyatt, with special guests including former international players Tom Shanklin and Rochelle (Rocky) Clark MBE.
Updated 8th November 2023
The popular Cathay/HSBC Hong Kong Sevens Long Lunch will help raise funds for Laureus, the Official Charity of the HK7s which takes place from 5-7 April 2024 and forms part of the new HSBC SVNS 2023-2024 season which kicks off in Dubai in December 2023.
Robbie McRobbie, CEO of Hong Kong, China Rugby told Rugby Asia 247 that "the long lunch, looking back at the history of it, I think the first one was held back in 1994 and the first one was actually held in Australia.
(Editor's note – McRobbie confirmed the first 'Cathay Pacific/Hongkong Bank" Hong Kong Sevens Long Lunch, was held at the Hilton Hotel in Brisbane in the early part of 1994.)
It's tended to be the official launch, if you like, of the marketing and promotion for Cathay/HSBC Hong Kong Sevens. We've shown the new promo video for next year's sevens, and we've sometimes announced who the bands are going to be. So it's an opportunity for us to remind the community to get their tickets and it's it's a very, very enjoyable afternoon."
Who Will Be There – Cathay/HSBC Hong Kong Sevens Long Lunch 2023
In addition to special guests, Tom Shanklin and Rochelle (Rocky) Clark MBE, McRobbie told us in November 2023 that other additions are Nollie Waterman ("another England rugby legend added McRobbie), as well as former Dutch football superstar and Chelsea manager, Ruud Gullit.
A slightly more left field is the inclusion of Ardal O'Hanlon – the Irish comedian, actor, and author wo famously played Father Dougal McGuire in Father Ted between 1995–1998, and was Mcrobbies personal pick to be included.
Tom Shanklin – Wales 70 caps and selected for British & Irish Lions
Rochelle (Rocky) Clark MBE – 137 England Rugby caps – RWC 2014 winner
Nollie Waterman – 82 England Rugby caps – RWC 2014 winner
Ruud Gullit – Dutch football international (66 caps and Euro 1988 champion) and former Chelsea Manager (played at Feyenoord, PSV, AC Milan, Chelsea etc)
Ardal O'Hanlon – Actor
The official charity of the event is Laureus Sport For Good foundation. 
HBSC SVNS 2023-2024
As part of the HSBC SVNS format, the top eight placed teams, based on cumulative series points, at the conclusion of Singapore SVNS will compete in the new 'winner takes all' Grand Final in Madrid, where the women's and men's SVNS champions will be crowned. Madrid will also determine the promotion and relegation for the World Series and Challenger Series.
Three Asian locations remain on the annual HSBC SVSN 2023-2024 calendar; Dubai, Hong Kong, & Singapore.
Dubai, UAE – 2-3 December, 2023
Cape Town, South Africa – 9-10 December, 2023
Perth, Australia – 26-28 January, 2024
Vancouver, Canada – 23-25 February, 2024
Los Angeles, USA – 2-3 March, 2024
Hong Kong SAR, China – 5-7 April 2024
Singapore, Singapore – 3-5 May 2024
Madrid, Spain – 31 May-2 June, 2024
Kowloon RugbyFest 2024
The Kowloon RugbyFest has also been confirmed for 2024 but they will also be hosting their RugbyFest Dinner on 15th November 2023 instead of at the HK 7s week in 2024. The dinner will showcase the "Kowloon Cares" outreach programme and include special guests Rochelle Clark & Tom Shanklin sharing stories from their international rugby careers.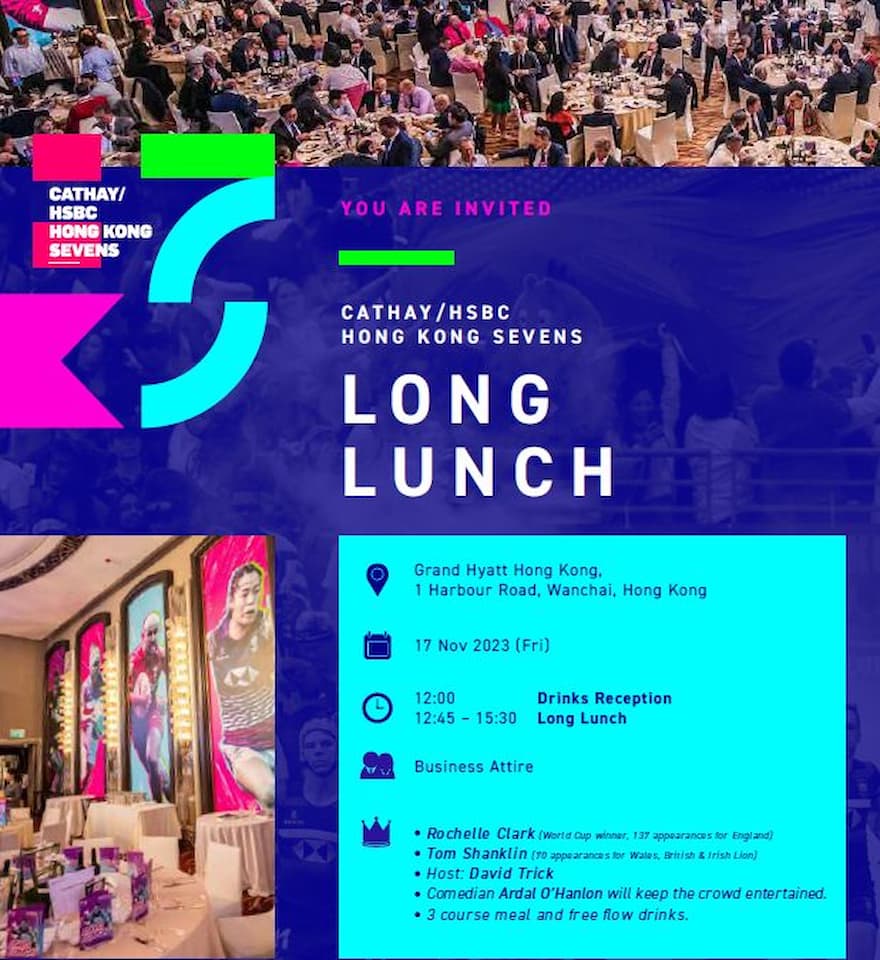 HK7s 2024 Tickets Priority Pass
The Hong Kong Sevens has also announced that fans can "get exclusive access to skip the public ticket queue and get a step closer to securing your ticket for the Cathay/HSBC Hong Kong Sevens 2024" by signing up for a priority pass.
This will enable fans to receive a 48-hour head start to access tickets to the last-ever HK7s at Hong Kong Stadium before public ticket sales begin. The general public sale starts on December 1 2023.
From 2025 the Cathay/HSBC Hong Kong Sevens is due to be played at the newly built Kai Tak Sports Park.
Rugby Sevens 2023-2024
---
Trending Now