China Women And Hong Kong, China Men Win Hangzhou Asian Games Rugby Sevens
Posted On September 26, 2023
---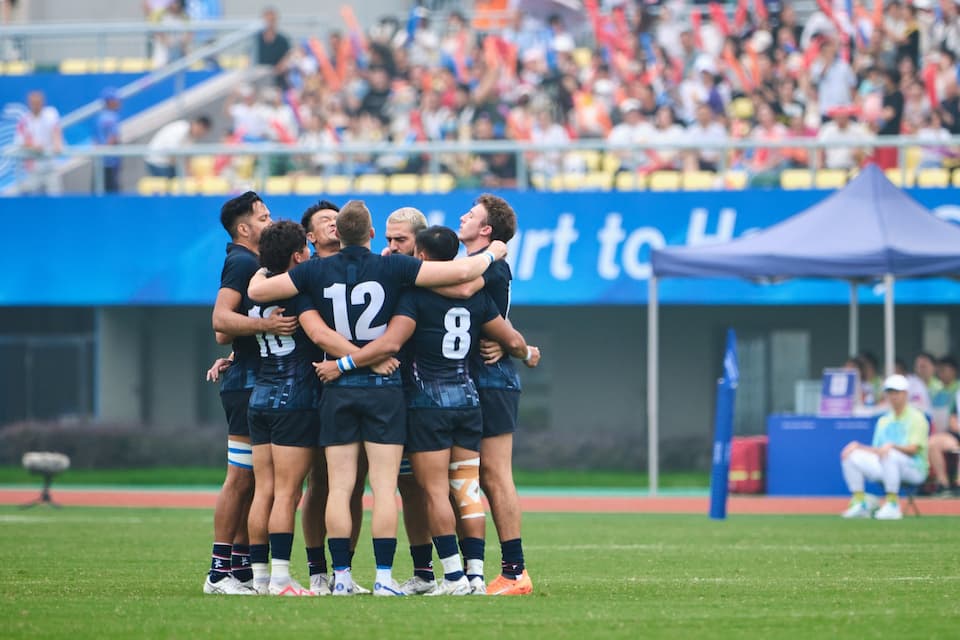 The 19th Hangzhou Asian Games 2022 Rugby Sevens concluded on Tuesday 26th September 2023 at the Hangzhou Normal University Cangqian Athletics Field. The finals saw the two women's favourites contest the gold medal with China winning narrowly 22-21 over Japan, while in the Men's competition, Hong Kong, China and South Korea reached the final with the former defending their Asian Games gold with a 14-7 win.
Women's Final Rankings – Sevens Rugby Asia Games
In the Women's Sevens Rugby competition, the trend in terms of the leading 7s teams more or less continued at the Asian Games, with China and Japan once again leading the pack. The cluster of Thailand, Hong Kong China (HKCR) and Kazakhstan were in the next group behind. Singapore is down the pecking order, while India, competing newly at this level, is developing nicely but has some way to go to catch up with the teams ahead of them.
The Chinese women dominated their pool D going through the matches undefeated in what could have been a tricky pool but they beat both Thailand and Kazakhstan, with Japan similarly unmatched in Pool E, beating HKCR, Singapore, and India (and only conceding one try).
China faced HKCR in the semifinal and showed their class by winning 33-0, while the Japanese ladies dispatched the Thais 26-0.
The final was another closely fought and epic encounter, these two teams are so closely matched and have delivered some memorable finals over recent years, but it was the hosts who pipped Japan to the gold, winning by a single point 22-21. It will be sorely disappointing for the Japanese who still have the new HSBC SVSNs Series to look forward to but the China women will be delighted with the win at home to be crowned the Asian Games champions and add it to their ARSS 2022 title.
In the bronze match, Hong Kong China claimed a great win, and somewhat of an upset as the Thais have had the better of them over recent times, but with a new coach and experienced team, they won a very tight game 7-5.
The Kazakh Nomads seemed to have fallen further behind Thailand and HKCR at the Asian Games but claimed 5th overall with a handy win over Singapore, while India settled for 7th knowing this would be vital experience at this level for a young team.
China
Japan
Hong Kong, China
Thailand
Kazakhstan
Singapore
India
Men's Final Rankings – Sevens Rugby Asia Games
Hong Kong, China and South Korea were top of the men's teams in Hangzhou, repeating a final encounter that determined the Tokyo 2020 Olympic decider and a repeat match-up of so many recent Asia Rugby Sevens Series leg finals.
The pool stages had some tough encounters but HKCR (Pool A), South Korea (Pool B), Japan (Pool C), and China (Pool D) won their respective pools and ensuing quarterfinals to see tantalising semifinal matchups.
HKCR Men's Sevens Head Coach Jevon Groves said before the start of the third day, "I'm pleased with how the first two days have gone. There's plenty of excitement within this group to go out on the field and express themselves and I thought they have done that against some challenging opposition. Japan will pose another challenge for us tomorrow but the players have prepared well, have lots of motivation within them and hopefully, they can transfer that into a performance that we can be proud of."
Hong Kong prevailed in the semifinal clash with Japan, winning a 12-7 nailbiter and repeated their gold-winning performance at the previous Asian Games in Jakarta where they upset the Japanese in the final, as well as gaining revenge for losing the first leg of the ARSS 2023.
South Korea overcame a Chinese team who were hoping for better at home, but the South Koreans were deserved finalists, winning the SF 36-7 to continue their winning ways and set up a mouthwatering final with an old rival – Hong Kong.
It was Hong Kong China that came out on top 14-7 and successfully defended their Asian Games gold in Rugby Sevens, and as much as they will rightfully enjoy the occasion, they will quickly need to set their sights on reclaiming the Asia Rugby Sevens Series and target Olympic 2024 qualification against similar foes over the months to come.
In the bronze match, a tight game saw the the Japanese go home with silverware, narrowing beating the hosts 21-19 which will leave China disappointed. Both unions spend an incredible amount of resources on their Sevens programs and these would not have been the final positions they targeted.
Elsewhere for the men's sides, it was more competitive with UAE backing up the good form they showed in the 2022 season to claim 5th, beating out Malaysia. The Malaysians had beaten their fierce rivals Singapore in the Shield semifinal 33-7 but fell to a UAE side that continues to develop.
The Thailand men, who are well off the pace compared to their women (a big 65-0 defeat showing the gulf between the top sides and their current position), managed to end up 9th, beating OCA in a close 10-7 win.
The Philippines had a bye against the Afghan outfit to finish 11th, as the latter had to withdraw due to injury concerns.
Nepal's involvement was always an odd one and although it was great to see a new nation compete, they were comprehensively beaten in all of their matches with their final game a 68-0 thumping by OCA (Sri Lanka) whom you could argue were the reason they were included in the Asian Games in the first place.
Hong Kong, China
South Korea
Japan
China
UAE
Malaysia
Chinese Taipei
Singapore
Thailand
OCA
Philippines
Afghanistan
Nepal
You can follow Asia Rugby for all of the results.
Editors Note – We will see more fantastic encounters as the ARSS 2023 continues in Bangkok from 14-15 October followed by the Olympic Qualifiers in Japan in November 2023. However, these Asian Games were a real missed opportunity to showcase the talent in Asia on what was a huge occasion with limited streaming coverage – especially on days where there were no Rugby World Cup 2023 fixtures (Monday and Tuesday) – both the Asian Games and Asia Rugby could have attracted a rugby audience and engage with fans in the region and further afield.
Asian Rugby News 2023
---
Trending Now